Emerson Tedder uses the pronouns they or them to identify themselves.
They ask that you do, too.
Tedder, 24, identifies as nonbinary, a gender identity that is not exclusively masculine or feminine.
"There's a vast spectrum of people who identify as nonbinary," Tedder said. "They don't all look like me."
Tedder looks agender in appearance with the beginnings of a mustache and a tattoo on their right shoulder that reads "A.F.A.B.," which stands for "assigned female at birth."
"The term nonbinary is used to describe genders that don't fall rigidly into either the female or the male category," said Lisa Griffin of Pride Inside, a Richmond collective devoted to the well-being of people across the LGBTQ+ spectrum. She is a clinical psychologist specializing in the care of transgender and gender diverse children and adolescents.
"It generally refers to a person's internal experience of their own gender rather than to the way they express gender through clothing and hairstyle. Nonbinary identities have been recognized throughout history and across cultures, though the vocabulary keeps changing, and experiences shift as the cultural and historical lenses shift. There's been an explosion of awareness in the last few years, and I am seeing younger and younger folks asserting nonbinary identities."
Applying nonbinary as a term of gender identity is on the rise in Richmond , although it's been used for a while in cities such as San Francisco and New York.
You might start seeing it in people's email signatures or on their business cards.
Pronouns: he/him; she/her; they/them.
Tiffany Jana, 42, owner of TMI Consulting Inc., has been married three times, has three children and just recently started identifying as nonbinary.
"I've always known there was something different about me, but I didn't have the language for it until late last year," Jana said.
"A lot of my professional success has been my ability to lean into the masculine, dominant persona," said Jana, who is an author, speaker and diversity practitioner. "But I also present very much female. I feel very strongly connected to both."
Jana still dresses and looks female, although the long dreadlocks that were Jana's signature for years are gone, replaced by a crown of cropped curls, dyed blue at the tips.
"I don't really notice if people call me a 'she,' but if they make the effort to call me 'they,' it feels like a sign of respect," Jana said. "It's my preferred pronoun. It means you're acknowledging it and seeing me the way I prefer to be seen."
Gender identity and nonconformity is not the same thing as sexual orientation. Sexual orientation refers to the type of person one is romantically or sexually attracted to; gender identity refers to how someone feels inside, whether that's male, female, neither, or both.
We interviewed five Richmonders who identify as nonbinary and present their stories in their words to offer a glimpse into what being nonbinary in Richmond looks like.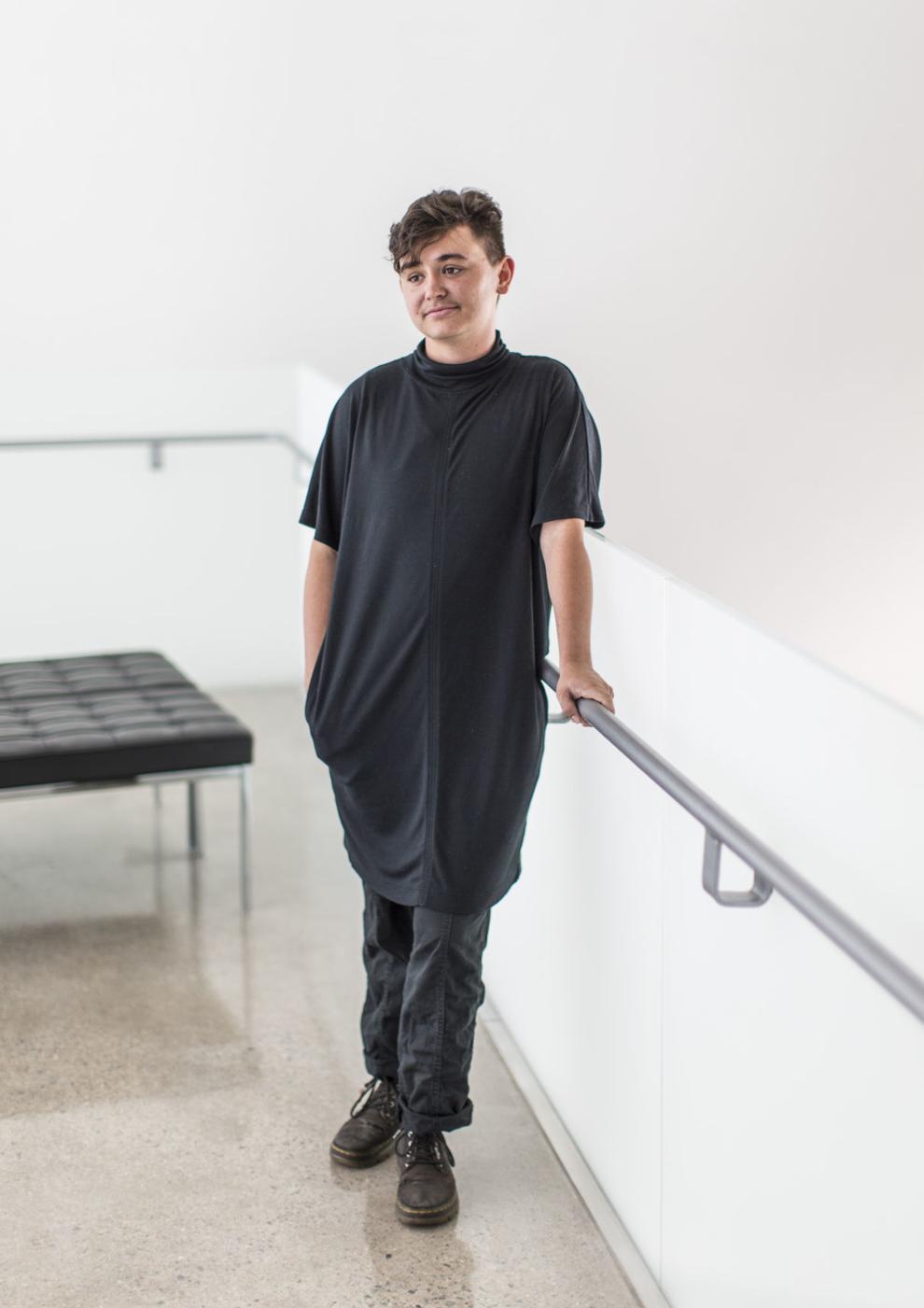 Pronouns: they/them/theirs
Occupation: visitor services associate at the VCU Institute for Contemporary Art
Growing up, I was the typical tomboy. In second grade, I cut off all my hair and conspired with my best friend to convince everyone that my name was Eric and I was a new student in the school.
I realized I was nonbinary in college when I was studying the work of photographer Claude Cahun, who experimented with gender presentation and gender expression in the 1920s.
It gave validation to the fact that gender shouldn't be something just assigned to you at birth.
Once I came to that realization, I accidentally came out in class talking about my own paper on Cahun. I was like, "I don't identify as a woman. And that's perfectly valid."
I go between masculine and feminine expressions of clothing. I do like to wear dresses because they're extremely comfortable. But I also love a good button down shirt. Shorts, I'll wear at any length.
Society genders clothing. Dresses don't have gender, fabric doesn't have gender, but people do. They'll say dresses are feminine, but they don't have to be. It's just kind of what we've agreed upon as a culture over time.
I do switch between masculine and feminine presentation and sometimes a combo of both. There's one dress that I wear to work almost every day. Sometimes I'll wear pants with it. And that gives off a very androgynous vibe.
A friend of mine at the ICA made "they/them" buttons. I wear one here to let people know those are my preferred pronouns.
But it's not something I would necessarily wear out in public unless I knew that I would be in a safe environment.
I did make the choice to begin transitioning with hormone replacement therapy. I just started taking testosterone. There have been some physical changes with that. Like the beginning of a mustache. It will also rearrange the fat through your body so it presents more like a man's body. I've been getting a different jawline. But that does not mean that I identify as a man.
I'm trans nonbinary agender specific. That helps lead people down a path.
People think gender and sex is the same thing, but it's not. Gender is more social.
Nonbinary people are just people. Trying to figure ourselves out. Like any other person.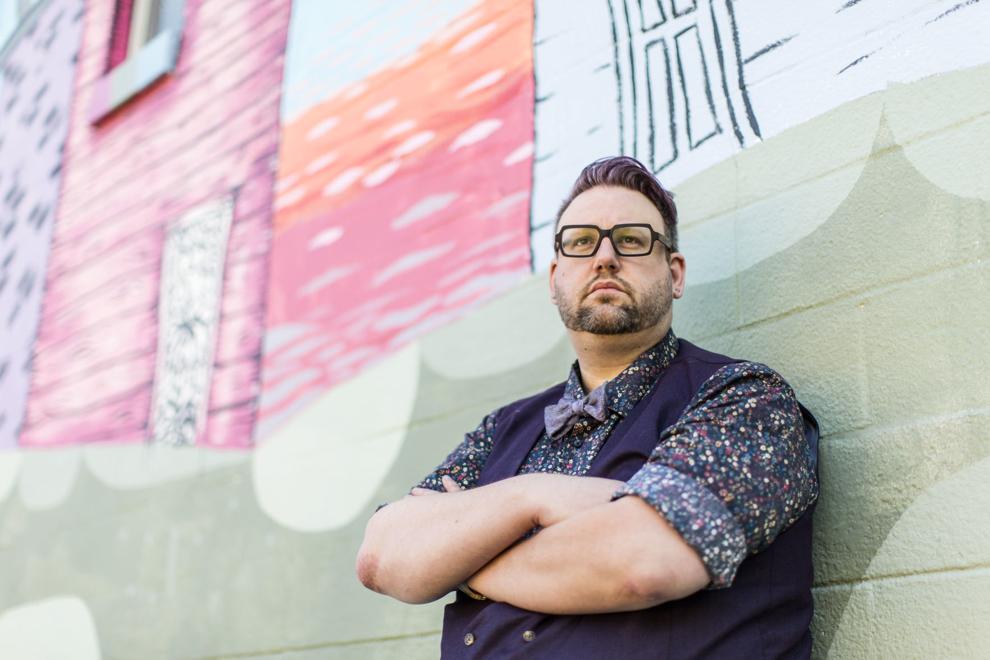 Pronouns: they/them/theirs
Occupation: executive director of Side by Side (formerly ROSMY)
I came out to my mother as bisexual at 10 years old. I think I just always knew.
I didn't tell another person until I was in college. I was in [the] closet for a good 10 years.
I came out my sophomore year. At that time, I was using the term gay, but still wasn't out about gender.
In college, I understood gender as more fluid and as a social construct.
I use the term genderqueer [to describe myself]. It's the term I like the most, although I can't tell you why. For me, the categories that are available, that most people understand, don't fit who I am. I feel like genderqueer and nonbinary is a better way for me to explain my gender.
Gender is something that is different from the norm for me. Gender is something that I celebrate and appreciate, but something that I don't have a concrete answer for. It allows me to have gender fluidity, but not put a distinct label on it.
I am 6 foot 5 inches and 350 pounds. I'm a large person. There typically aren't people who we view as women who are my size.
In my life, I've experienced quite a bit of violence or harassment for being gay or genderqueer. I've decided to present more masculine in terms of clothing, dress and facial hair in order to not be harassed on the street and to have a stable career.
Losing my first professional job because I was gay, as well as being physically and sexually assaulted because of my identity, … I've had these little moments and bigger moments that make me more fearful. I spend a lot of my time and energy to present as masculine.
I feel like if I can get away with this mask of masculinity and help others in the community, that will work for me and I can be more myself with others in private.
[With my friends], I might wear makeup or dress more feminine or let go of my mannerisms to be more natural. But I've experienced people recoiling if I appear too genderqueer. I can get by easier if I present as more masculine.
I'm an executive director. If I was more out to our corporate sponsors, I don't know if [our organization] would be perceived in the same way.
There are a lot of people who are their authentic selves all the time, and I wish I could be that brave, but because of my experiences, I just can't.
I definitely make choices on how to be in order to survive and serve my community.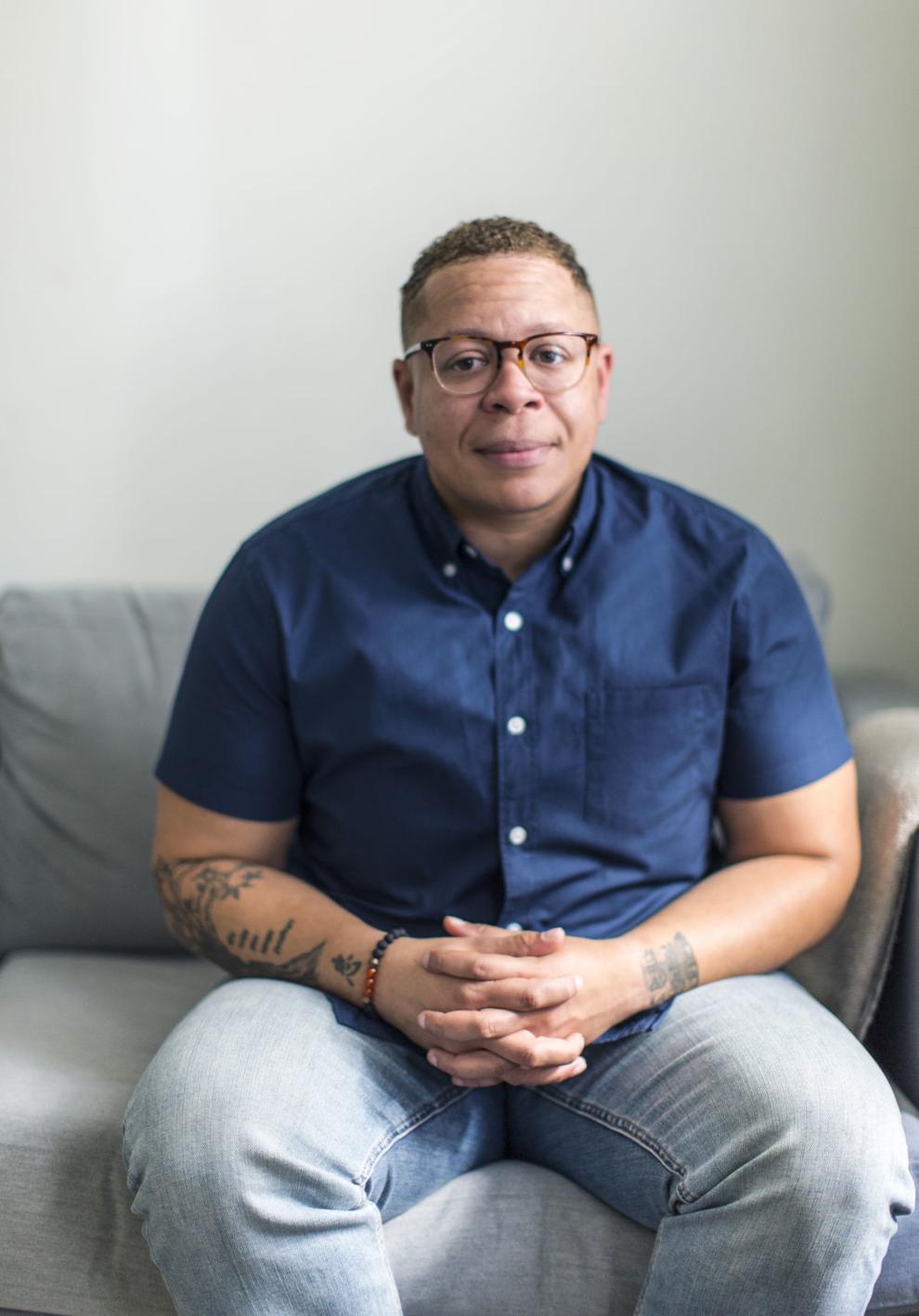 Pronouns: they/them/theirs
Occupation: doctoral candidate at Virginia Commonwealth University
From my earliest memories of being 4 or 5, I remember feeling that my assigned natal sex was not necessarily how I identified.
Some people assume I'm a woman or a man. At the end of the day, both are incorrect. My identity is neither.
When I wake up, I don't feel like a man or a woman. I just feel like Kyle.
At this point in my life, it's beautiful to sort of step outside of gender within myself.
I have a niece who is now 10 months. It's been a really beautiful thing to delight in her, experience joy with her, and have her see me as her "Ky-cle."
When I'm with her, my gender doesn't matter. She's the first person in my life who will only know me as Kyle and not as male or female.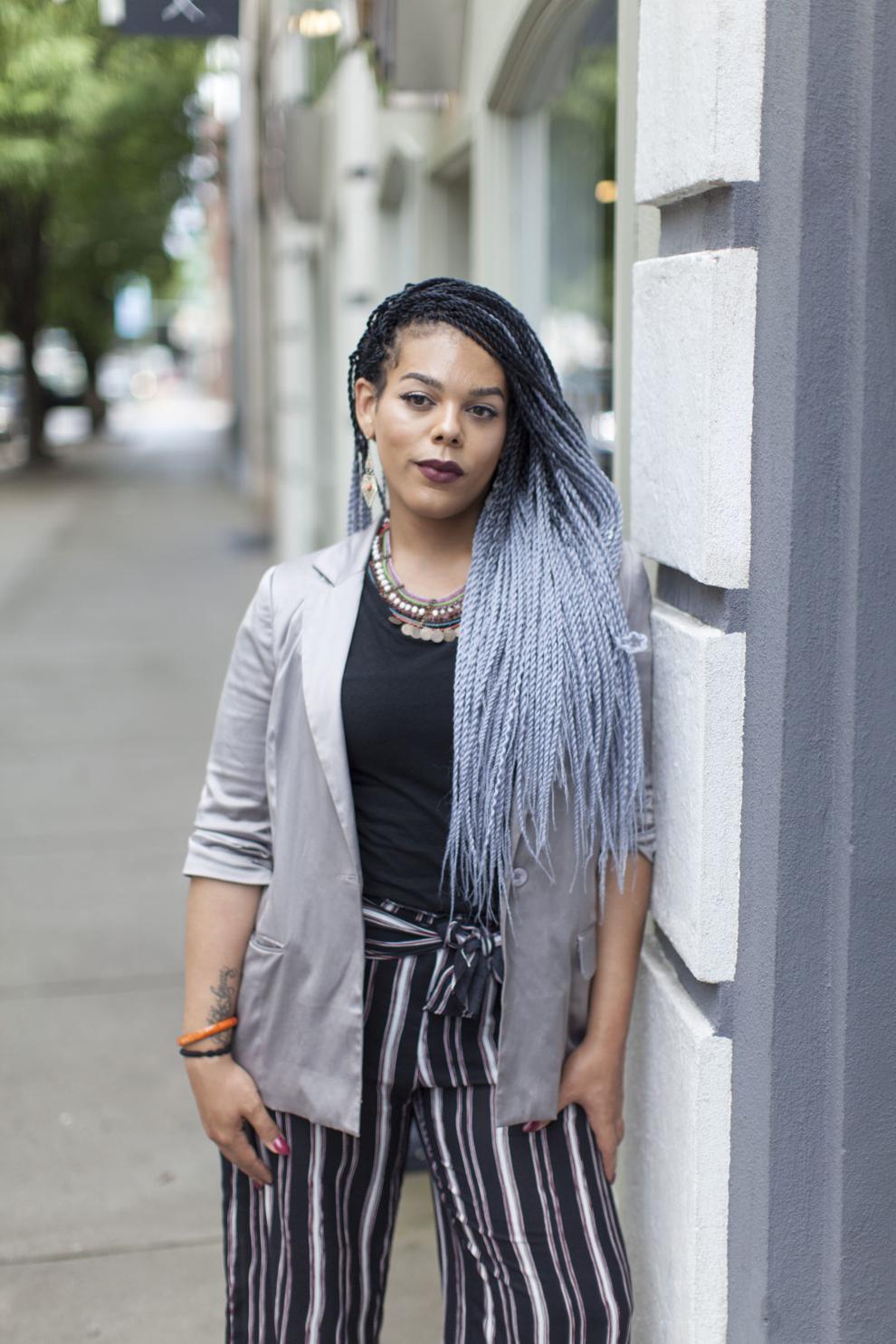 Pronouns: she/her/hers and they/them/theirs
Occupation: VCU Office of Continuing and Professional Education
I've always been into femininity. I don't like to be put into a box. I decided I was going to live outside the binary five years ago.
I started dressing and presenting as female full time in December. That's also when I started hormone replacement therapy.
I present as fairly feminine, but there are gender roles assigned to women I don't want to be part of. As nonbinary, I'm outside of those gender roles.
In 2013, I started doing drag. I was doing drag once a month, but I would start putting on the makeup and everything and then just sitting around the apartment and watching TV. I realized that I wanted to present as a woman full time.
I had all these fears about changing my appearance drastically. I didn't know how my colleagues would treat me. I ended up getting a new job. I was very upfront on the phone interview. I told the interviewer, "I'm in the middle of a transition. My plan is to present as feminine. If that's an issue, then I don't want the job."
I wanted to find a place that would foster my growth. Everything ended up lining up perfectly for me. I know how lucky I am. It took some bravery on my part. I can't even describe the weight and the burden it's taken off of me.
I go back and forth about being visible. I'm incredibly proud of being trans, but I also know I can be harmed. It's dangerous to be visible. The life expectancy for trans people of color is 35.
I've been threatened four times this year.
It's scary to walk out of the house in a feminine body. Men comment on my body every day. They don't know I'm trans. What would happen if they knew? I do worry for my safety.
That said, I make it my job to participate in society. I want to lead those who come behind me in discovering their identity and lay the groundwork as much as I can. I just received my master's in education leadership. I do a lot of public speaking. I joined the board of the Virginia Anti-Violence Project.
I want to make my community more visible. Visibility means normalization and that means safety to me.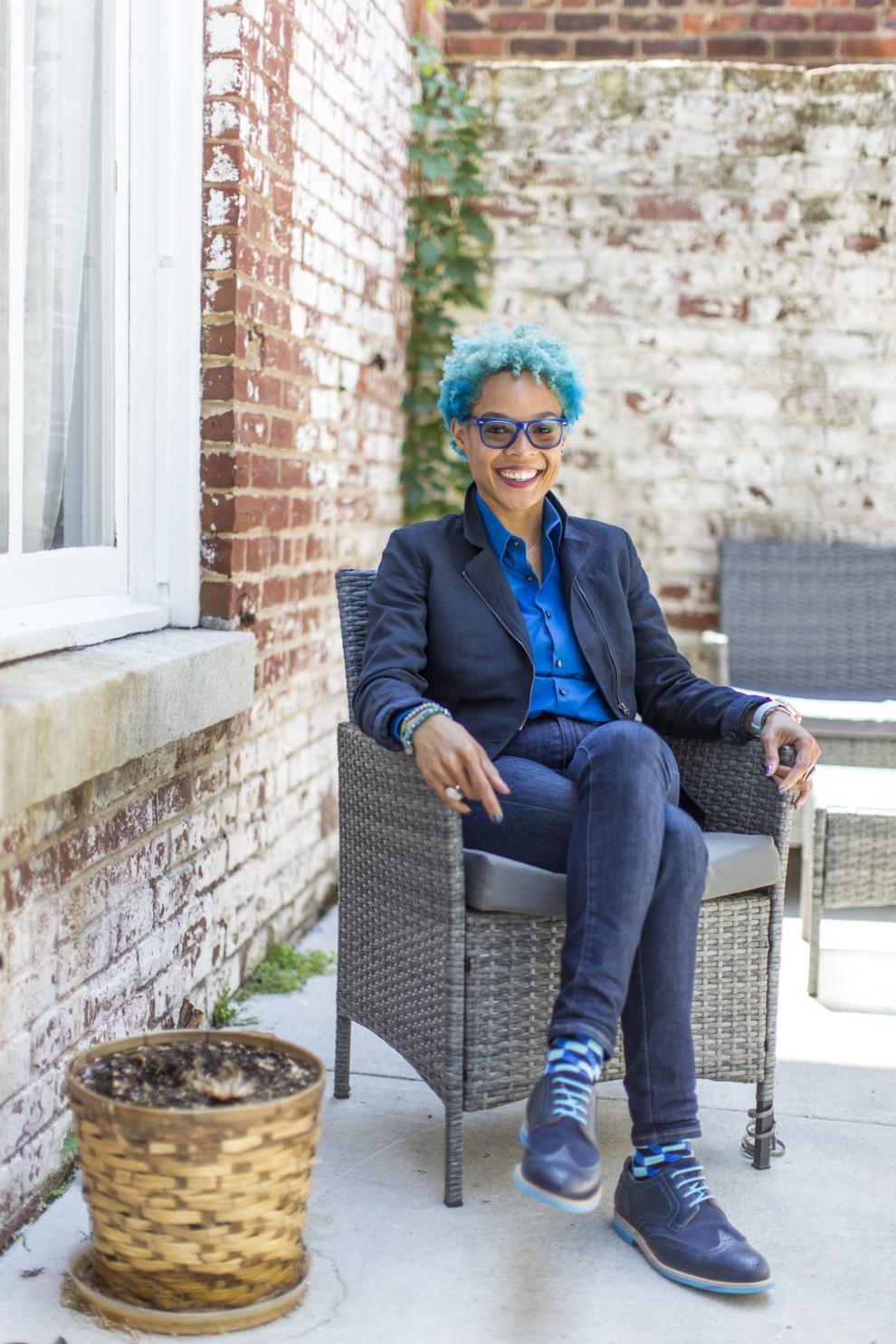 Pronouns: they/them/theirs
Occupation: Author, speaker, owner of TMI Consulting Inc.
I used to describe myself as moving through the world like a man. I've been married three times and divorced three times. I used to refer to my third husband as my wife and I was the husband. We joked about it, but it was very much true.
I'm not confined to the gender expression of female or male.
If you put all the pronouns on a silver platter and said to me, "Hey, you get to pick your pronoun." I realized I would not pick he or she. I would pick they and them because it's a more authentic expression of who I am.
My 12-year-old put it best. She said, "Mom, I'm going to use pronouns based on what vibe I feel you're giving off at the moment. So when you're on your 'he' vibe, I'm going to call you 'he.' When you're on your lady vibe, I'm going to call you 'she.' And when you're somewhere in the middle, I'm going to call you 'they.' "
I sit at the intersection of so many identities. I'm made up of multiple racial and ethnic identities. I'm on the LGBTQ spectrum; gender doesn't factor into my sexual attractions or relationships. I have been on welfare and taxed on the higher tax brackets.
I've always been the bridge: between black and white, straight and gay, rich and poor.
Being gender fluid and nonbinary is the most honest expression of the energies I feel residing inside of me.
It feels more me than anything ever has.
Language is really powerful. Language expresses culture. It's giving language to something that I have been living and feeling forever.
(804) 649-6151
Twitter: @collcurran