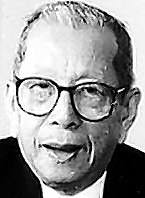 He came, as so many immigrants did, through Ellis Island, seeking the American dream he had heard about in China.
He found it in Richmond, where he used his revered skills as a chef and businessman to operate a restaurant for a quarter-century and to clear a path for his children to get the education they needed to pursue their own professional dreams.
Thomas Y. Chin of Richmond, who opened the Joy Garden restaurant in 1958, died Sunday of heart failure at an area hospital. He was 93.
A funeral will be held at 10 a.m. Friday at First Baptist Church at 2709 Monument Ave. with interment to follow at Riverview Cemetery.
As a boy growing up outside Canton, China, more recently called Guangzhou, he longed to come to New York, where his father and brother already had moved. He was able to secure passage in 1936, still a teen.
He settled with his father and brother in Chinatown in lower Manhattan, working for a laundry. Mr. Chin's daughter, Dr. Judy Chin Marqueen, recalled his stories of that first job, packing shirts at the end of the business day and delivering them to customers up and down Manhattan and into other boroughs — all by bicycle.
Later he would get his first restaurant job in New York. After serving in the Navy's Atlantic Fleet during World War II, he moved to Washington and continued his budding restaurant career. He was 40 when he moved to Richmond and opened his own place.
The Joy Garden, on Broad Street just west of Boulevard, was one of just a handful of restaurants offering Chinese fare in Richmond at the time.
Marqueen grew up watching her father's dedication to his business.
"He was always at work by 11 a.m.," she said, "and he didn't get home until 1 or 2 in the morning — seven days a week."
Joy Garden drew regulars, she said, patrons who stopped in nearly every night for dinner on their way home, and also served dignitaries. She recalled half a dozen governors who dined there.
Gov. James Lindsay Almond Jr., whose term began about the same time Mr. Chin opened his restaurant, and the governor's wife, Josephine Katherine Minter Almond, became family friends.
"She almost adopted us kids," Marqueen said. "We visited their house. They really loved dad."
The Chin children worked at the restaurant from the time they could bus tables, his daughter said, but Mr. Chin didn't steer his offspring into his business. Rather, he insisted that they get the education to do anything they wanted.
His surviving children, all of Richmond, are professionals. Marqueen is a radiation oncologist. Her brother, Jim L. Chin, is an attorney. Her sister, Mary G. Chin, is a pharmacist.
Marqueen recalled her father's artistry as a chef.
"He had a magic touch with food," she said. "Eating what he cooked was like having a wonderful dinner out every night."
That was a tough act to follow. "I think I'm not such a bad cook," she said, "but when I cooked for the family, I got a C. Dad got an A-plus."
Mr. Chin brought traditional Canton cuisine to Richmond, blended it with other dishes he had mastered earlier in his restaurant career, and added his own creations.
"He would daydream about food," Marqueen said. "He'd think about the possibilities and say, 'I'll try that.' And the dishes he invented would become very popular.
"I'd ask, 'How do you do that?' He'd say, 'It just happens.' "
He offered other family cooks his critiques, too, politely suggesting an extra teaspoon of salt, a drop of honey to make a dish the best it could be.
After he sold Joy Garden in 1983 and retired, Marqueen said, other Chinese restaurants sought his advice.
"They would have him taste their dishes," she said, "and he would tell them the truth. They'd thank him. It was part of the Chinese tradition of respect for the elderly."
Marqueen said that once her father retired he drew great joy from being a grandfather.
"I feel blessed that he was able to spend time with my kids," she said.
Mr. Chin was the widower of Betty Chin. In addition to his children, his survivors include a brother, Sam Chin of Richmond; eight grandchildren and four great-grandchildren.