When Hulu's TV adaptation of "Dopesick" was looking for a place to film, Beth Macy, author of the bestselling book, made an impassioned plea for the project to land in Virginia.
"Virginia deserves this. We're writing about Virginia. Let's make it authentic," she told the show's producers, who were also eyeing North Carolina and Georgia, both of which offered stronger incentives.
"Dopesick," which debuts Wednesday on Hulu, tells the shocking true story of how one company, Purdue Pharma, and its drug OxyContin triggered the worst opioid epidemic in America. Virginia was one of the first places to show the devastating effects of the drug.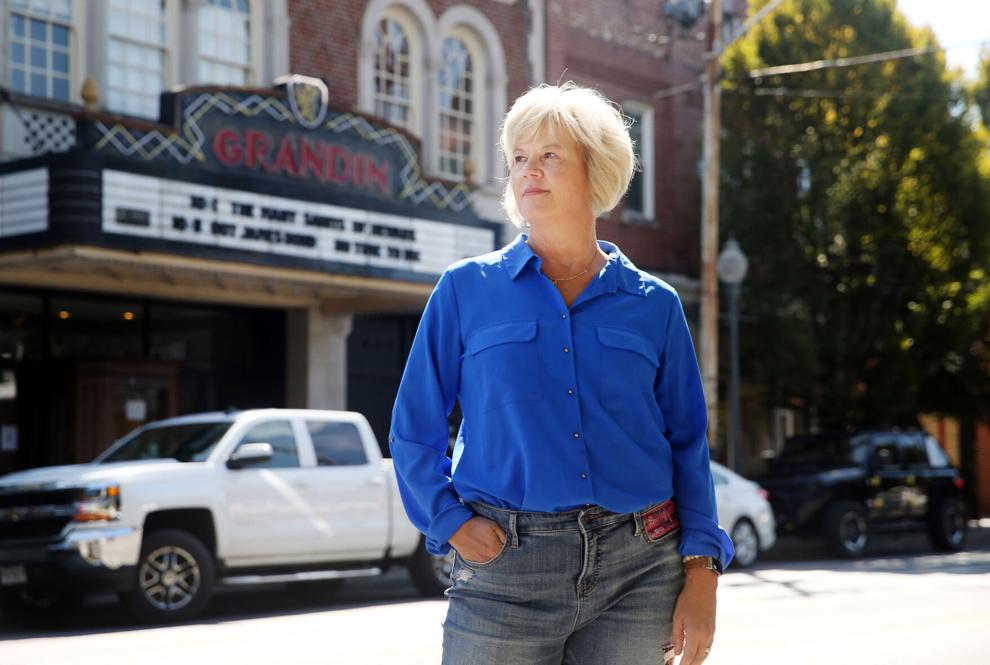 Macy, a reporter for The Roanoke Times at the time, began her reporting on the drug-addicted communities in Southwest Virginia, which became the bestselling book "Dopesick: Dealers, Doctors, and the Drug Company that Addicted America."
"We fell in love with Virginia," said Danny Strong, writer and executive producer of the series. "We chose it for its authenticity and the diversity of locations throughout the state."
Michael Keaton, Peter Sarsgaard and Rosario Dawson began arriving in Richmond last year for six months of filming and an expected $45 million in direct spending to the state.
Strong stayed longer, renting a house in Richmond's Carytown for nine months while prepping and filming the eight-part series. "I miss the pizza at 8½, some of the best pizza I've ever had," he said in a call from Los Angeles.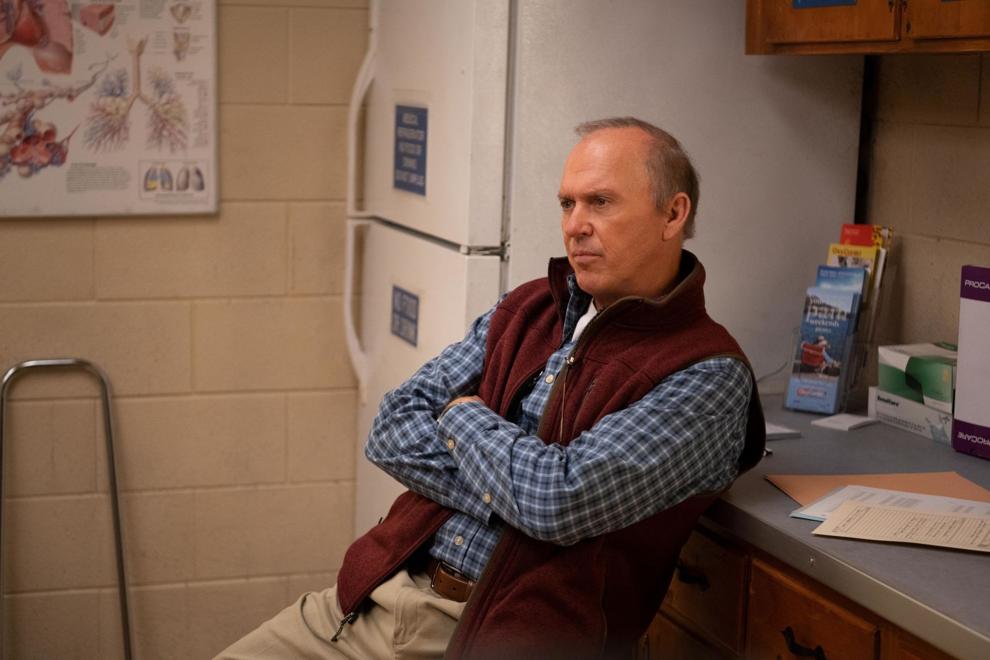 Keaton stars in the series as Dr. Samuel Finnix, a well-meaning doctor in rural Virginia who was told, like the rest of America, that less than 1% of patients became addicted to OxyContin. He starts prescribing OxyContin to his patients with disastrous results.
"Dopesick" also features Sarsgaard as an assistant U.S. attorney from Abingdon who spent years building a case against Purdue; Dawson as a passionate DEA agent; and Kaitlyn Dever as a young miner who suffers a terrible accident and gets addicted to OxyContin.
While Macy's book was a heavily reported non-fiction book about the opioid crisis, for the TV show, Strong adapted the book, picking or in some cases creating four main storylines to follow through eight episodes.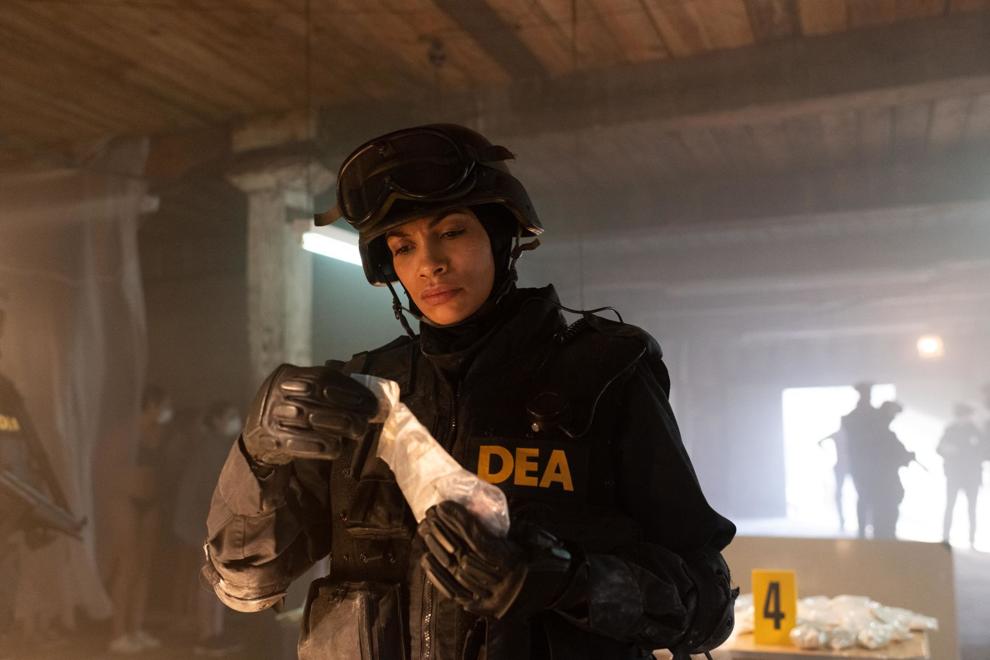 The show focuses on the people of Finch Creek, a fictional rural town in Virginia, and how its residents get addicted to OxyContin; the DEA's fight to get OxyContin off the streets as early as 2001; the U.S. district attorney's long fight to bring a case against Purdue Pharma; and, ultimately, the story of the Sackler family and how they ignited a national drug epidemic through greed, lies and deceit.
"I just was shocked by the degree of criminal behavior of a pharma company selling a highly addictive narcotic," Strong said. "To the extent they lied, deceived, manipulated and peddled their way into being able to market a highly addictive narcotic as practically non-addictive. The extent they went to lie to doctors, to lie to patients. The staggering level of deception. It was so calculated. I thought, if people could see this, they would be absolutely stunned and outraged by what this criminal company did."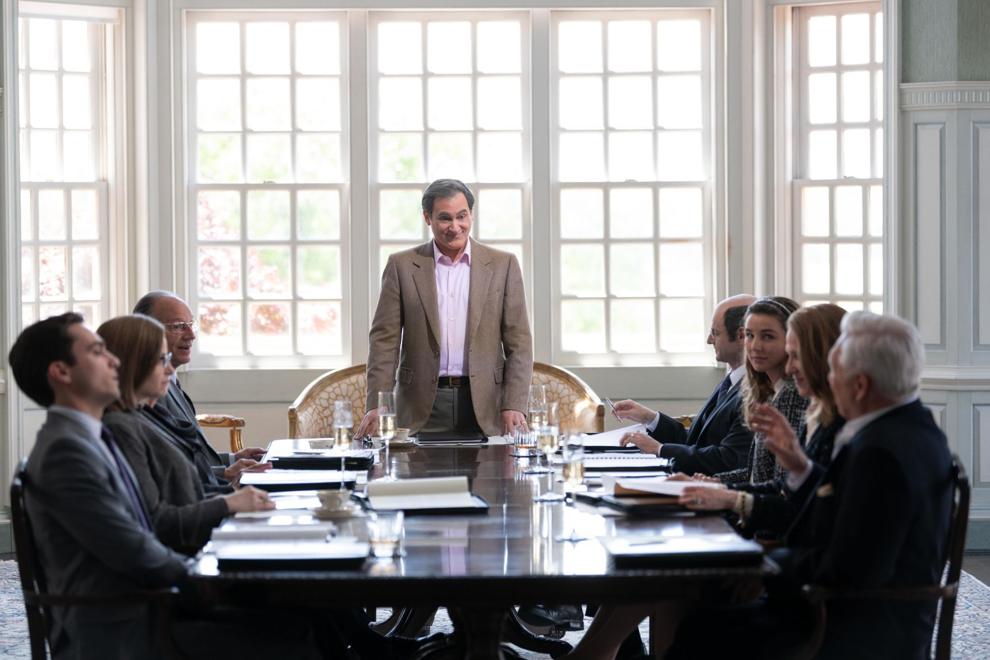 Purdue was dissolved in September in a bankruptcy settlement that will require the Sackler family to pay $4.5 billion, but grants them immunity from future opioid lawsuits and leaves them one of the wealthiest families in the nation.
Macy is currently working on a book called "Raising Lazarus: Hope, Justice, and the Future of America's Drug Crisis," about possible solutions to the opioid crisis. It's set to publish in August.
She co-wrote two of the episodes and also serves as an executive producer on the show. She even has a cameo appearance in the show.
"It's very powerful in a television format to see what was happening in real time. You see what decisions were being made among the regulators and the corporations and how those decisions play out on the ground," Macy said. "My hope is that people understand in a dramatic way the way this [epidemic] went down. I hope people will have more empathy for the folks who are suffering from opioid use disorder."
Keaton said he was drawn to the project because it was a "great story with great acting." He also told the Hollywood Reporter that he was drawn to "Dopesick" because his nephew, Michael, died from fentanyl and heroin use a few years ago.
Sarsgaard, who plays the assistant U.S. attorney, said OxyContin has affected his family directly.
"When I was younger, growing up, it was very common to be around somebody who was taking an opioid. It was everywhere. Because it was pharmaceutical and prescribed by a doctor [it was more accepted]. These are not the same people who would have done a line of heroin," Sarsgaard said. "I'm not someone who hung out with drug addicts. And yet, of course I was. We just didn't think of it the same way."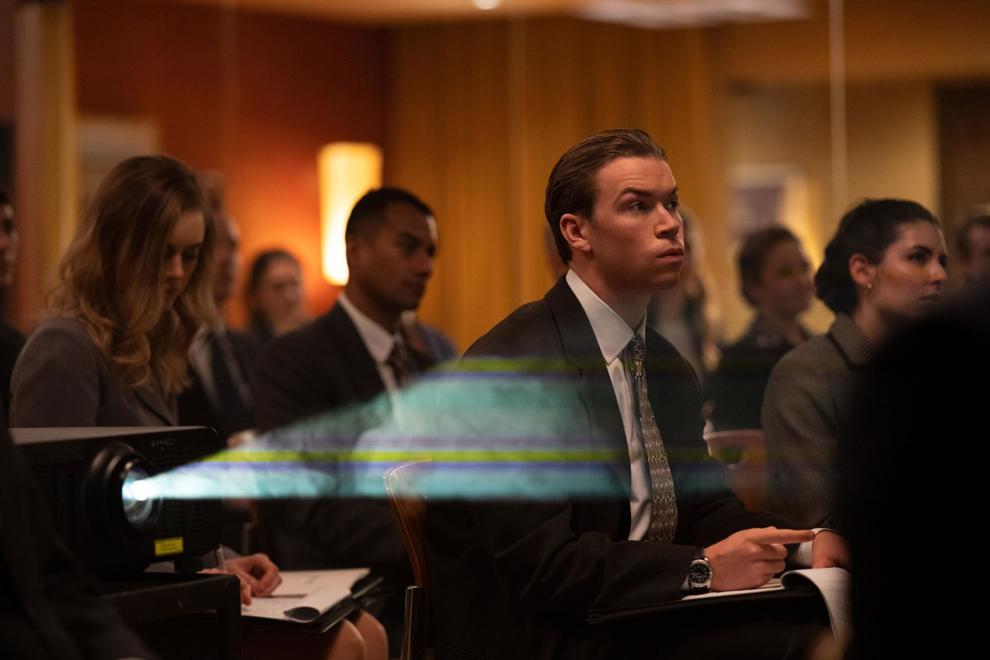 Will Poulter, a British actor who plays a Purdue sales representative in the series, said, "I think everyone in America is only a few degrees away from someone who has been affected by OxyContin."
In 2019, an estimated 10.1 million people misused opioids, according to the U.S. Department of Health and Human Services.
"The stigma [of drug addiction] is such a big part of why we as a society haven't addressed addiction very well. I think a show like this, with the power of television, will offer a deep dive into how this epidemic came about and will finally make people understand [this tragedy]," Macy added.
"Dopesick" highlights how Purdue Pharma used Virginia as a testing ground for OxyContin, targeting mining communities with physical labor where injuries occur more often, leading to the need for pain management.
"Beth does such a great job of advocating for victims of addiction," said John Hoogenakker, who plays Randy Ramseyer, another Abingdon lawyer prosecuting Purdue Pharma in the series. "She draws a direct line from the company's actions to the victims of addiction."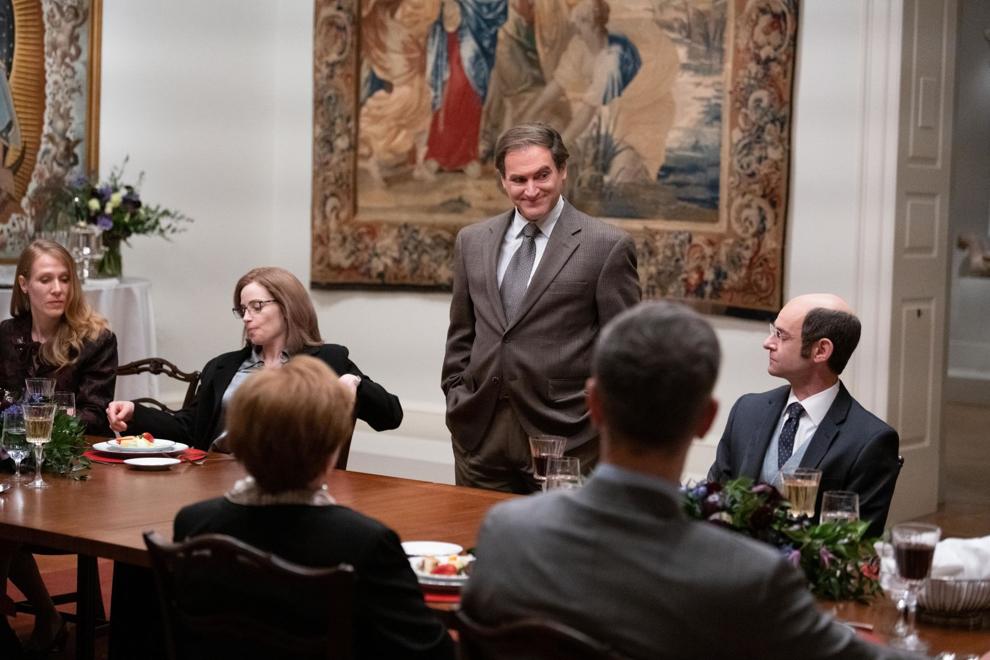 Where 'Dopesick' filmed in Virginia
The cast and crew arrived in the Richmond area last December and began filming through May, all over the city and central Virginia locations including Hopewell, Bowling Green and Lexington.
The Virginia Museum of Fine Arts serves as a recurring location as a meeting room for the Sackler family to discuss Purdue's profits, complete with French tapestries and European art. The Estate at River Run in Goochland County served as the home of Purdue Pharma's CEO Richard Sackler.
Other Richmond spots pop up throughout the series, including the Canal Walk, the Fan, Bookbinder's Restaurant, the Manchester Bridge and Boulevard Burger & Brew, to name a few.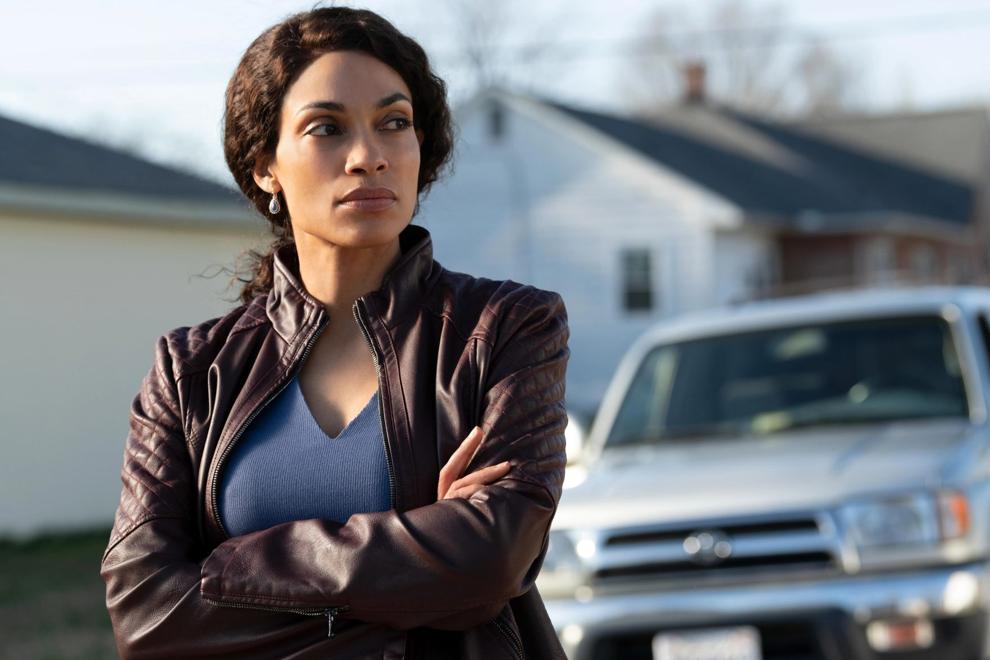 The crew filmed in Clifton Forge for two weeks, which served as the fictional town of Finch Creek in the show.
"It was just wonderful being up in the Blue Ridge Mountains," Strong said. "The city just embraced us."
John Bert, who lives in Shenandoah's Fort Valley, worked as the props master on set. He has worked on many film projects, including "Harriet" and "Wonder Woman 1984." Working on "Dopesick" was challenging as a props master, he said, because it deals with the recent past, primarily from 1996 to 2006, making it difficult to source items like watches, rings and eyeglasses for the actors.
"The actor doesn't become that character until they put on that watch or ring. It helps them get into character," Bert said. "But nobody's saving that thing they bought in 2002. I'm a history nut. I want to get as much right as humanly possible. This is a show dealing with real people, the good guys vs. the bad guys, and you want to do justice by what they did."
Another task on his list: create OxyContin pills.
"It's not legal to use real OxyContin. We custom-made placebos. The pills shown onscreen were laser-etched. I couldn't find anybody to create a pill dye for a controlled narcotic," Bert said.
"We get paid to make it right," he added. "We care about what we do. In doing so, we're representing Virginia filmmakers. The harder we work, hopefully people will recognize it and say they want to come back to Virginia."
"Dopesick" is expected to generate more than $45 million in direct spending in Virginia, according to the Virginia Film Office. It also created hundreds of jobs, from production coordinators and costume supervisors to camera operators and hairstylists. The series hired over 200 local cast members. It also touched more than 200 small businesses as vendors, with everything from hotel reservations and local housing rentals to sign makers, fabric, props and constructions materials.
The cast of "Dopesick" raved about filming in Virginia and their love of Richmond in a recent interview.
Jake McDorman, who plays John Brownlee, the U.S. attorney for the Western District of Virginia, said he loved running and hiking the trails downtown, especially crossing the suspension bridge to Belle Isle.
Poulter, the British actor who plays Billy, a sales rep for Purdue, described Richmond as "one of the best places with the friendliest people I've ever come across."
A fan of the Richmond restaurant scene, he frequently visited the Greenbriar Café and Coffeehouse and Beet Box RVA, which kept him fueled with juice drinks during his stay.
Many of the cast noticed the changes happening in Richmond while they were filming, especially at the Lee monument.
"It's a great city with a real air of progression about it. Social action is in the air in Richmond," Poulter said.
Filming in Virginia brought an air of authenticity to the project, Strong said.
"This is where it happened," he said, referencing Macy's reporting on how Virginia communities were devastated by the opioid crisis.
He added, "I just thought, going through the town, this is a great city. And would be a really neat place to live for nine months."
(804) 649-6151
Twitter: @collcurran