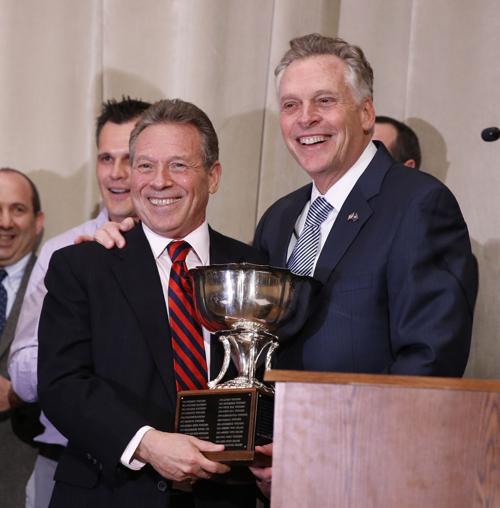 For a winery that has forged its name by making standout cabernet sauvignons, Keswick Vineyards doesn't do a bad job with cabernet franc either.
In fact, Keswick does a great job. As proof, its 2014 Cabernet Franc Estate Reserve last night was named the 2016 Governor's Cup winner at a gala at the Residences at the John Marshall.
A cab franc won for only the third time in the 33rd year of the award. Keswick's Estate Reserve was deemed 2016's best of 432 entries of red and white wines from 95 state wineries.
The Governor's Cup was the third for Keswick winemaker Stephen Barnard. His 2005 Rappahannock Cellars Viognier Reserve won in 2006, and Keswick's 2007 Cabernet Sauvignon was tops in 2009.
That Barnard won with a cabernet franc has ironic overtones. Not long ago, he wrote that he was not the biggest admirer of cab franc. He's massaged his thinking a bit.
"I'm not a fan of green, herbaceous cab francs, and perhaps I have a notion that it is still predominantly a blending component versus a standalone," Barnard said of cab franc, which worldwide is most-often used as a blending grape.
"I have come to like the riper versions that showcase more fruit, spicier notes that are more varietally correct than a wine that it is picked too soon and green."
Virginia cabernet franc benefited from a 2014 growing season that was cooler in May and June, "but we had incredible weather leading up to harvest," Barnard said.
The result was a terrific wine.
"The aromatics are quite intricate," Barnard said. "Initially you get a lot of cherry and red fruit components, but then the spicy notes come through, lots of black pepper and then after a while the floral tones come out, but the key is that the oak is well hidden in the wine.
"The wine has lovely entry into the palate due to the acidity, and the wine, although structured, feels quite light on the mouth. The finish is long, and the flavors are very similar to the nose, fruit forward, spicy. I am excited to see this wine develop in the bottle over the next few years."
Barnard also is Keswick's vineyard manager, but he's quick to point to a team effort that he and owners Al and Cindy Schornberg have instilled at the winery.
"I could not do this on my own; I am part of an incredible team, all of which contribute to the wine, so it is important to stay humble and give credit to my vineyard guys," said Barnard, in his 10th year at Keswick.
As for the winning the 2016 Governor's Cup …
"We are obviously very proud of the wine and are thankful for the recognition," Barnard said. "So we will enjoy the evening and celebrate the award, but the day after, we will be back to work, trying to improve on what we have done. We can never be happy and complacent, and as I always tell my guys, this wine is better than last year's but it is not as good as the next.
"The cool thing is that the vineyard is now reaching a level of maturity, and I still think the best wines are still to be made."
Keswick's 2014 Cabernet Franc Estate Reserve ($49.95) will be available only online (www.keswickvineyards.com) or at the winery, located about 13 miles east of Charlottesville.
The top 12 scoring wines in the 2016 Governor's Cup competition listed in alphabetical order:
Barboursville Vineyards, 2014 Vermentino
Bluestone Vineyards, 2014 Chardonnay
Cardinal Point Winery, 2014 Clay Hill Cabernet Franc
Fabbioli Cellars, 2012 Cabernet Franc
Glen Manor Vineyards, 2013 Hodder Hill (red blend)
Granite Heights Winery, 2010 Evening Serenade (red blend)
Horton Vineyards, 2014 Petit Manseng
Keswick Vineyards, 2014 Cabernet Franc Estate Reserve
Michael Shaps, 2014 Petit Manseng
Naked Mountain Winery, 2012 Petit Verdot
North Gate Vineyard, 2013 Meritage
Stone Tower Winery, 2013 Hogback Mountain (red blend
)