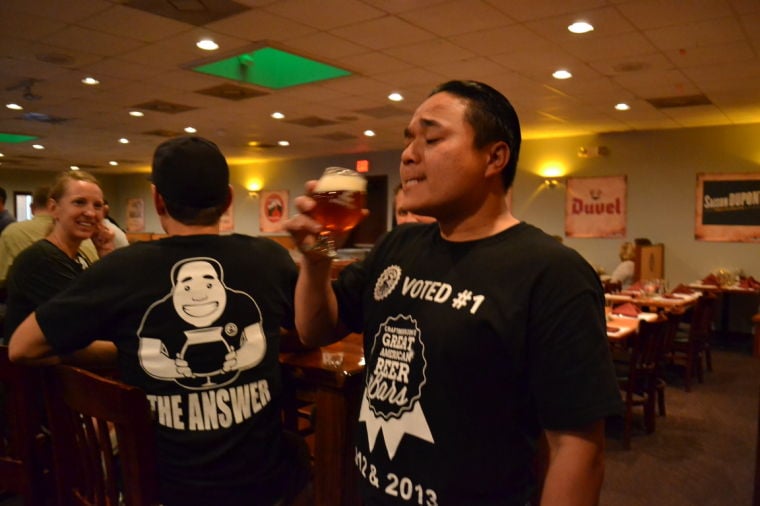 The current trends within the craft beer world are many, but Richmond seems to have embraced one of its own.
Brewers nationally are playing with single-hopped IPAs, barrel-aged beers, style hybrids, flavorful but sessionable (low alcohol level) ales and extreme beers. Not that Richmond brewers haven't dabbled in these, but there's an unmistakable trend among breweries that have opened here in the last couple of years.
New breweries are opening throughout the nation, usually with a flagship beer at the helm—a primary beer that will account for their greatest production and sales—or at least with a few standard-bearer beers. Often these are drinks that appeal to a wide variety of drinkers, not just to a handful of beer geeks.
The Richmond breweries, though, seem to have an added influence. Hardywood Park opened with a singel and Lickinghole Creek with a tripel, a Belgian pale ale and a saison. At Center of the Universe, two of the three one-offs are a tripel and a Belgian abbey-style ale. The Strangeways Brewing beer list is sprinkled liberally with saisons and Belgian-style beers. Even the newest kid on the block, Isley Brewing, is opening with a blueberry white ale with hints of coriander and orange peel.
Since the distinctive taste of Belgians is not a favorite of my flavor palate, I noted this trend with chagrin. I began to suspect that our new breweries are all under the "Anfluence" of a certain local beer personality.
After all, his restaurant's tap selection specializes in Belgian beers. He hosts the monthly meeting of the James River Home Brewers and is friendly and generous with local professionals in the beer industry and, indeed, with all beer fans who enter his domain. Sean-Thomas Pumphrey of Lickinghole Creek even admitted that they came up with the name of his brewery when he was sitting at that very restaurant. At Mekong. With An Bui. Pumphrey, clearly, was under the Anfluence.
To help me make sense of the Richmond trend, I appealed to a new brewery owner and beer expert in the western U.S. I had to go out of state for my advice because I fear that all local beer experts could be wearing the same golden-colored glasses that our Richmond brewers do.
I asked Matt Stinchfield, returning judge to Great American Beer Festival and World Beer Cup, Certified Cicerone, self-avowed cynic, and managing member at Ploughshare Brewing in Lincoln, Nebraska, just what the style trends are among new breweries. His answer gave me some perspective.
"Most new brewpubs are doing a traditional lineup that includes a neutral crossover beer, a pale ale, a wheat ale and a stout," Stinchfield said. "Depending on where you are located, you might also see cocoa nib this and smoked vanilla bean with bacon that." No Belgians here!
But when speaking about the new brewer style trends and flagships, he pointed to "über-hopped beers, session beers, sour ales and so-called farmhouse ales." Yes, farmhouse ales are Belgian inspired.
In addressing his plans for Ploughshare beers, he pointed to "old school Belgian wheat beers, German lagers and English ales. Sometimes traditional, sometimes with a twist. I'm a believer in history, and in the big picture, beers styles that have shown the test of time is where I'm putting my money." Yep. Belgians.
So maybe the Belgian focus isn't just a Richmond thing. Maybe it has something to do with the quality of Belgian beers, with the fact that Belgian monks were experimenting with wild yeasts and creative flavors while Germans were stuck on the four-ingredient purity law and the English were adjusting to taxes based on alcohol content and creating beers to match their infamous cuisine.
Or perhaps the fact that Mekong has won first place nationally in Craftbeer.com's Great American Beer Bars contest for the last two years demonstrates that Richmonders appreciate the complex quality of fine Belgian-style ales. After all, An Bui has been educating local palates for more than 15 years.
Undoubtedly, An Bui of Mekong has affected the final gravity of the craft beer scene in Richmond. Fortunately, it's an influence we're lucky to have.