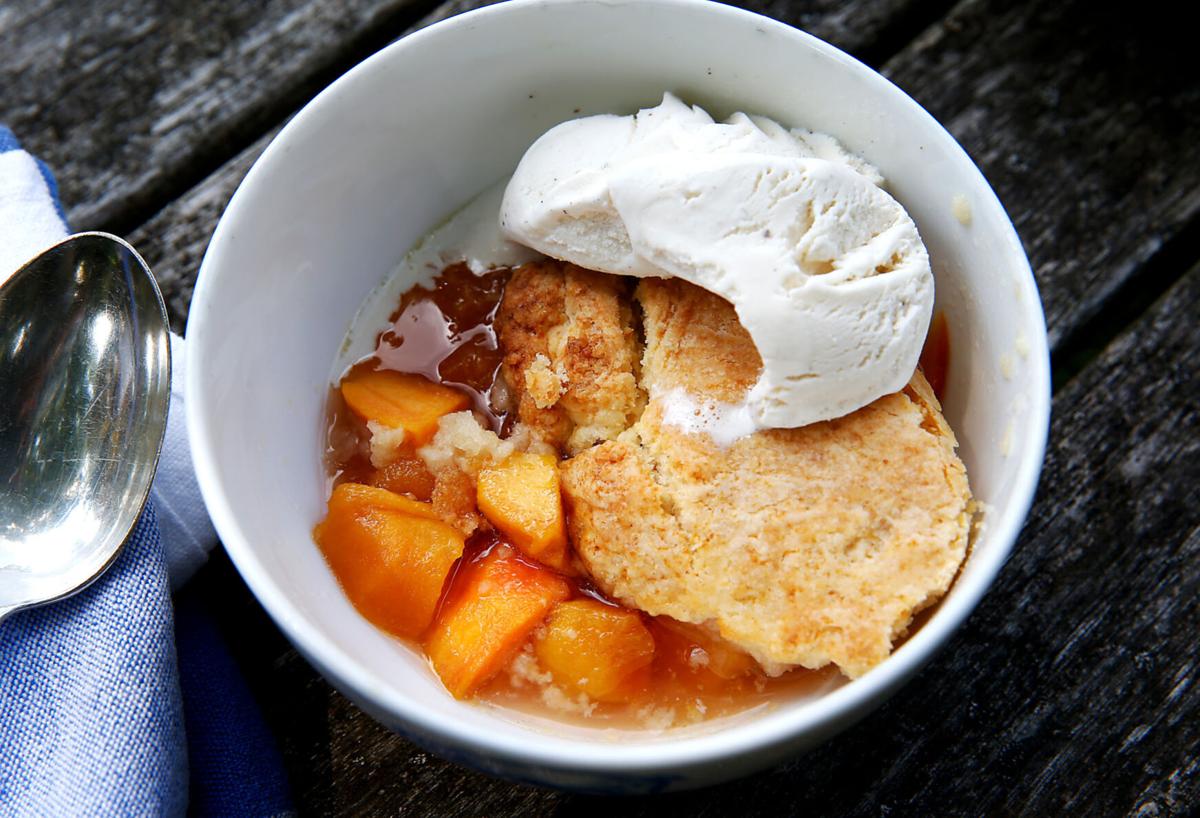 Regular as clockwork, each year right around now, I'd receive the call one morning.
"Clare, your peaches are over here," the gravelly voice would boom. And I'd know it was showtime.
The routine was the same for years. I'd drop whatever I was doing and scamper down the block to pick up a big box of white peaches perched next to the back door, still warm from their drive that morning. They were a seasonal exclamation point, definitively announcing "It's summertime!" They were the essence of peach – in taste, in fragrance, in the sweet juice coursing down my arm as I grabbed one to eat out of hand.
As if by magic, they appeared from the judge's orchard in Fauquier County. And it was a joyous call to arms: It was time to dust off my ice cream machine, grab some pie dough from my freezer to thaw, and put the Prosecco on ice for those Bellinis.
But first things first: On that same afternoon, I knew I would be retracing my footsteps, with my favorite oval baker in hand, to bring the judge his beloved peach cobbler.
You may call it a quid pro quo, but in my mind, it was an annual chance to bestow gratitude – and, more importantly, affection – upon a beloved neighbor who entertained us through the years with countless stories and numerous cocktails, and who formed a precious anchor to our home.
The recipe was not complicated. It's the one I'd been making since my teens for my father, who was also a peach cobbler aficionado. As I've always said, when you've got wonderful ingredients, only minimal intervention is necessary to make them sing.
And that is certainly the case here. Start with the best, juiciest peaches you can find, and you're sure to become as enamored of this cobbler as was the judge.
Sadly, the judge and his orchard are no more. I miss my annual call from him, and I have to make do with store-bought peaches. But I love making this dish every year in my same oval baker. It's a chance to delight in that familiar dessert that shouts  summertime.
But more importantly to me, it's a chance to remember that gravelly voiced neighbor I loved so well.
4 lbs. fresh ripe peaches
1 cup sugar, plus 2 teaspoons sugar, divided
1 tablespoon baking powder
¼ cup vegetable shortening
2 tablespoons unsalted butter
Vanilla ice cream for serving
Peel, pit and cut peaches into 1-inch slices. Combine peaches with the cup of sugar in large mixing bowl, toss and set aside.
In another bowl, combine flour, baking powder, salt and the 2 teaspoons of sugar. Mix to combine. Add shortening and cut it into flour mixture until well-blended. Gradually add heavy cream, stirring until dough forms a ball.
Preheat oven to 400 degrees.
Spoon peaches into a shallow baking dish. Chop butter into six teaspoons and place them on top of peaches.
On a lightly floured surface, roll out dough to approximately ¼-inch thick. It's OK to leave ragged edges, but aim to pretty much cover the top of the baking dish. Place dough on top of peaches.
Bake for 30 minutes or until the top is golden brown.
Remove from oven and let cool slightly. Serve with vanilla ice cream.