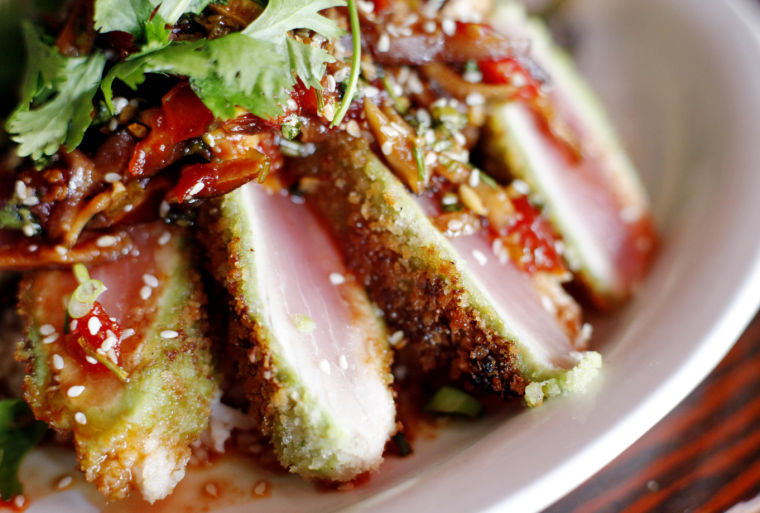 Considering I drive down Main Street on my way home from work every day, I'm shocked Bamboo Café isn't firmly implanted in my brain. Yet, roughly five times a week, I've cruised by with nary a second thought.
Then, the other day, while waiting for the car in front of me to hurry up and parallel park already, I looked to my left, and there it was — on the corner of Mulberry Street, silently judging me for driving by yet again.
Bamboo's longevity is nothing at which to scoff, so how did the restaurant fall off my radar?
Bamboo's patrons, many of whom are longtime regulars, don't feel the need to photograph and chronicle every menu item on their Facebook pages. And its kitchen staff definitely isn't using Twitter to keep you apprised of their sauté skills.
But lack of chatter doesn't mean Bamboo should be overlooked.
This cozy little café churns out a solid menu well beyond your typical Fan bar's nachos and chicken fingers.
From Bamboo's strong drinks to its rotating nightly specials, such as grilled pork tenderloin with avocado-chipotle sauce and jasmine rice ($17.95), both imbibers and eaters will find something to love.
I was the first of my group of friends to arrive one recent weeknight. When I stepped under Bamboo's signature red awning and into its dark, cramped interior, the light from the closing door shone across a line of bar patrons staring directly at me.
I sheepishly grabbed a booth along the wall, trying to make my non-regular status less obvious as I waited for my friends. The bartender quickly trotted over to take my drink order while a server scribbled the night's specials on a chalkboard at the back.
As far as drinks go, if you can dream it, the staff can probably make it.
As soon as my party was intact, we pounced on the night's appetizer special — warm Brie on baguette with bananas and strawberry-balsamic coulis ($8.95) — as well as crispy pork pot stickers ($9.95).
Lightly melted atop six rounds of toasted bread, the Brie's subtle astringency was curiously enhanced by the richness of the banana slices and the coulis' pungent sweetness.
Served with a sticky sesame sauce, the delicious fried pockets of pork and veggies acted as a savory counterpoint to the dessert-like Brie.
Bamboo has a range of subs, sandwiches and double-cheese pizzas, but I recommend the entrees, which come with soup or salad.
The evening's tomato bisque was one of the best I've had, a perfect marriage of tangy, rich and creamy.
I couldn't pass up the lethally dense mac 'n' cheese ($12.95), a heady concoction of cheddar, Parmesan and smoked Gouda. The cheeses alone would have been fantastic, but Bamboo jazzes up its noodles with salty Smithfield ham and leeks caramelized to a sweet nuttiness.
Another hit was crispy wasabi tuna ($16.95), ruby red slices of rare ahi lavishly crusted in panko and enough wasabi to clear your sinuses for a month. Accompanying sesame-shiitake "salsa" on top of fragrant jasmine rice made every bite gratifying.
The only letdown was a penne primavera special with shrimp, scallops, zucchini and peppers ($18.95). The portion was generous and the basil in the garlic-white wine sauce invigorating, but the flavors didn't thoroughly mesh. The blandness of the pasta dominated.
Throughout the night, a no-nonsense waitress kept our drinks filled and our dirty plates cleared. She wasn't the chattiest of servers, but she handled the quickly filling tables with ease.
If you love the atmosphere of a signature Fan bar but want a menu with pizazz, stop into Bamboo Café. There's a reason it's been around so long.