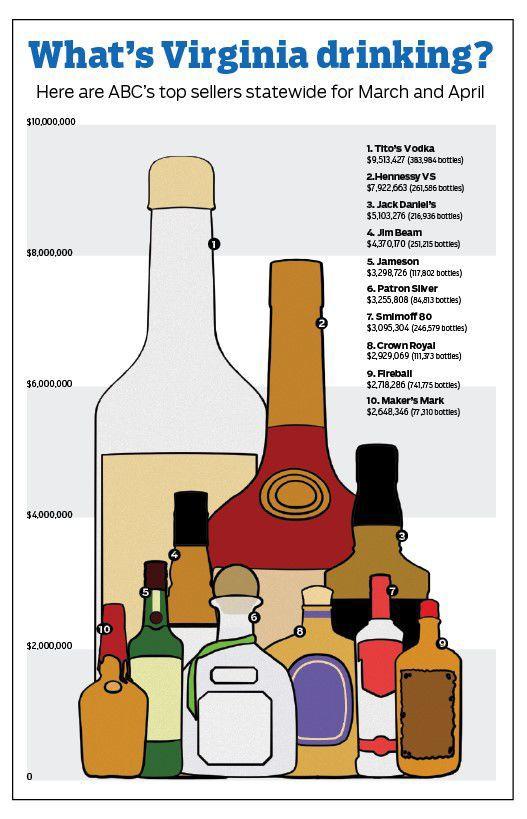 It's no secret that Virginians are buying more booze while social distancing because of the coronavirus.
Sales at the state's liquor stores have consistently been up year-over-year since Virginians started staying at home, hovering around $22 million a week, or up around 15% year-over-year in April, according to numbers from the Virginia Alcoholic Beverage Control Authority.
Those sales aren't quite as high as ABC saw in March during the week social distancing began, when the state liquor monopoly reported near-holiday numbers with more than $30 million in weekly sales.
We know Virginians are drinking, but we wanted to know what they're drinking.
Tito's Handmade vodka remains king, pulling in $9.5 million in sales after Virginians bought nearly 384,000 bottles in March and April, according to data from ABC. It's been the state's top seller for the last few years.
Virginians spend the most on Tito's, but small bottles of Fireball Cinnamon Whisky are the most popular choice in the state, with individual sales nearly doubling every other brand. Virginia ABC stores report 741,775 bottles of Fireball sold in March and April, bringing in $2.7 million in sales. Customers pay an average of less than $4 per bottle for Fireball, while the other 14 top-selling liquors have an average sales price of $22.84. ABC records don't track sales by bottle size.
Here are the state's top sellers in March and April:
Tito's Handmade vodka — $9.5 million, 383,984 bottles
Hennessy VS cognac — $7.9 million, 261,586 bottles
Jack Daniel's 7 Black whiskey — $5.1 million, 216,936 bottles
Jim Beam bourbon — $4.3 million, 251,215 bottles
Jameson Irish whiskey — $3.3 million, 117,802 bottles
Patron Silver tequila — $3.3 million, 84,813 bottles
Smirnoff 80 vodka — $3.1 million, 246,579 bottles
Crown Royal Canadian whisky $2.9 million, 111,373 bottles
Fireball Cinnamon whisky — $2.7 million, 741,775 bottles
Maker's Mark bourbon — $2.6 million, 77,310 bottles
Grey Goose vodka — $2.4 million, 82,471 bottles
Absolut vodka — $2.3 million, 140,293 bottles
Crown Royal Regal Apple Canadian whisky- $2.2 million, 101,278 bottles
Bacardi Superior rum — $2.2 million, 138,070 bottles
Jose Cuervo Especial Gold tequila — $2 million, 116,439 bottles
And in the Richmond Planning District, which covers the city of Richmond and Henrico, Goochland, Hanover, Chesterfield and Powhatan counties:
Tito's Handmade vodka — $1.5 million, 59,411 bottles
Hennessy VS cognac — $1.2 million, 41,051 bottles
Jack Daniel's 7 Black whiskey — $706,313, 30,665 bottles
Jim Beam bourbon — $678,923, 39,196 bottles
Maker's Mark bourbon — $467,845, 13,569 bottles
Jameson Irish whisky — $445,784 16,393 bottles
Smirnoff 80 vodka — $403,093 32,460 bottles
Fireball Cinnamon whisky — $387,839, 106,945 bottles
Patron Silver tequila — $381,712, 10,398 bottles
Crown Royal Canadian whisky — $357,447, 13,735 bottles
Pinnacle vodka — $335,152, 31,186 bottles
Woodford Reserve bourbon — $330,837, 9,565 bottles
Bacardi Superior rum — $320,387, 20,470 bottles
Absolut vodka — $313,186, 18,978 bottles
Grey Goose vodka — $310,429, 10,394 bottles