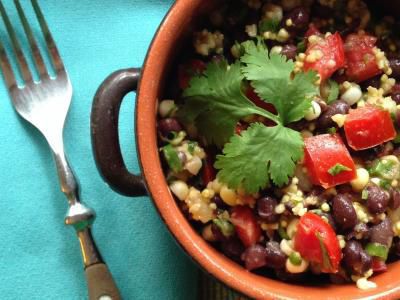 Whenever I ask people if they eat salads, they usually respond by listing the types of lettuce and raw vegetables they select. People think they've made a nutritious choice — until I inquire about their high-calorie toppings, such as nuts, seeds and cheese.
The No. 1 problem: salad dressings. Many people don't measure amounts, and some drown their salads with it.
Ranch has at least 140 calories per 2 tablespoons. A half-cup (8 tablespoons) adds 560 calories. That's high, considering 1½ cups of chopped vegetables and lettuce begin at only 35 calories, depending on the produce chosen.
Solve the dressing problem by using smaller amounts of your favorite or switching to lower-calorie options. Calories vary greatly by brand of bottled dressing, so read the food label to know what you're pouring on your salads.
Italian, some vinaigrettes or low-fat and fat-free dressings can be better choices. Two tablespoons of Italian dressing provide about 85 calories; raspberry vinaigrette, 60 calories.
Many people assume a good choice is oil and vinegar, but that combo is high-calorie at 150 calories per 2 tablespoons. The calories come from the oil, not the vinegar. Watch portions or try a balsamic vinaigrette, at 90 calories for the same amount.
Mayonnaise-based potato, pasta, chicken or tuna salads are popular dishes for gatherings. My favorite store-bought potato salad has 240 calories per half cup. I enjoy a small portion and balance my plate with fresh fruits and vegetables.
When making these salads at home, you can cut calories by using less mayonnaise, switching to reduced-fat mayonnaise, or substituting plain Greek yogurt.
Tossed salads are especially delicious this time of year, made with locally grown produce. Load up on the raw vegetables and lettuce to pump up the color, flavor, nutrition and crunch.
Vegetable salads don't have to include lettuce or leafy greens. For an easy side dish, chop your favorite vegetables and mix with lower-calorie dressing, or serve on the side and let diners choose their own flavor. Add some protein by tossing in a can of drained and rinsed beans or chickpeas.
Whole-grain vegetable salads are a way to add texture and fiber to your meals. They're gaining popularity and can be found on many restaurant menus and grocery store salad bars.
At home, try adding familiar brown or wild rice, cooked then cooled, to chopped vegetable or lettuce-based salads. Experiment with other whole grains, such as bulgur, farro, freekeh, millet, sorghum or whole-wheat couscous.
Quinoa is popular, too — it's high in protein and a good source of fiber. Quinoa is a seed, but it's used like a grain in many recipes. Today's Quinoa, Black Bean, Corn and Tomato Salad highlights garden-fresh corn and tomatoes in a delicious and hearty recipe.
— Adapted from https://oldwayspt.org
Mary-Jo Sawyer is a registered dietitian with VCU Health where she provides outpatient nutrition counseling. Contact her at maryjosawyer@ymail.com, and follow her on Facebook at Practical Nutrition, Mary-Jo Sawyer, RD, or on Twitter @MaryJoSawyer.