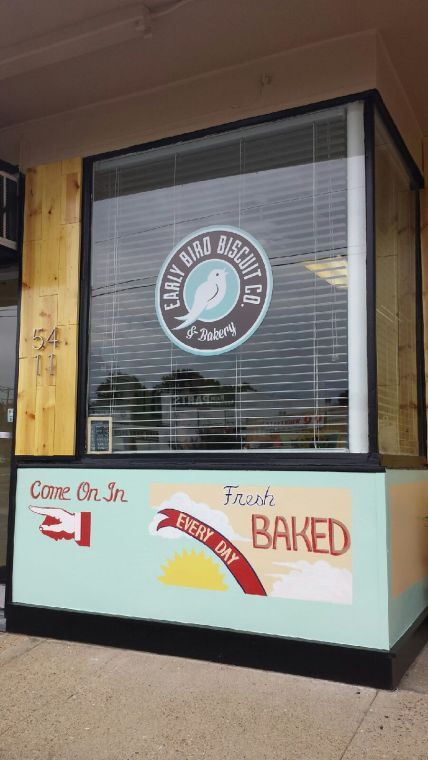 The nostalgic interior of newly opened Early Bird Biscuit Co. on Lakeside Ave. is incredibly cozy - more grandma's back room kitchen than storefront bakery shop.
In fact, the Cuckoo clock that hangs on the wall belonged to proprietor and baker Tim Laxton's grandmother.
He rolls out his impossibly light, fluffy buttermilk biscuits with her rolling pin, handcrafted by his great grandfather in the 1800s.
A thoughtful hospitality permeates the teeny spot, you immediately feel like family, evident when Laxton sets a fresh pot of coffee to brew rather than pour from the bottom of the carafe.
Laxton has been piddling in the kitchen since he was a kid.
Self taught, his first foray in baking was at 10 years old.
"I read the word soufflé somewhere and asked my mom what that was," Laxton said. 
She told him to look up a recipe for one, which he did, and was well on his way until he came across a technique he was unfamiliar with.
"I was a latch key kid, so I called her up at work and she explained to me over the phone, step by step, how to fold properly."
He made the soufflé to perfection, and remembers asking his brother to keep still, otherwise it would fall. 
He's been baking ever since, but last November he had an epiphany. 
I remember, I just said it to myself out loud "I'm gonna make biscuits."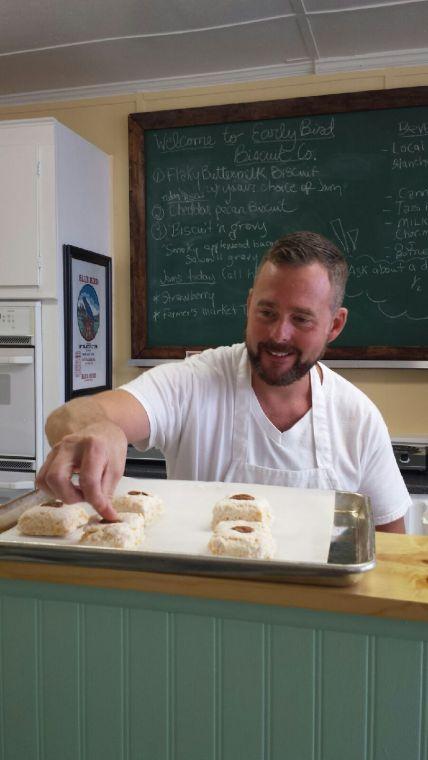 Those biscuits, would be Mama's biscuits. Mama was Mattie Tallahassee, Laxton's grandmother known as Mattie Belle.
She was known for her biscuits.
"If folks were talking about Mattie Belle, they were also talking about her biscuits," Laxton, who inherited her wooden table complete with the burn mark from where she would set down the hot pan, from her oven, said.
From his oven, Laxton offers a few biscuits daily: Mama's buttermilk biscuit and a special flavor of the day. There's also a plate full of wrapped ham biscuits that sit on the counter waiting to be snatched up by the lunch crowd.
The special this morning was Smokey Applewood Bacon Sawmill Gravy biscuit. On last Saturday his Bacon Cheddar Chipotle turned more than a few heads.
"Yesterday I did a Raisin in the Sun biscuit, it was a cinnamon raisin pecan biscuit with a cream cheese glaze," he said.
Clearly this man is not fooling around. Biscuits are served with butter and homemade jams crafted from seasonal fruit that he sources from the Lakeside farmer's market just down the road. 
But you get something extra at Early Bird, you get the worm.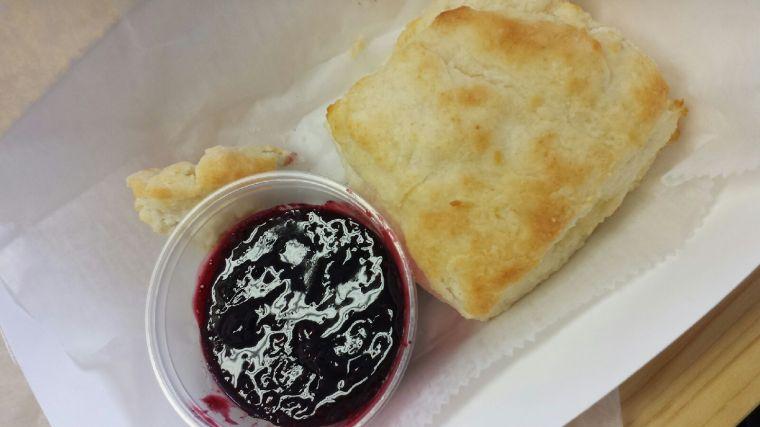 "When you make biscuits, you need to cut the edges, that's how they rise. I was looking at some scraps and noticed that they kind of resembled a worm, the kind you can dip it in the jam or use it to spread the butter on your biscuit" Laxton explained. (author's note: Or you can pop it into your mouth like a ravenous biscuit hungry fool.)
Laxton has traveled extensively and his talent is informed by his globe hopping. 
"I've been to Thailand, Vietnam, China; I always make sure to learn cooking techniques wherever I go and I am especially interested in border cuisines" referring to the merging and influence of two places, to create a third.  
Laxton hopes that one day Early Bird Biscuits will be available in your local grocers freezer section, ready to bake at home. For now he has plans to expand lunch options beyond biscuits eventually, baking his own bread for Southern favorites like chicken salad and pimento cheese sandwiches.
In a restored bakery case sits a collection of homey desserts; Boston Cream cake with orange zest, a chocolate chess pie, a Belgian chocolate bundt cake and some coconut macaroon cookies, all displayed on antique plates.
"I don't make pretty things in here, but they taste good" he said. 
Among the delights displayed is Laxton's favorite children's book, and his shop's namesake, "The Early Bird" by Richard Scarry.
"My nickname as a kid was Bird" he adds.
Early Bird opened this past weekend to happy crowds and business has been brisk. Laxton told me that this Saturday he will be offering "something that will really take you back" you can be sure I will be there, early.  
Nicole Lang is an ex New Yorker, part time filmmaker and full time lover of pimento cheese and brown liquor. You can follow her on twitter @NicoleLang.