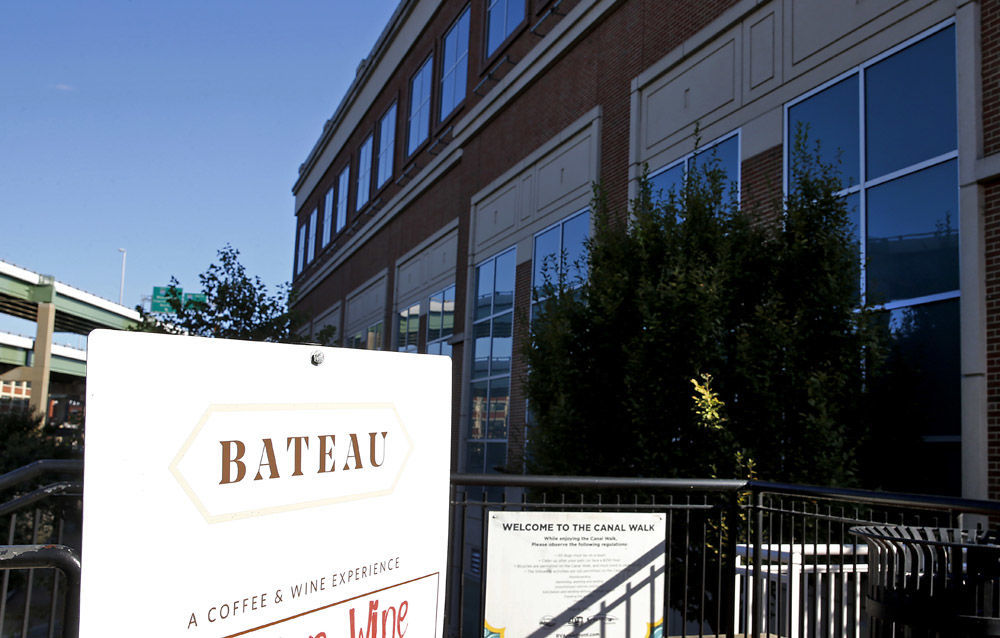 For the black bateaumen who navigated the vital trade route from Lynchburg to Richmond in the late-18th to mid-19th centuries and contributed to Richmond's evolution as an American city, life on the James River was grueling and often dangerous.
These men, most of whom were slaves, spent their days maneuvering long canoe-like bateaux, loaded with unwieldy quantities of tobacco and other precious cargo. In the words of one journalist at the time, these vessels were like "a sea-bird breasting the storm," as the men strained to navigate them through the rapids, shallows and boulders along the river.
Furnishing a short and fleeting respite from the daily rigors of their task were the encampments these men set up along the riverbank. A writer for Harper's Magazine stated that, for the bateaumen, "night was the glorious time," when "the awnings were hoisted, fires lighted, and supper dispatched in true boatman-like style."
Though the bateaumen era has largely been forgotten, a new Richmond restaurant and coffee-wine bar is looking to change that. Nestled into the serene stillness of the waterfront, down by the canal's turning basin, Bateau honors the slaves and other black men of this early era and their legacy. The restaurant, which opened in May, proudly displays a wall-length mural of "The Headman," a statue on Brown's Island that depicts a single bateauman astride his vessel.
As the riverside encampments did for those early bateaumen, the restaurant promises Richmond diners a sort of respite from the modern world. Its contemporary design has a restful, almost meditative, quality to it. Tan, coffee filter-shaped awnings hang overhead. The gas fireplace has been lit. The room, having been thoughtfully subdivided, offers a variety of spaces perfect for communing or self-reflecting over cups of coffee or carafes of wine and a few festive bites.
Bateau's menu, which feels unmoored thematically, doesn't quite achieve the same heights as its otherwise exemplary vision, enchanting design and charming approach to hospitality.
The starter dishes were altogether promising, though some improvements would've helped. Briny green olives and salty diskettes of halloumi cheese made perfect companions for the salmon board ($15). Sweeter accompaniments, such as fresh berries and dried fruit, felt somewhat out of place alongside ribbons of cold-smoked Alaskan salmon. Still, over a few glasses of sparkling rosé, my dinner companion and I delighted in having such a varied spread — however mismatched it might've been — to nosh on as we chatted.
It's probably just as well that the endive salad ($12) had more mesclun than endive in it, since the sparse and wilted endive leaves fanned out around the perimeter of the plate looked as if they'd spent too much time in the crisper. Yet I couldn't deny feeling some degree of affection for the warm grilled peaches and lightly candied pecans decoratively draped atop this salad.
The same could be said of the mussels ($15) and the halloumi ($11). The broth used to steep the mussels had been infused with more saffron than this dish needed, giving it the overpowering intensity of spilled perfume. Nonetheless, if you overlooked the inexplicable bitterness of the saffron-heavy broth, you could still appreciate the richness of flavor from the garlic, white wine and natural mussel juice.
And while a medley of roasted vegetables didn't much elevate the dish, the grilled halloumi, bedazzled with parsley and chile flakes, held its own. The thick slice of cheese had the saltiness of feta, with a delightfully squeaky sort of elasticity.
Far more improvement is needed among the main dishes. Triangular chops of lamb ($28) were seasoned well and beautifully flecked with grains of garlic, but each was an inconsistent shade of pink — one was warm and rosy throughout, while the others were more purplish-pink, with a still-cold center. The accompanying stalks of asparagus, their inedibly tough and fibrous ends still attached, were so overcooked they resembled dry kindling.
The pan-roasted salmon ($22) also had a dryness problem. Bedded over pilaf rice and garlicky spinach, it reminded me of an overheated plate of food catered for a 300-plus person wedding reception. Meanwhile, having been stuffed into a cocoon of baked sweet potato and finished with a syrupy balsamic glaze, the grilled chicken ($22) had all but lost its identity to the other stiflingly sweet flavors of this dish.
Bateau's greatest asset is its uplifting and restorative spirit. If the restaurant simply leaned more into this aspect of its identity, as a riverside retreat where diners come to relax and revive themselves at day's end, it could hit its stride. By honing in on those dishes that play to the restaurant's strengths as a coffee-wine bar, noshes such as the salmon board or saffron mussels, the menu would give diners an excuse to linger a little longer, extra time for honest self-reflection, and more space to evolve their pleasant conversation.
Justin Lo writes freelance reviews for the Richmond Times-Dispatch. Follow him on Twitter or Instagram @justinsjlo.