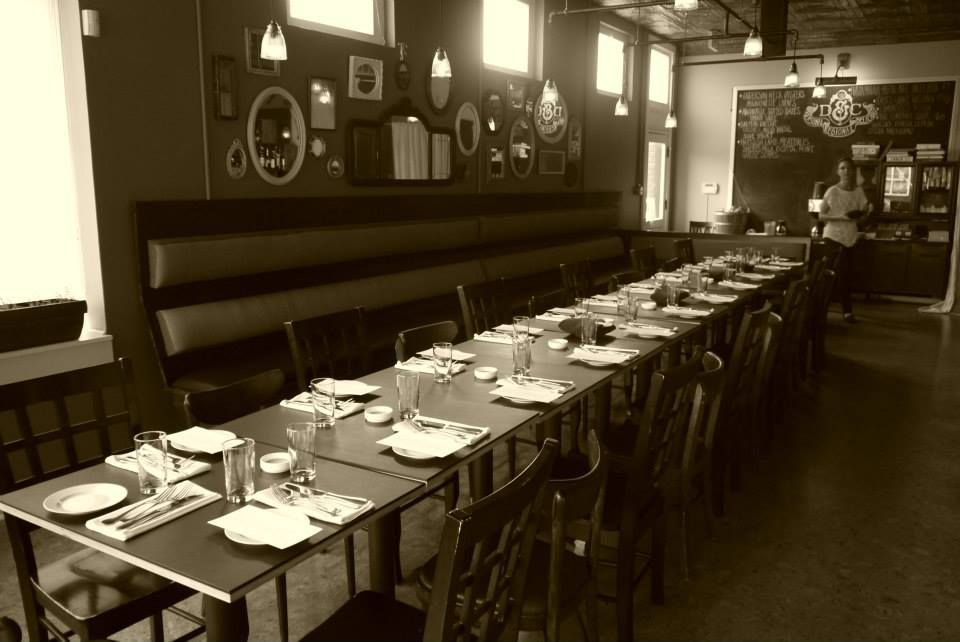 Guys, in case you're not paying attention, something remarkable is happening in Richmond dining.
If it seems like nary a week goes by without our dining scene getting written-up in some national publication, it's because it doesn't.
The HuffPost list isn't a list of Southern cities or mid-size cities and even American cities - it's a list of foodie cities across the globe, including cities in Peru, Italy and Australia - and only two American cities made the list.
"After taking into account reputation, versatility and reviews from critics and globe-trotting gourmands, we've come up with eight up-and-coming dining hot spots to visit this year -- before they're officially on every food-lover's map."
When you think of down-home cooking like buttery biscuits and fresh seafood, places like Charleston, South Carolina, or Savannah, Georgia, likely come to mind. But if you're looking for fresh takes on Southern staples, take your appetite to Richmond, Virginia. Rising foodie superstar Dutch & Company is gaining traction with seasonal menu items like flounder with Carolina gold rice and short rib with polenta. Experts at Food & Wine Magazine even nominated Dutch & Company's chefs, Caleb Shriver and Phillip Perrow, as contenders for "The People's Best New Chef" this year.
Best Kept Secret: Check out The Roosevelt for inventive pairings like catfish with bean and bacon succotash and Nashville-style spicy fried pig head."
And, of course, Richmond was listed by Frommer's last year as a "Top Destinations for 2014" in the world - largely due to our dining scene.
Sure, what's happening in Richmond dining is part of a larger trend of what's happening in cities across the globe with dining, but what's happening in Richmond dining is also entirely unique.
It's not just that Richmond is opening exciting new restaurants, or that our chefs are getting national attention, or that our restaurants are getting more experimental, or the increasing number of specialty shops, or that we have an diverse festival scene - it's that all of these things are happening at once.
Then there's something else.
The people in Richmond dining scene decided a few years ago to embrace the philosophy that a rising tide lifts all ships and have been working together to make their restaurants - and each other - better, and by extension, Richmond's dining scene as a whole with it.
Dutch & Company and its chefs, Caleb Shriver and Phillip Perrow, were highlighted in the Huffington Post piece, and you can find them most nights in their Church Hill restaurant, but next weekend the chefs, along with other Richmond chefs, are lending their talents to Savor, to benefit the Hospital Hospitality House.
The next weekend, a host of Richmond chefs will be at Beast Feast - cooking up whole animals over an open fire for another benefit - and because these guys actually want to spend their day off cooking in a field - and learning from each other.
The annual Tiki Takeover, which happened in June at Acacia mid-town, isn't about bartenders looking for an excuse to make some extra cash - it's, again, restaurant people on their day off, in the case the barmen at Acacia, The Roosevelt and Heritage, - slinging drinks to bring something special to Richmond's scene - and taking an opportunity to learn something new.
The crowd at Tiki Takeover and last year's Beast Feast was largely industry - fellow restaurant people there to support their own.
Once a month, these same industry people come together for a "shindig" - a potluck held at a different restaurant during which Richmond restaurant people can chat, compare notes and just unwind together.
Kendra Feather, owner of Garnett's Cafe and Ipanema Cafe and co-owner of WPA Bakery and The Roosevelt, launched the shindigs a few years ago - and keeps them going every month.
But, of course, the people in Richmond dining aren't just feeding off each other - every restaurant is doing something unique - and bringing something unique to the scene.
Feather's commitment to Virginia wine through her all-Virginia wine list The Roosevelt has garnered plenty of national attention.
Want something Old World? Head to Carytown and check out Secco Wine Bar's dizzying selection of Old World wine - all available by the glass - and ask owner Julia Battaglini about any of them - you'll come out knowing more about wine than you ever thought possible.
Want to know everything ever about French wine? Trek up a few blocks in Carytown  and talk to Paul Heitz at Amour Wine Bistro.
McCormack's Whisky Grill boasts one of the largest selections of whiskey in the country - and whiskey enthusiasts have come from as far away as Dubai to try it.
Want to know everything about coffee? Spend 12 seconds talking to Alchemy's Eric Spivack. Or pop by Saison Market and try some of their nitro-poured, cold-pressed coffee.
A stellar cocktail and beer program are now givens in Richmond restaurants.
There are a handful of true artisan bread bakers in the country - and one is nestled right here in Church Hill in Sub Rosa - they can barely raise a loaf without national food media scurrying down here to write about it.
Down the road in Church Hill, Proper Pie was just lauded in Eastern Home & Travel Magazine for its savory pies.
Acacia, Heritage, The Roosevelt, The Magpie, Dutch & Co., Pasture, Comfort, Rappahannock, Lemaire, The Rogue Gentlemen, Metzger - are just a handful of restaurants consistently bringing national attention to Richmond for our food.
Rappahannock River Company Oysters are in extreme demand at restaurants across the country, but you can always get them at the restaurant dedicated to serving them - Rappahannock. Its chef, Dylan Fultineer, incidentally, just made his third appearance in 18 months at the James Beard House - a record for Richmond chefs. 
People, Peter Chang, called one of the best Chinese chefs in America, cooks in Richmond.
Want mind-blowing Indian? Head to Curry Craft or Lehja. Amazing Greek food? Stella's.
Just look at what's opened in Richmond this year - dedicated ramen with Foo Dog and a true Jewish deli (and then some) with Perly's.
And it's not just about what's new.
Mamma 'Zu and Edo's Squid have been serving incredible Italian to Richmonders for years. Some of the best bar food in country can consistently be found in Sidewalk Cafe. Millie's Diner was earning praise for nationally-renowned new American when plenty of this new generation of Richmond chefs were applying for their first dish-washing job.
Michelle Williams brought tapas and dedicated seafood to Richmond more than 15 years ago and has been adding to the scene ever since.
For 20 years, Buckhead's Restaurant and Chophouse has served as one of Richmond's only independent steakhouses - and its current chef trained at The Inn at Little Washington.
That's just a glimpse of what's happening in Richmond dining - and what's making our scene so noteworthy.
But beyond that, Richmond's dining scene is exceptional - and absolutely deserving of every ounce of attention.
And we're just getting started.
---
Finally, someone wrote and published the thing we've all been thinking - Richmond is the nex…