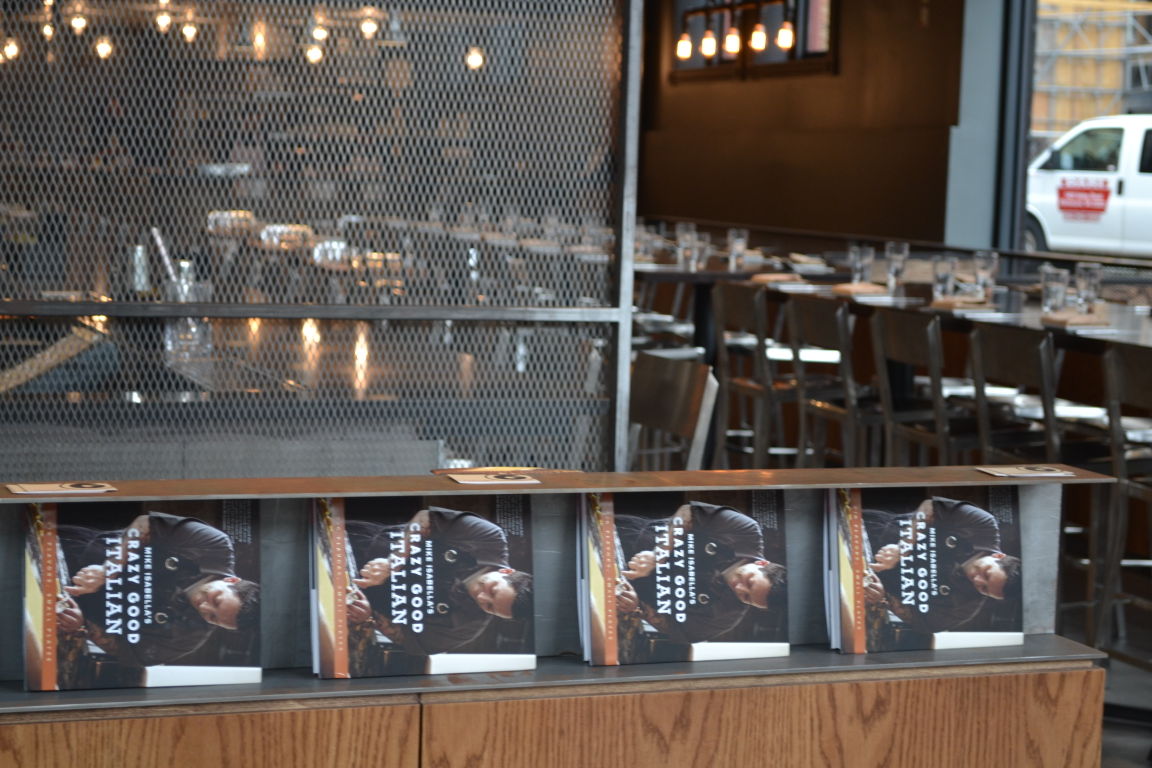 It's been months and months of waiting, but the opening of Mike Isabella's Richmond branch of D.C.'s Graffiato is finally here.
"We put a little more work into the space than we originally thought we needed," Isabella said. "But finally, I have a restaurant in front of me."
The renovations included an entirely new bar; adding a 12-person pizza bar; converting the former pool table space into private dining for 50; and moving a wall partition to make way for two 14-person communal dining bar tables.
The entire restaurant now seats 210 with private dining space for up to 300 people (standing).
"I'm super excited," Isabella said. "It's been a long process, but I love the space and the people here - I'm committed."
Richmond firms Fultz Architects, Habitus Interiors and RS Brightwell Construction worked on the renovations, but Graffiato general manager Tim Galvin noted that the industrial look and clean lines came from Isabella.
The result is a unique space that blends the best of D.C.'s modern Graffiato with the historic feel of Popkin.  
Like its sister restaurant in D.C., Richmond's Graffiato serves up a menu of affordable, Italian-inspired entrees, like sweet corn agnolotti ($11) and Amish Chicken Thighs ($10), and artisanal pizzas, like Jersey Shore (with fried calamari,$14) and Porky's Revenge (soppressata, pepperoni, sausage, tomato, mozzarella, $15).
But Isabella and chef de cuisine Matthew Robinett also came up with plenty of menu items original to Richmond, like Bucatini Carbonara ($10), Roasted Bone Marrow ($9), and the Clash of the Titans pizza with clams, calamari and crab ($14).
The only thing on the menu that's over $16 is the five-item charcuterie plate and a chef's tasting, a $49 per person four-course prix fixe tasting in which the chef sends out… well, whatever he likes. Beverage pairings can be added for an additional $29 per person.
The beverage program at Graffiato includes a selection of craft cocktails, like the peaches and cream (aperol, peach shrub, house grenadine, prosecco) and put me in your mix (bourbon, amaro, orange, honey, hefeweizen), plus classics like the DC mule and empire state of mind  (bourbon, ramazzotti amaro, fernet branca).
Graffiato Richmond also features wine on tap, with the opening two taps offering rose and Prosecco ($8) and 10 taps reserved for craft beer.
The restaurant won't start with happy hour, but they'll likely add it down the road - along with Sunday brunch in a few weeks.
For now, Graffiato is open for dinner seven-days a week from 4:30 p.m. - 10 p.m. with later hours on Thursday (till 11 p.m.) and on the weekend (till midnight).
Plans are even in the works to bring D.C. Graffiato's popular Monday Night Industry Takeover Night to Richmond. One is already planned for Oct. 13 with chef Jonah Kim from Baltimore and Danny Lee from Mandu in D.C. confirmed.
---
PHOTOS: Graffiato Richmond
Graffiato Richmond, from celebrity chef Mike Isabella, is now open at 123 W. Broad St..
---
Richmond appears to be a destination for former "Top Chef" contenders as now Bryan Voltaggio…
---
There's a little more news on what Richmonders can expect from the former The Belvidere at B…
---
FINALLY there's an opening date for the Richmond Graffiato!