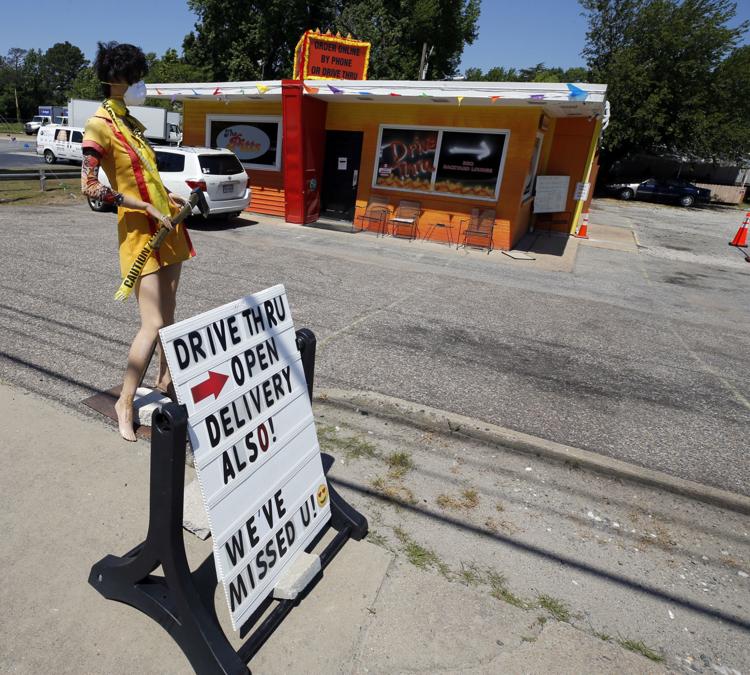 Michael Peters believes businesses must adapt during the coronavirus pandemic or they'll die, so earlier this month he pulled a section of siding off the wall of his small South Richmond restaurant and installed a drive-thru window.
Takeout service was never intended for The Pitts, the barbecue joint Peters and his wife, Lisa Ann, opened in 2018. They had envisioned a friendly dive bar and a casual backyard patio, the perfect place for a game of cornhole.
But the bills were piling up, and the government assistance was going only so far. They needed to reopen, they decided, so in early May they transformed their 54-seat restaurant into a takeout and delivery operation. They purchased convenience store goods such as toilet paper, Red Bull and potato chips and added them to the inventory.
Finally, a stroke of good luck occurred: Gov. Ralph Northam announced Virginia restaurants could start serving customers on May 15 in outdoor spaces as part of the state's Phase One opening. The Pitts' spacious backyard, which normally seats about 75, put the restaurant in prime position to open while other dining rooms were forced to stay closed.
Lisa Ann and Michael Peters cleaned and spaced out the tables. They ordered pounds of pork and ribs. They made a social media push to announce their reopening.
Then, with less than 24 hours to go, bad news arrived: Richmond would delay its Phase One opening. The backyard at The Pitts would stay closed at least two more weeks.
It was just the latest unforeseen development in a constantly changing world for Lisa Ann and Michael, who own three small businesses and have an 18-year-old son, Aidan, with autism and epilepsy. 
"Every single thing in our lives has flipped," Lisa Ann said.
Others in Richmond's competitive restaurant market have closed permanently amid the pandemic. How could Lisa Ann and Michael avoid being the next?
Lisa Ann never wanted to be a restaurant owner. But her mother and uncle operated a beloved dive bar on Forest Hill Avenue called The Locker Room. They bought it 1982 and turned it into a popular establishment known for cheap beer – drafts are $2 during happy hour – and a smoky interior.
When Lisa Ann's mother died in 2016, the business passed to Lisa Ann. She had been a waitress and bartender for 22 years, mostly in fine dining, and it turned out that managing The Locker Room wasn't terribly stressful.
The restaurant's building is rented from an elderly landlord, and Lisa Ann has the right of first refusal to buy it when the estate passes on to the landlord's daughters.  But everything changed two years ago when The Veil, a popular Richmond brewery, began construction on a second location directly across the street from The Locker Room. Apartments and other retail would be built alongside it, and almost overnight, she said, The Locker Room's property value skyrocketed.
She knew she could no longer afford to buy the building.
"Without question, that property is out of our budget now," she said.
Looking for a new location, the Peterses heard about a former biker bar at 2220 Broad Rock Boulevard called Boondocks that was going up for sale. They bought the small gray building, and Michael painted it a vibrant orange-yellow gradient. They bought street signs off eBay to decorate the backyard, and they cleaned the property top to bottom.
They gave it a barbecue theme and named it The Pitts, in honor of Lisa Ann's brother, Larry Pitts, who died in 2018. And they made it clear it didn't matter their customers' skin color or sexual orientation. The old bar wasn't always welcoming to outsiders, and they heard stories that the KKK used to meet in its backyard.
Turning a profit in the initial months was difficult. There would be days where they'd open at 7 a.m., close at midnight and make only $30. But over time, the business grew. Thursdays became karaoke nights, DJs and open mic nights became regular occurrences, and at Christmas, a Santa was brought in for kids with special needs. 
"We were building our clientele," Michael said. "The last three or four months were really good. Then, bam."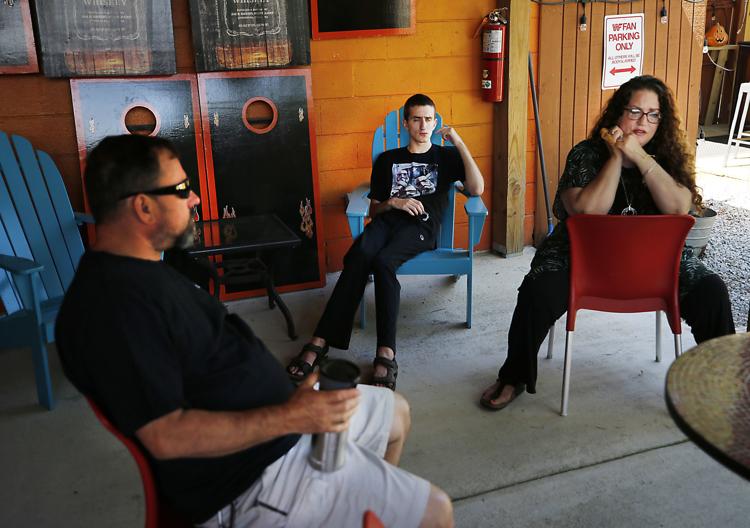 After the pandemic hit and dining rooms were shut down, Lisa Ann sat at her computer and applied for an Economic Injury Disaster loan. It took just 10 minutes to complete the paperwork. For weeks, she received no response. Then one morning she woke up, and there was money in her checking accounts – $15,000, or one grand for each of her 15 total employees, a loan she would have to pay back at 3% interest.
She didn't apply for a small-business loan through the Paycheck Protection Program, or PPP, because she believed those grants are more useful for open businesses, and hers were shut down at the time.
Lisa Ann and Michael received federal stimulus and unemployment benefits. And while those helped, the bills didn't stop coming. The restaurant's $1,700 mortgage couldn't be deferred. A $2,000 personal property tax was due to the state. Utility bills persisted. Their unemployment tax, which businesses must pay to fund their employees' benefits, was raised.
It felt like for every dollar they were handed by the government, it was charged back in taxes.
"They giveth and they taketh away," Michael said.
They made the decision to dip into their personal accounts and give money to their employees, because Lisa Ann said she runs her restaurants the way she wanted to be treated when she was a waitress. Their chef, Billy Lawson, has two kids and a wife who stays at home. He and the rest of the staff needed to be paid.
Michael also owns his own paint and home repair business, but he decided to shut it down and not risk his own health. 
Lisa Ann and Michael decided they needed at least $8,000 to reopen. That's how much they needed in the bank to stock the freezers with meat, to load the refrigerators with beer, and to make payroll. And that was assuming their customers returned. Their financial reserves were dwindling by the day, and there was no guarantee the lockdown would lift.
They had to find a way to reopen, they decided. Lisa Ann was sitting in a packed Chick-fil-A drive-thru when the idea hit her: What if The Pitts built a drive-thru of its own? So Michael installed a sliding window, and cones were placed in the parking lot. Lisa Ann drove to Sam's Club and a salvage warehouse to purchase new inventory like dish soap and trash bags.
It was time for a new business model.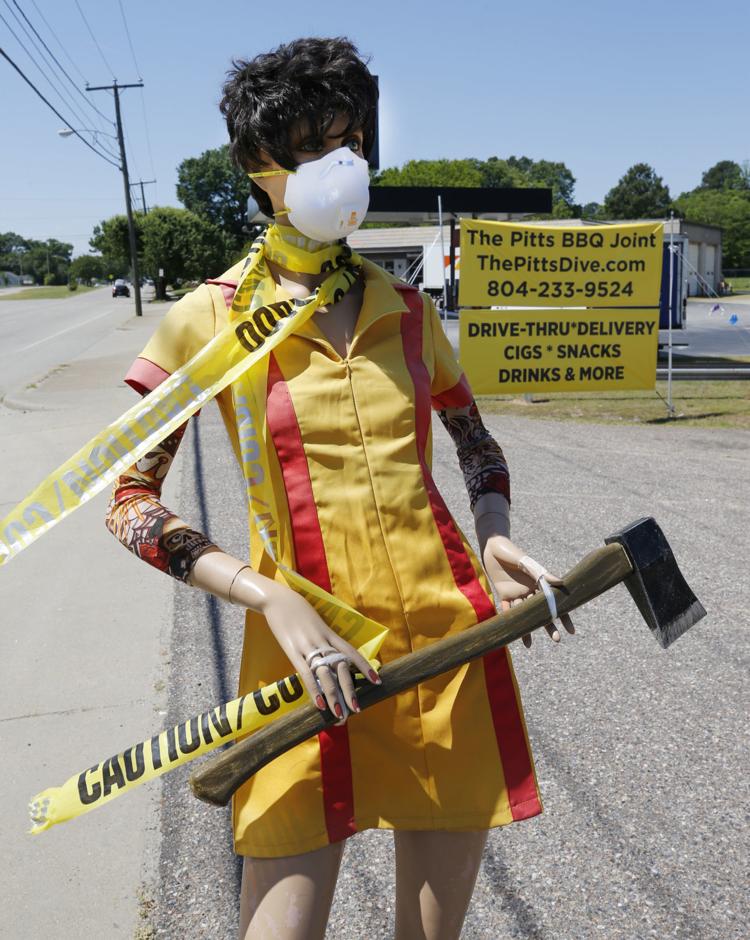 Drugs and alcohol had saddled Michael's life for years, and he understands the toll the lockdown can take on those who are depressed or addicted. In 2002 he got clean and later opened his painting and home repair business.
He needed to ramp up his business's social media presence, and that's how he met Lisa Ann, who was active with the Social Media Club of Richmond, a networking group of social media enthusiasts. They started dating, and in 2016, they flew to Las Vegas to be married at the Graceland Chapel, where they were serenaded by the tallest Elvis Presley impersonator they had ever seen.
They had both been married before, and they didn't want to spend too much money on the wedding. Lisa Ann already had Aidan, who attends Glen Allen High School. He's a senior but he can stay in school until he's 22. 
Before schools closed in March, Lisa Ann would put Aidan on the bus before going to work, and a care provider would help some afternoons. With schools now closed, Aidan can't ride the bus or eat lunch with his friends. He goes to The Pitts with Lisa Ann and Michael, and they've spent a lot of time at home the past two months. 
Looking for a way to recognize spring break, they took a trip to a drive-thru safari park in Natural Bridge where he could feed zebras and camels from the car. One day, they hope, he can work at The Pitts bussing tables. He enjoys the sunshine and 2000s-era pop music that plays on the stereo.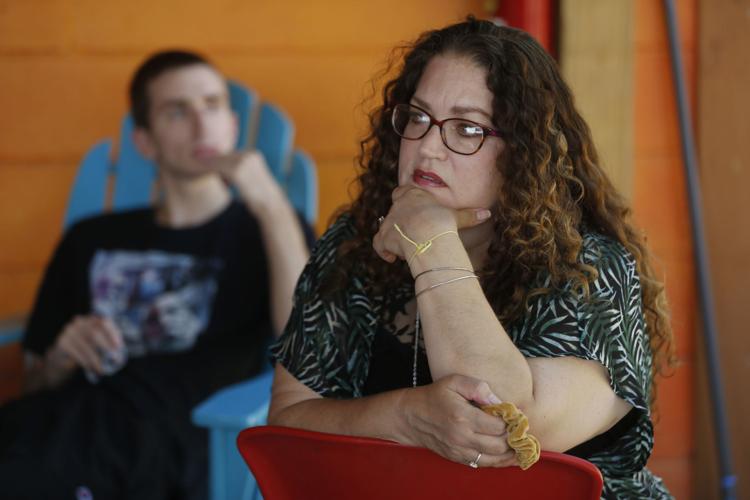 When it was announced last Thursday that Richmond wouldn't open, Michael was initially angry with Mayor Levar Stoney. But Michael decided that if it truly wasn't safe to welcome customers into the building, then it was for the best that they stay closed. Lisa Ann said life would have been easier if the option of reopening had never been dangled in front of them.
The Pitts is located just 2 miles from the Chesterfield County line, and on the other side of that line, restaurants like theirs were allowed to partially reopen. There are no easy answers when it comes to reopening an economy, Michael said. He just wishes the country wasn't so politically divided.
"We're all caught in the middle of this extremism," Michael said. "And it's not helping anybody."
Last Wednesday, The Pitts opened as a drive-thru and delivery operation. Customers can order and pay online, pick up their food and never leave their cars. Michael made his first delivery Friday and didn't charge a delivery fee. A limited number of employees were brought back. A few miles to the north, The Locker Room opened for takeout and delivery.
They are allowed to sell mixed drinks to go now, so they created one of their own called Pitts Punch with oranges, blueberries and pineapple soaked in vodka. They applied for a federal PPP loan, and if they receive it, they'll bring back all 15 total employees at their two restaurants. 
Last Wednesday, The Pitts brought in several hundred dollars in business. By Friday, it made nearly $1,000. It's a reason for hope, but it's not nearly as much as the $2,000 that the restaurant generates on a usual Friday night. Maybe the drive-thru will bring new clients who had never come before.
"For a brand-new business model, three days in?" Lisa Ann said. "I'm happy."