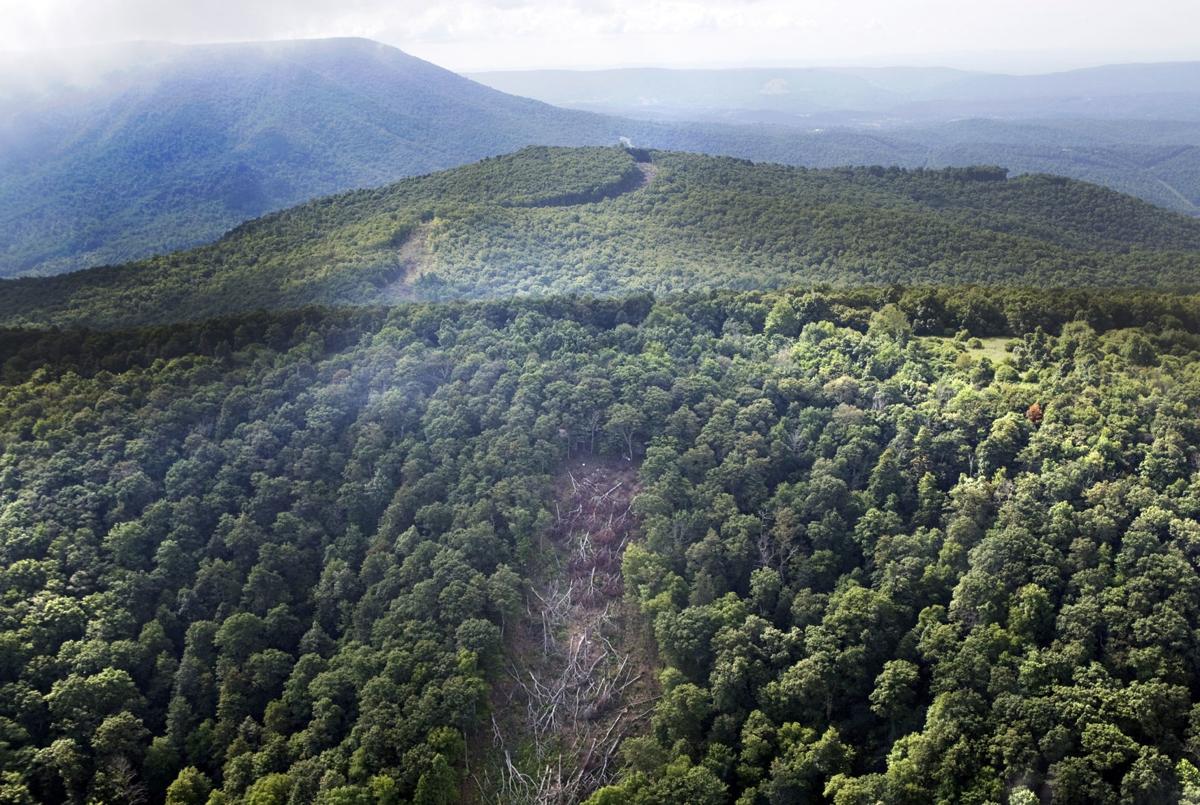 Two years after a permit for the Mountain Valley Pipeline to pass through a national forest was struck down, a new plan will soon be unveiled.
The U.S. Forest Service plans to release a draft report on the pipeline's environmental impacts to the Jefferson National Forest by September, according to a notice published Thursday in the Federal Register.
Public comments will then be taken, with a final decision expected by year's end.
Plans call for the natural gas pipeline to come into the forest in Monroe County, West Virginia; cross the state line into Giles County; burrow under the Appalachian Trail at the top of Peters Mountain; and continue southeast toward Montgomery County.
Trees have already been cut to clear a 125-foot-wide right of way along a 3.5-mile stretch of the forest.
In July 2018, the 4th U.S. Circuit Court of Appeals vacated Mountain Valley's permit, ruling that federal agencies were too accepting of the company's assurance that running a huge, buried pipeline along steep slopes would not cause significant problems with erosion and sedimentation.
"They basically caved in to the pipeline company," said Diana Christopulos, who is leading opposition efforts for the Roanoke Appalachian Trail Club. "We have no evidence that they're going to follow the rules they already had."
There have been problems with erosion both during construction and after it stopped in the forest, according to environmental compliance reports filed with FERC.
The 4th Circuit's decision ended construction in federal woodlands until the Forest Service and the Bureau of Land Management could reconsider their 2017 approval of the pipeline's passage through the national forest. Completion of an environmental impact statement is part of that process.
It was also the first in a series of major legal setbacks for Mountain Valley.
Permits for the pipeline to cross nearly 1,000 streams and wetlands were suspended in late 2018, following a legal challenge by Appalachian Mountain Advocates.
And in October 2019, the Federal Energy Regulatory Commission issued a stop-work order after yet another lawsuit claimed that the U.S. Fish and Wildlife Service did not take adequate steps to protect endangered and threatened species in the pipeline's path.
All three sets of permits must be re-issued if Mountain Valley is to complete the project by early next year — a goal the company stuck to this week.
"MVP's current construction plan incorporates sufficient tie-in work and activity that will allow for construction to progress into the early winter," company spokeswoman Natalie Cox said, provided that the Fish and Wildlife Service acts soon and FERC then lifts its stop-work order.
The Federal Register notice was the most detailed public account of the Forest Service's plans since its permit was revoked two years ago this week.
Since then, there have been new developments that must be taken into consideration in drafting a supplemental environmental impact statement, the notice said. One factor is the listing of the candy darter, a colorful fish found in streams along the pipeline's right of way, as an endangered species, the Jefferson National Forest's public affairs office said Friday in response to questions from The Roanoke Times.
There have been no changes to the pipeline's route through the forest, an email from the office said.
However, Mountain Valley no longer plans to use Pocahontas Road and other Forest Service roads to access construction areas. Instead, it will use the pipeline's already established right of way.
Pocahontas Road, and the top of Peters Mountain several miles away, were the scenes of the first tree-sits, held by opponents in 2018 to block tree-cutting for the project.
Those aerial blockades are gone now. But a tree-sit in eastern Montgomery County, along a wooded slope that has yet to be cleared, will soon enter its third year of resistance to what opponents say is an unneeded pipeline that will contribute to climate change.