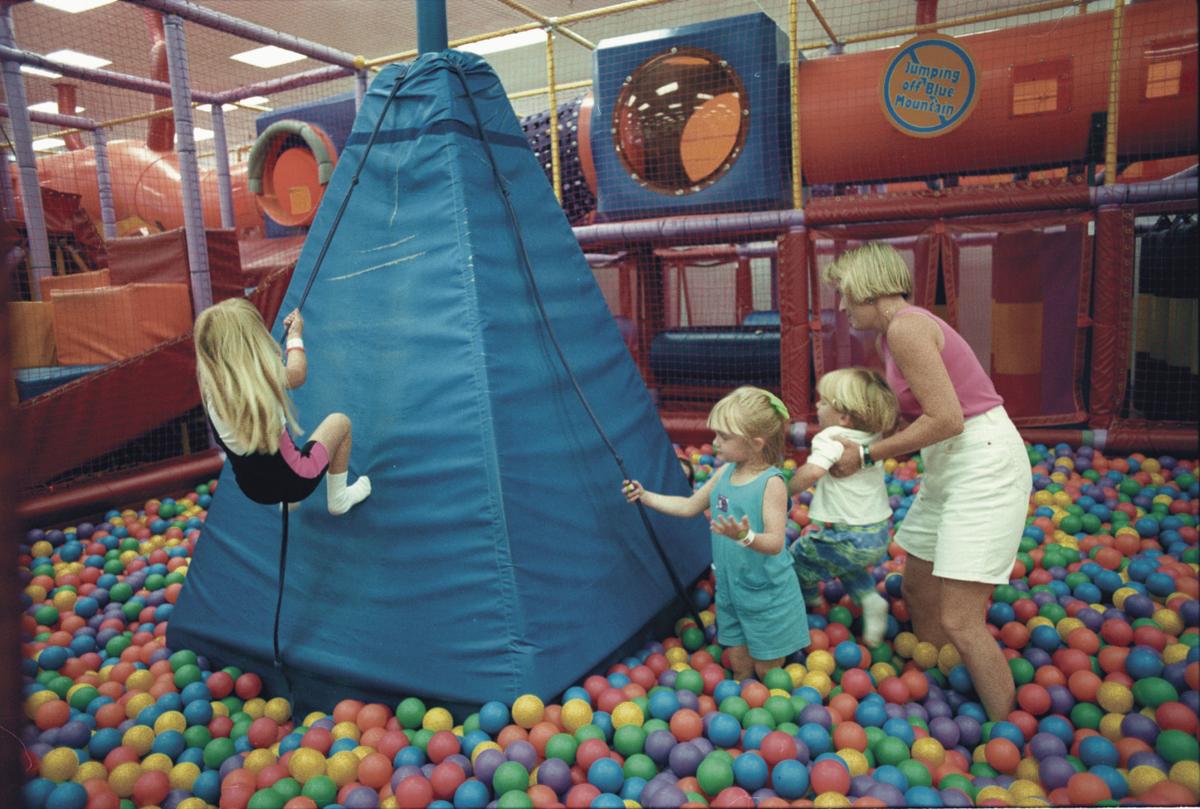 Discovery Zone was founded in 1989 and quickly became the largest operator of indoor children's play centers in the U.S. The play zones catered to children of all ages and included everything from mazes, to slides and ball pits which encouraged fitness in young children.
In a 1994 interview with the Richmond Times-Dispatch, Discovery Zone spokesperson Jennifer Erena described the mission of the play zones as follows: "Getting exercise is the main reason Discovery Zones are around. The equipment is designed so if you play on everything there, you use all the different muscles in your body. Fun comes first, and if you can combine fun with fitness, the children have developed skills of either becoming more fit or building self-esteem while have a great time."
The first Discovery Zone in Richmond opened in 1994. The 13,500 square-foot-space was located in Parham Plaza shopping center near Regency Square mall. There were two main play areas in the space for children of different age ranges. The "Mega Zone" was for children ages 5 to 12 and featured jungle nets, winding mazes and a roller slide. The "Mini Zone," for younger and smaller children had mini versions of the equipment in the Mega Zone as well as a play area with foam shapes.
There was also a "Skill Zone" which was basically an arcade space where children could test their skills at various hand-eye coordination activities like hitting the heads of toy alligators that moved up and down with a club in the "Wacky Gator" game.
A snack bar offered healthy choices like granola and fruit juice in addition to pizza and hot dogs.
Getting in required a flat admission fee which ranged from $3.99 per ticket ($4.99 on the weekends) for toddlers to $5.99 ($6.99 on weekends) for children 2 to 12 years old.
In 1993, Blockbuster Entertainment Corp., the video rental giant, acquired stakes in the children's entertainment centers which led to some overlap in advertising.
However, just three years later in March 1996, Discovery Zone filed for Chapter 11 protection. The chain had expanded too fast and filed to remedy problems brought on by the rapid expansion.
On Thursday June 26, 1999, the Washington Post reported that Discovery Zone abruptly closed 100 of its stores—they operated 200 nation-wide at the time. The closure of the stores was so abrupt that children across the country would arrive at their local Discovery Zones with their families for scheduled parties, only to find the doors locked. According to a manager from a Falls Church, Virginia, store in 1999, she had to call dozens of parents to tell them their children's birthday parties had to be cancelled.
The last Discovery Zone closed its doors in 1999—the chain was bought out by a similar children's entertainment venture, Chuck-E-Cheese.
(804) 649-6304
Twitter: @nicole_kappatos