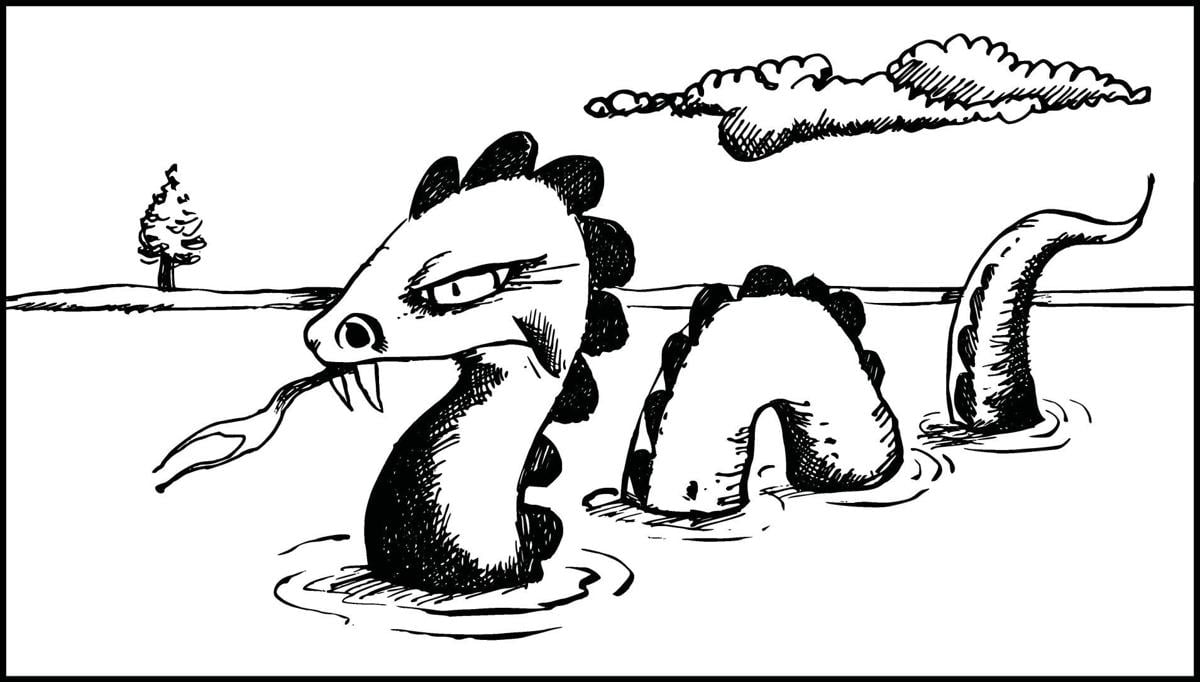 Like the elusive Loch Ness Monster or "Nessie" of Scotland, the Chesapeake Bay has a mysterious sea monster of its own—Chessie.
Reports of a strange creature in the Chesapeake Bay area go back to the 1800s; however, it was not until the late 1970s that an uptick of sightings occurred, sensationalizing the creature. During the summer of 1978, frequent sightings put Chessie in local newspapers regularly. People described Chessie as a serpent-like creature that was anywhere from 20 to 40 feet long.
One sighting occurred in July 1978 in Heathsville, Virginia…
Howard B. Smoot, his wife, son and several friends were standing in their backyard, which overlooked the Potomac River, when they saw something large moving in the water. "It was really an awesome thing, frightening," Smoot recalled. "It was a good 30-plus feet long and eight inches around and it had a head like a football," he continued.
The Smoot family watched the creature intently as it swam into a nearby creek, returning about 20 minutes later with two smaller creatures—most likely its offspring, Smoot guessed.
Smoot hoped to shoot one of the creatures with a plan to take it to a scientist for identification. So he grabbed his rifle and shot at them. Smoot believed that he had hit one but was unable to recover anything from the water.
That summer, 30 other residents in the area reported sightings of Chessie.
Scientists and fishery officials offered some explanation for what the Smoots and others saw—saying it could have been anything from logs or poles to seals, otters, turtles or porpoises.
Smoot, who had grown up around the Bay, disagreed with the scientists, "I know what porpoises and turtles look like. But this thing was so unusual. I've never seen anything like it."
---
In the early 1980s the scientists from the Smithsonian Institution responded to the Chessie sightings (one of which was recorded in blurry video footage) with the following statement:
In spite of the eyewitness description and the visual evidence, no identification, not even a tentative one, was offered for the strange sightings. There was not enough visible evidence on the tape for a positive identification. The usual explanations of a partially submerged log, a string of birds or marching mammals, optical illusions, etc. seem inappropriate for the dark, elongated, animate object.

The Chessie phenomenon differs in many ways from the typical sightings of marine animals. The front end is strongly angular, appearing and disappearing vertically instead of rolling above and below the surface as in most swimming animals.

Similarly, the object undulates in a vertical plan, according to eyewitnesses, rather than a horizontal plane as is normal swimming movement for elongated animals. The photographs and videotape are intriguing and identification of the object or objects in these films might be aided by some form of image enhancement.
Reports of Chessie are still made and the creature has been spotted as recently as 2016.
(804) 649-6304
Twitter: @nicole_kappatos