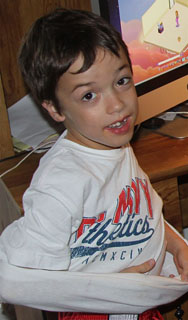 Jack Ridolphi just started second grade at Crestview Elementary School in Henrico County. The 7-year-old likes school, but he prefers to play – with his twin sister, Emma, as well as other kids. He has a hard time keeping his clothes clean. His dark hair refuses to stay in place. He is missing a front tooth, with another on the way out.
In most respects, Jack is just like nearly every other kid his age. But he runs a bit more slowly, moves a bit more stiffly and gets tired a bit more quickly. The symptoms set him apart from his friends and classmates – even from those who have reached an age where those symptoms have become widespread complaints.
Jack has Duchenne muscular dystrophy, a debilitating genetic disease for which there is no cure, not even a treatment.
The Goochland High School football team is stepping up to raise money to change that. The Bulldogs are one of the few high school teams to participate in the national Coach to Cure MD event this weekend to raise awareness of and money to find a treatment or cure for the disease.
Duchenne muscular dystrophy, like hemophilia, is a gender-linked gene that predominantly affects males. About 1 in 3,500 boys and 1 in 20,000 children overall are affected. Those with the disease experience progressive and devastating loss of muscle function, leading to an inability to care for themselves. Duchenne's patients rarely live beyond their 20s.
"It was kind of strange how we found out," said Jack's mother, Amy Ridolphi. "Last year we were in for Jack's six-year checkup at his doctor. The pediatrician looked at his calves and said, 'You know, his calves are really muscular.' And then she said, 'Do you have any family history of muscular dystrophy or any muscular conditions?' "
Amy Ridolphi had no such history, but when she got home she began Googling muscular dystrophy and found other signs of concern, such as delayed speech development – Jack had been in speech therapy – and more aches and pains than one might expect for someone his age. She decided to have him tested for muscular dystrophy in the hopes of ruling it out.
At the doctor's office, Jack sat in the corner doing his homework as she got the answer she feared most.
"It still is devastating – the worst thing I've ever been through," Amy said. "When you have your kid, you have this vision for them. You know things are not going to go perfect, but it was like my worst nightmare coming true. ... It's like your heart just literally breaks into pieces. But you put yourself back together – you do that for your kid."
One thing that helped her put herself back together was to learn as much as she could about the disease. While doing so, she discovered and organization called Parent Project Muscular Dystrophy.
"I found them online soon after Jack was diagnosed," Amy said. "I was trying to read everything I could get my hands on, and I liked this organization because it's for parents or people supporting kids who have Duchenne's, and their whole mission is to raise money to support scientific research."
In May, she heard of the organization's Coach to Cure MD program, and decided to get involved. She and her sister organized a football watching party at Champs in Stony Point. She told her ex-husband, Jim Ridolphi, about the program, and he had another idea.
Jim Ridolphi – a freelance writer and photographer and regular contributor to Richmond Suburban Newspapers, who has covered Goochland High School for more than a decade – mentioned the Coach to Cure MD program to Goochland head football coach, Joe Fowler.
"We are thrilled to be able to do anything to help Jim and his family," Fowler said. "Duchenne is just a nameless disease to most of us. But when it hits someone you know, you realize the impact that it has and it takes on a face. Many of the coaches on our staff have young kids and it just tears our hearts out to think how it could have very easily been one of our kids who were diagnosed."
Fowler said they will distribute fliers at the gate – which include information on how to make a donation to the Muscular Dystrophy Association via a text message from one's cell phone. Cheerleaders and others will walk through the stands trying to fill football helmets with contributions.
They have plans for Jack, too.
"Jack is going to be our honorary captain for the night and we're going to have him go out with our captains for the coin toss," Fowler said. "I got him a jersey … with his name on the back and such so that he can really feel like he's part of the action."
He should be an important part of the action, too.
"He's really been so positive and he lives life in the way I think we all should live it," Amy said. "He's all in to everything he's doing and he wants to soak everything up. It's so inspiring to see that."