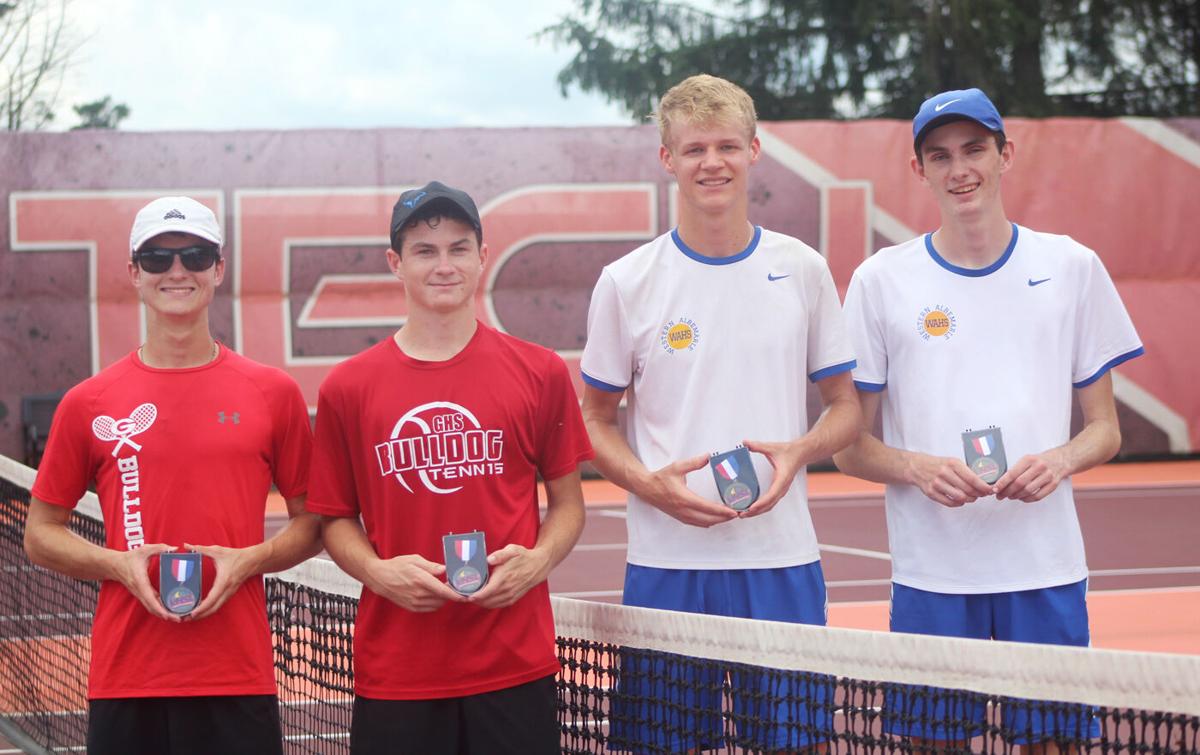 BLACKSBURG – In Evan Bernstine's first full varsity tennis season – and in Adam Webb's last – the two Goochland High School standouts battled their way to the Class 3 boys tennis doubles state final, where they earned state runner-up honors in both their first and their last full year together as partners on the varsity court.
"I've never been to a state final – I mean, this guy will probably see a lot more," Webb, a Class of 2021 GHS graduate, said in reference to Bernstine, who is a rising junior. "It's my senior year, so it was really fun getting out here. Great experience, even though we lost. We came back a little bit in the second set, but really great experience."
"It was awesome, because I didn't know how Adam and I were going to do," said Bernstine, who will play in the Class 3 state singles tournament tomorrow. "We struggled our first two matches…and then we got sort of crushed by Collegiate, so I didn't know how it was going to go, but we really figured each other out. We took some lessons together, and I'm excited with how we ended up playing, because I knew we were in that last match."
Webb and Bernstine reached today's Class 3 state boys tennis doubles final by powering past York duo R.J. Novak and Aryan Prabhudesai 6-4, 6-1 in the semifinal round this morning at Virginia Tech's Burrows-Burleson Tennis Center.
After each of the four players secured a game while serving to keep the first set tied up to 2-2, the Bulldogs earned the crucial break point when one of Webb's strengths - his groundstroke returns from the baseline - parlayed into one of Bernstine's - his strong shots near the net - to push them ahead.
From there, Goochland kept a 1-game lead as each duo won whenever it served through the duration of the set. In the 10th and final game of the series - in which Bernstine served - the Falcons hit out Bernstine's fiery first serve for a 15-0 lead for Goochland.
Webb rocked an overhead winner at the net to go up 30-15, York hit the ball short off of Webb's return shot to make it 40-30 for the Bulldogs, and the Falcons hit out Bernstine's second serve, enabling Goochland to secure set point.
Mirroring their play in the first round of regionals the week before, Bernstine and Webb got better and better as the match went on. After Novak served for the win in the opening game of the second set, the Bulldogs swept the next six.
The Goochland duo made its way to its first break point of the set for a 2-1 lead when Bernstine spiked a volley from the net to set up deuce point, Webb helped secure the advantage for Goochland when York hit out his low pickup return from the baseline, and the Bulldogs held firm to win the game on the following point.
In the Bulldogs' third game receiving in the set, Bernstine quickly hustled to save a strong shot from York, putting it in the air and landing it back on the court and in play on the towering lob. From there, Webb's stonewalling defense from back beyond the baseline helped tie the game at 15-all, and Goochland swept the next three points for the 4-1 lead as the Falcons either hit away or could not return three straight returns by Webb.
In the next game, Bernstine landed three straight aces on explosive first serves.
Goochland secured the match when York hit out another one of Webb's returns.
The Bulldogs never lost while serving in the semifinal round.
"The York win was a good win," Bernstine said. "We just got that one break in that first set and sort of took off from there. I felt good about that match."
In a sweltering state final, Webb and Bernstine ran into a powerhouse pair in Western Albemarle's Tobin Yates and Bryce Duncan, whose control, quick reads, fiery serves and powerful shots – including smashing overheads of their own – helped them sweep the first set 6-0.
But Bernstine and Webb found their footing in the second, taking an early 1-0 lead after Bernstine served an ace for game point.
The Bulldogs earned their first break point of the match when Western Albemarle double-faulted on the second straight point, tying the second set at 3-3. The two teams traded games by breaking each other's serve before Duncan and Yates swept the ninth game while receiving.
Goochland persevered through four match points, but Western broke through for the fifth when Yates put it away on an overhead.
Despite the setback, Webb was able to win points against the dominant duo with the help of his serve – including his first – and Bernstine – in addition to being able to keep in play multiple strong shots that had cleared the court on one bounce but had yet to land a second time – delivered multiple through-ball winners as well as big shots that ranged from hammering returns across the length of the court to his powerful overhead at the net.
Should Bernstine advance to tomorrow's state final, Yates is one of the opponents he could see. In the state singles semifinals tomorrow at 9 a.m. at Virginia Tech's Burrows-Burleson Tennis Center, Yates will play Abingdon's Dillon McReynolds, while Bernstine will play York's Novak.
Bernstine will know to expect a couple of big serves, and he'll look to get the first serve back in play and work the point tomorrow.
Evan will also look to join his brothers Chase and Ryan Bernstine in becoming a state champion in singles. Chase and Ryan now play for Virginia Tech, where the Class 1, 2 and 3 state tennis tournaments are currently being held.
For Webb, who first helped out and managed the team in his seventh- and eighth-grade years and played across the last three years, it's been a great experience being part of Goochland tennis.
"The friendships and teamwork that our team has formed over the years has been really strong – especially in this last year; we've been running practices almost year-round, even through COVID and working with everybody to keep everything socially distanced, but this last year has really been crucial," Webb said prior to the state tournament. "We tried to get back into tennis as soon as possible and we did that, and we worked year-round to improve everybody, so a lot of these guys who never even picked (up) a racket are doing really well this year."
Following the conclusion of the state final, Webb added: "Goochland tennis has been great. I've been under two coaches, both of them really good. It was just a fun experience. Everybody - the whole team - really bonded throughout all four years."