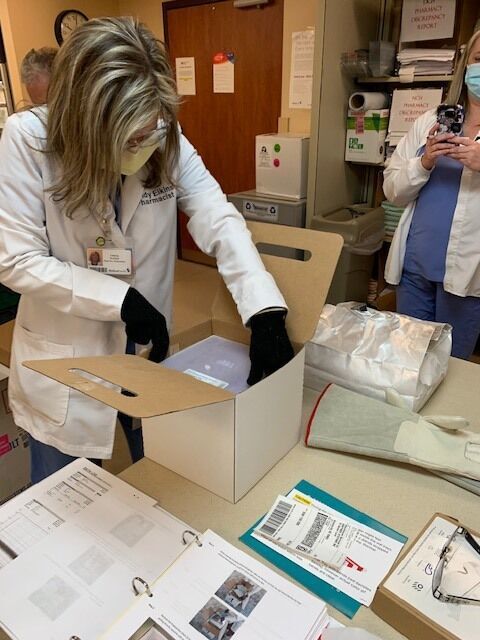 The Virginia Department of Health has launched a centralized preregistration system for COVID-19 vaccinations: vaccinate.virginia.gov. This replaces the local surveys that had been used by health districts across the state.
If you have already preregistered with your local health district, your information and place in line should be maintained. You can check on the new site to see if you are in the system.
Everyone, regardless of their phase of eligibility, should preregister. As doses increase, phase may overlap.
The state has also launched a hotline, 877-VAX-IN-VA or 877-829-4682, for those who do not have computer access. Callers can speak to someone in English or Spanish, or ask for a call back in 100 languages.
Together, the centralized registration system and the hotline are expected to help alleviate frustration that Virginians have had in getting answers to questions about the vaccine.
This is the main way to express interest in receiving the COVID-19 vaccine. Anyone can use this system regardless of whether they are eligible to receive the vaccine, as vaccinators now have the ability to sort people by their place on the state's priority list.
All of the state's weekly shipment of about 161,000 doses are distributed to the local health districts based on their share of Virginia's population. Each of Virginia's health districts is responsible for determining how best to safely and efficiently administer their allotments of COVID-19 vaccines in their areas based on their partners and resources.
Some 300 pharmacies in Virginia are receiving separate allocations under the federal pharmacy partnership, which differs from pharmacies receiving a redistribution of local health districts' doses.
While initially the pharmacy vaccines were reserved for people 65 and older, the pharmacies on March 17 expanded to include anyone in Phase 1.
The pharmacies are also working with the state's preregistration system. The state's call center is working with the pharmacies to schedule appointments.
All veterans are now eligible to be vaccinated. Veterans can also sign up through the Salem VA Medical Center by calling, 540-982-2463 and pick Option 2. Veterans can find more information and register online at the VA's COVID webpage.
Virginia has a phased system and priorities within each phase. Health care workers were in Phase 1a. Other public-facing essential workers are in Phase 1b with priority going to police, fire, EMS, hazmat and preK-12 teachers. All adults 65 and older, and younger adults with health conditions that put them at risk for poor outcomes from COVID are also eligible.
Health districts were told to give half of their weekly shots to 65 and older, and half to the others in Phase 1b.
Demand for the vaccine is much higher than the number of doses available. Health officials are asking people to be patient and to continue wearing masks, distancing and washing their hands.
Friends, family and neighbors are asked to check on elderly Virginians to see if they need help getting preregistered.
______________________________________
If you are an eligible essential worker, your employer should schedule your appointment. The health departments want one person as a point of contact.
______________________________________
Employers should contact Ashley Briggs, abriggs@nrvrc.org or 540-427-7341, to schedule a clinic.
You will receive a call when an appointment is available, so you will need to answer your phone if you see the 540-838-8222 or NRV Health District pop up. The call center is working to have that show in the caller ID, but it might come up as spam, so you might have to answer spam calls.
______________________________________
Information about the vaccine and when it will be available locally will be on the district's web page and Facebook pages and by recorded messages on phone lines at each of the local health departments.
Franklin County Health Department: 540-484-0292
Henry Martinsville Health Department: 276-638-2311
Patrick County Health Department: 276-639-2070
______________________________________
The Call Center can be reached at 434-477-5965.
______________________________________
Central Shenandoah Health District, which includes Rockbridge, Bath, Highland, Augusta and Rockingham counties, and Lexington, Buena Vista, Staunton, Waynesboro and Harrisonburg:
Starting March 7, appointment slots are offered through the district's website. The district will continue to call and email pre-registered, eligible people, but will offer appointment slots that are not filled 24 hours prior to a vaccine clinic on the website.
______________________________________
The district is posting appointment slots for those 65 and older or for those 16-64 with underlying medical conditions. Health department staff are first filling appointments from the waitlist via email or phone appointment offers. If clinics still have slots available within 24 hours of the clinic start time, a registration link will be posted on the district website.