Ben Chan's nine-game streak as "Jeopardy!" champion ended this week with a misspelling during the Final Jeopardy! round, a decision that riled up the contestant's fans.
Chan, an assistant professor of philosophy at St. Norbert College in Wisconsin, was off by one letter in his spelling of "Benedick," Beatrice's lover in Shakespeare's "Much Ado About Nothing." He swapped out the "K" for a "T," a mistake he later chalked up to a miswritten flash card.
Chan earned $252,600 throughout his "Jeopardy!" run before his loss to former museum educator Lynn Di Vito (who did not guess the Final Jeopardy! clue correctly but wagered a lower amount than Chan). He was the "first and only champion" in "Jeopardy!" history whose first nine wins were "runaway" victories, show producer Sarah Whitcomb Foss told him.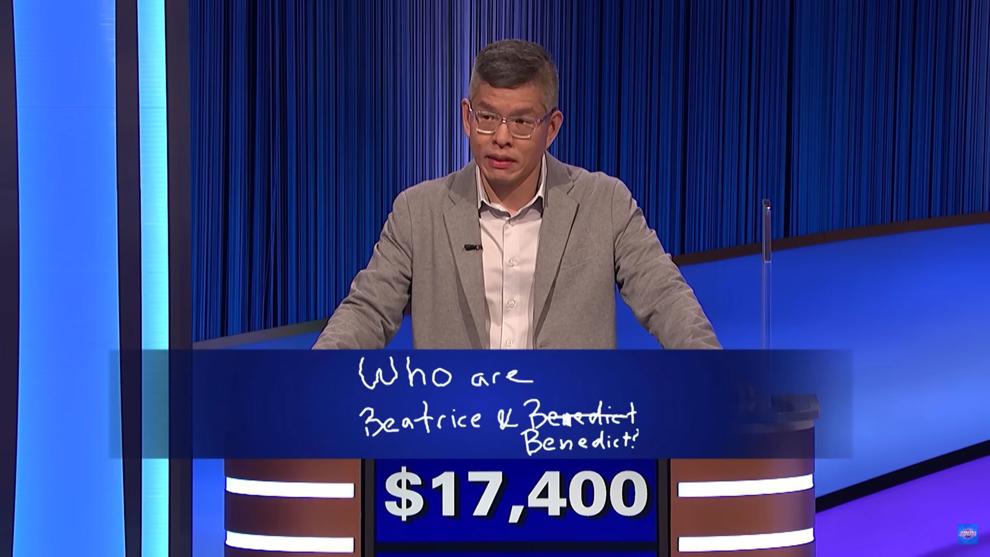 "It's a very memorable miss," she told Foss after his 10th game, which aired Tuesday. "If you're gonna go out on a miss, go out on a memorable miss."
"Jeopardy!" viewers, though, were miffed that the show docked Chan for misspelling "Benedick." Per the show's rules, the Final Jeopardy! clue doesn't have to be spelled correctly but must be "phonetically correct and not add or subtract any extraneous sounds of syllables." Chan's spelling – "Benedict " – was technically a different name than "Benedick" and ended on a different sound.
That wasn't enough to satisfy fans rooting for Chan's winning streak to continue. Several viewers said "Jeopardy!" was wrong to eliminate Chan on such a small detail and pointed out that resources including the Shakespeare Birthplace Trust have spelled the character's name "Benedict." Still, Chan's outlook remained positive.
"I hope that in all the 10 games… the way I played showed gratitude and appreciation for what a unique opportunity this is," he said.
Chan will return for the series' "Tournament of Champions," during which the contestants with the longest winning streaks of the year return to face off.
Can you answer these real 'Jeopardy!' questions about dogs?
Can you answer these real 'Jeopardy!' questions about dogs?
Clue #1
Answer #1: What is a Chinook?
Clue #2
Answer #2: What is a bloodhound?
Clue #3
Answer #3: What is a terrier?
Clue #4
Answer #4: What is a Rhodesian ridgeback?
Clue #5
Answer #5: What is a poodle?
Clue #6
Answer #6: What is an Akita?
Clue #7
Answer #7: What is a Doberman pinscher?
Clue #8
Answer #8: What is the corgi?
Clue #9
Answer #9: What are greyhounds?
Clue #10
Answer #10: What is Mexico?
Clue #11
Answer #11: What is a Boston terrier?
Clue #12
Answer #12: What is the sea?
Clue #13
Answer #13: What is a Saint Bernard?
Clue #14
Answer #14: What is the tongue?
Clue #15
Answer #15: What is a German shepherd?
Clue #16
Answer #16: What is the French poodle?
Clue #17
Answer #17: What is a collie?
Clue #18
Answer #18: What is a boxer?
Clue #19
Answer #19: What is a Maltese?
Clue #20
Answer #20: What is a Chihuahua?
Clue #21
Answer #21: What is the Bouvier des Flandres?
Clue #22
Answer #22: What is a borzoi?
Clue #23
Answer #23: What is a bloodhound?
Clue #24
Answer #24: What is a collie?
Clue #25
Answer #25: What is a Saluki?