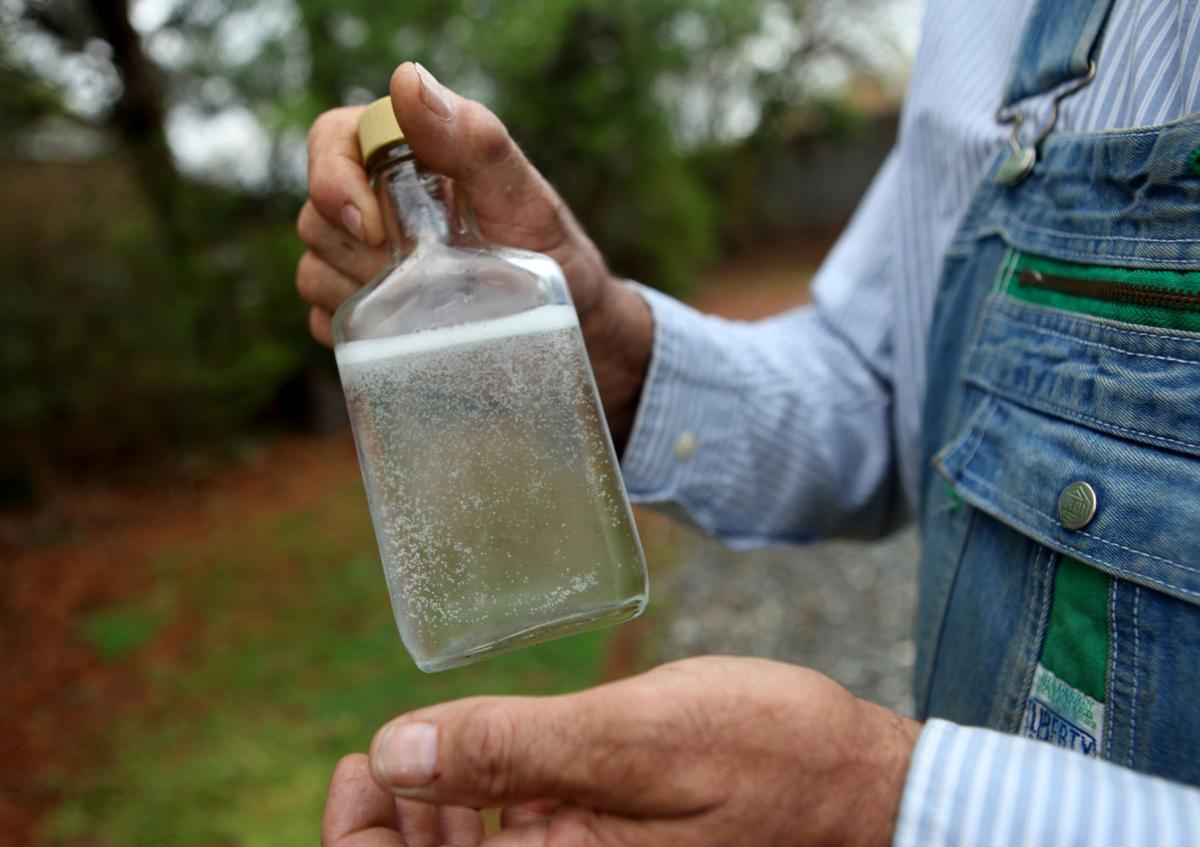 The recent columns I wrote about the Corbin twins, the entertaining old-time Varina moonshiners from the 1950s and 1960s, and the enforcement agent who arrested them inspired Tom Cowdrey to write me and offer a more modern angle on the matter of homemade liquor.
Cowdrey, who lives in Aylett, pointed out that while it has long been fashionable and legal to make your own wine at home or brew your own beer — in limited quantities — it remains quite illegal to distill your own spirits.
How illegal? According to the federal code, the punishment for producing illegal alcohol could land someone in prison for up to five years and could lead to a fine as much as $10,000 — for nothing more than producing a gallon of hooch to sip by the fire.
The likelihood of a judge issuing such a harsh sentence might seem remote but, as Cowdrey says, "The law is the law, and this statute scares the hell out of a lot of folks."
It also is illegal to own and operate a still, according to Virginia law, and you don't have to be producing distilled spirits to run afoul of the law.
In 2016, according to the Virginia Department of Alcoholic Beverage Control, ABC agents made one arrest statewide for the illegal manufacturing of alcohol and eight arrests for storing or possessing distilling equipment.
Cowdrey believes it is time for America's views on homemade liquor to evolve as its approach to making beer and wine did in the late 1970s, when Congress amended the law to allow home brewing of beer and the small-scale production of wine for personal or family use.
However, the home-based distillation of alcohol has been against federal law since Prohibition was repealed in the 1930s.
"We're being governed by stuff designed to stop the illegal sale of untaxed alcohol in 1933," Cowdrey said in a phone interview. "The beer people can make their beer, but we can't distill. It's just not fair. We need parity."
Cowdrey is one of the founding members of the Hobby Distiller's Association, a national group that advocates for the legalization of hobby distilling in America.
He said the group has made inroads with members of Congress, and he believes it has the votes, though the bill never came up for a vote last year, meaning it has to start over to get its proposal included in another bill in the current Congress.
The biggest problem the group has now, Cowdrey said, is paying its lobbyist to keep advancing the legislation.
Cowdrey got involved a few years ago while chatting in an online forum for a company that sells stills and distilling supplies.
The subject of distilling alcohol for personal use came up along with how impossible that would be, since distilling is prohibited unless you have a permit and you're not eligible to have a permit on residential property.
Plus, the U.S. Treasury Department's Alcohol and Tobacco Tax and Trade Bureau has the authority to require manufacturers of distilling equipment to keep sales information and to provide information about their customers, which also got the attention of those frequenting the online forum.
One thing led to another, and it was suggested that anyone interested in changing the laws should write to their representatives in Congress.
Then the feds staged a few raids in Florida in 2014 with agents from the Florida Division of Alcoholic Beverages and Tobacco, making arrests and confiscating dozens of home stills.
This really fired up those interested in changing the laws and, since the letter-writing campaign really hadn't accomplished much, the Hobby Distiller's Association was formed.
Cowdrey, who spent 40 years in the apartment management business, said, "Sure, I drink a little bit," but he said he got involved in the political battle "because it just seemed the right thing to do."
He said there's considerable misinformation about home distilling — including the perceived dangers, which have largely been mitigated because of modern equipment, a far cry from the days when moonshiners fired up makeshift stills deep in the woods.
Cowdrey purchased a still a few years ago — and to keep it legal, he applied for and was granted a permit to classify the still as an "alcohol fuel plant."
In other words, he's permitted to distill alcohol for fuel but not for drinking — a perfectly acceptable operation, according to the federal government. He runs a couple of batches a year to remain eligible to keep his permit.
But producing alcohol for human consumption is the aim of the Hobby Distiller's Association.
Meantime, the craft liquor industry, following its lead from the craft beer industry that had a long head start, is beginning to grow with gusto.
As of August, there were more than 1,300 craft distillers in the U.S., up from 204 in 2010, according to a survey released by the American Craft Spirits Association.
But unlike with craft brewers, who may legally hone their skills at home with trial, error and small batches, anyone who aspires to become a craft distiller runs the risk of being arrested for practicing at home.
"The folks starting these new craft distilleries across Virginia and the rest of the country didn't just get up one morning and say, "Let's start a distillery!'" Cowdrey wrote in his original email to me.
"They either bought their equipment or made it from the hundreds of still designs available on the internet. After that, they began learning the artful challenge of making drinkable products the public would buy. The vast majority of the experimentation was done behind closed doors and was strictly against the law."
Cowdrey said the legalization of hobby distilling could lead to the creation of more small craft distilleries and the jobs and tax revenue that go with that.
"Additionally," he said, "there are many thousands of people who would like to try their hand at making their own corn whiskey, vodka, bourbon or gin just for the fun of it.
"The time for change has come."