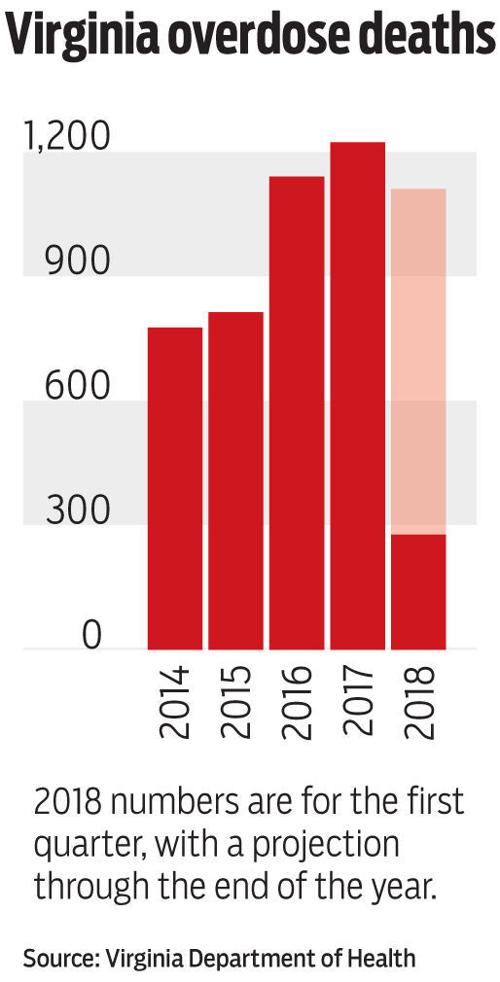 A legislatively mandated work group of medical industry stakeholders agreed Wednesday on a set of recommended changes to the 2017 state law requiring the transition to e-prescribing of all opioids by July 2020.
The law — part of an effort to lessen the abuse of the drugs — is intended to reduce errors, theft and forgery of prescriptions, and to help prescribers track what medications a patient has received as the state grapples with a public health crisis.
Opioids, a class of drugs that includes prescription painkillers and heroin, claimed a record 1,220 lives in Virginia last year.
Just more than half — 56.8 percent — of Virginia prescribers are active e-prescribers, though only 6.3 percent are able to comply with the Drug Enforcement Administration requirements for opioid e-prescription, according to Surescripts, a clinical health information network that tracks prescription data.
That compares with 17.1 percent of prescribers meeting DEA requirements nationally.
The work group's report noted that the data does not include all prescribers in the state.
The work group determined last year that Virginia should adopt temporary waivers and exemptions to the mandate prior to the July 2020 deadline for prescribers to comply with the law. State officials used New York's e-prescribing mandate — which went into effect in 2016 — as a model to help shape the Virginia law.
The draft legislation included nine possible exemptions, including allowances for providers who write small numbers of opioid prescriptions annually; for veterinarians; for prescriptions dispensed in medical facilities, such as hospitals and nursing homes; and for extenuating circumstances, such as a technological failure or a when a patient is at risk.
The work group rejected one suggested exemption that would have allowed a paper prescription to be used if it were to be filled at a pharmacy located on federal property or out of state. Some members of the group were concerned that this could create a loophole in the law that would allow abuse of the prescriptions by people crossing state lines in search of opioids.
"This is kind of a truck-sized loophole," said Carol Forster, a physician who led the opioid reduction strategy for Kaiser Permanente's Mid-Atlantic region. "The people we're most worried about are going out of state."
David Brown, director of the Department of Health Professions, reasoned that there could be legitimate situations where a patient would be traveling out of state and need immediate access to an opioid prescription, but conceded that such a situation would be covered by another exemption for when a patient's condition is at risk.
The group's final report to the General Assembly on Nov. 1 will include its recommendations and allow for amending legislation during the 2019 session.