Steeped in the rich food culture of her hometown, San Francisco, Pietisserie's Jaynelle St. Jean is known for riffing on some of the best food trends. Kabocha, or Japanese squash, should be your new pumpkin this season, as it is denser and sweeter than its more familiar cousin. Along with the recipe, she shares this note: "A 2-pound kabocha should yield about 1 pound (2 cups) of puree. But it's absolutely worth making a larger homemade batch and freezing any extra, if you will be baking through the holidays."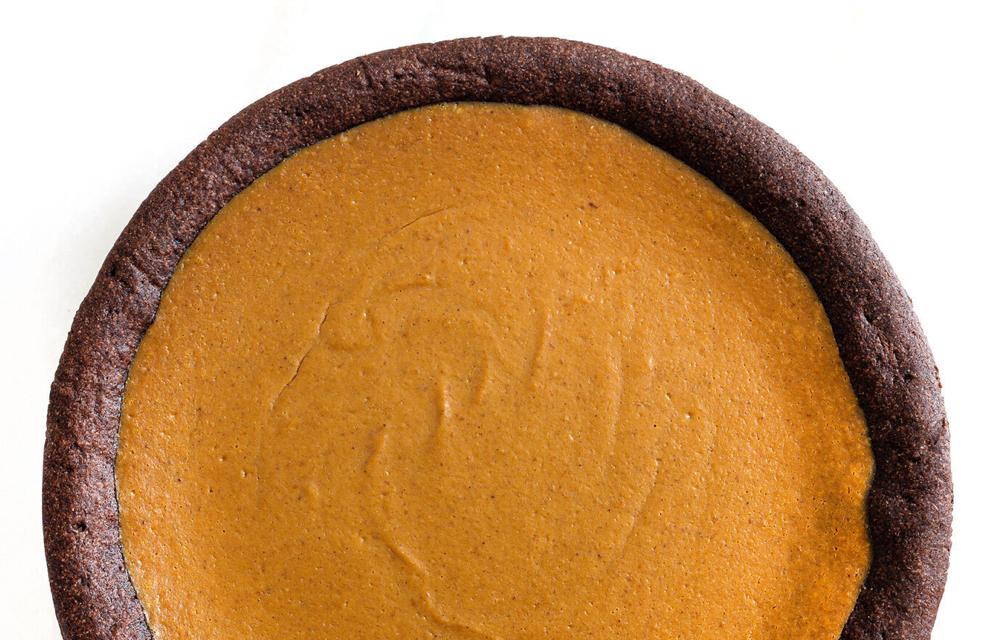 ---
Roasted Kabocha Pie in Chocolate Crust
2 egg yolks
4 oz butter (1 stick)
1/3 cup sugar
1/4 tsp salt
1 tsp vanilla
1 1/4 cups flour
3 Tbsp cocoa powder 
2-pound kabocha squash (my latest favorite stand-in for pumpkin pie. Unlike pumpkin, it's not watery after you purée it)
14-ounce can sweetened condensed milk
4 Tbs butter, melted (1/2 stick)
3 eggs, whisked
3/4 cup sugar
1 1/2 tsp cinnamon
1/2 tsp grated nutmeg
1/4 tsp ground cloves
Pinch of salt
Ginger root, several passes over a zester to taste 
Roast the squash. Preheat oven to 425°F. Line a baking sheet with parchment paper. Cut the kabocha in half and scoop out seeds and stringy bits. Place each half on prepared pan, cut side down. Roast for 30 to 40 minutes, or until a knife easily pierces the flesh. Remove from oven to cool. Reduce oven temperature to 350°F.
While squash cools, make the crust. In a food processor, combine egg yolks, butter, sugar, salt and vanilla. Pulse until the mixture resembles scrambled eggs. Sift flour and cocoa powder together into a medium bowl. Add half of the flour-cocoa mixture to the food processor; pulse several times. Add remaining flour mixture and pulse until dough is smooth and homogeneous. Transfer dough to a bowl and knead briefly to form a ball. Cover bowl with plastic wrap and refrigerate for about 15 minutes. 
Make the filling. When the squash is cool, scoop out the flesh and purée in a blender or food processor. In a large bowl, combine kabocha purée, sweetened condensed milk, melted butter and eggs. In small bowl, combine sugar, cinnamon, nutmeg, cloves and salt. Add dry ingredients to wet mixture, along with grated ginger. Mix until smooth. 
Assemble and bake the pie. Roll out dough; fit it into a pie or tart pan. Crimp or trim edges. Pour in the filling. Bake for 35 to 45 minutes, or until the filling firms on the edges, but not completely in the middle. Remove from oven and cool on a rack.