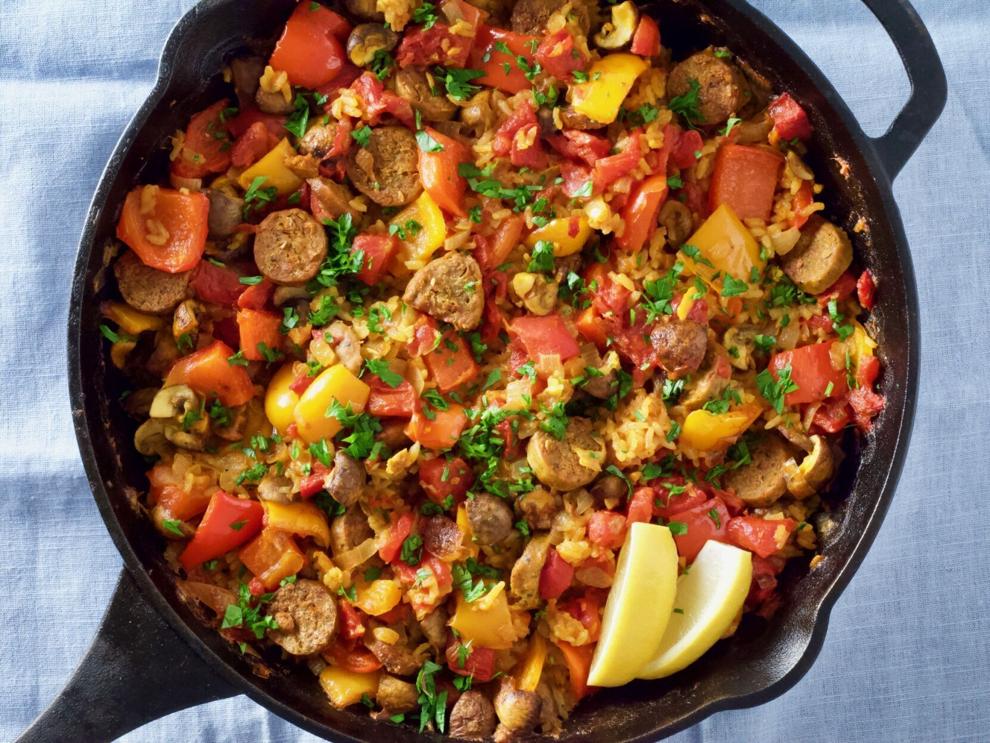 Paella is a classic Spanish rice dish, made using a short grain starchy white rice and simmered together with veggies, wine, stock, spices and proteins. Most paellas are made with meat or fish or a combination of both. This paella is made from veggies, making it completely plant-based. It's pretty easy to make, so long as you prep all your ingredients before you head to the heat.
Plant-Based Paella
2 tablespoons olive oil
1 large onion, diced
4 garlic cloves, minced
2 vegan sausages, sliced into 1/4-inch coins
2 red bell peppers, diced
8 ounces brown mushrooms, quartered
1 teaspoon salt
1 1/2 cups short grain white rice
2 teaspoons smoked paprika
1 teaspoon paprika
1 teaspoon turmeric
1/2 teaspoon red chili flakes
3/4 cup white wine
3 cups vegetable stock
2 cups canned diced tomatoes
2 bay leaves
2 tablespoons minced fresh parsley, for garnish
1 lemon, cut into wedges, for garnish
1. Preheat the oven to 400 F.
2. Heat a 12-inch oven-safe paella or cast-iron pan over medium heat. Add oil and onions; cook stirring often until the onions begin to soften. Add garlic, cook for 1 minute.
3. Add in sausage slices, peppers, mushrooms and salt. Cook, stirring often until the mixture begins to reduce, about 5 minutes.
4. Add in the rice, both paprikas, turmeric and red chili flakes. Cook and stir for 1 minute. Add wine and deglaze, scraping up any cooked bits stuck to the bottom of the pan.
5. Add in the vegetable stock, tomatoes and bay leaves. Bring to a boil, then carefully place in the oven and cook for 20 to 30 minutes, checking at the 20-minute mark, until the rice is tender and no liquid remains.
6. Stir in parsley. Let stand for 5 minutes. Serve with lemon wedges.
If you can't find an authentic short grain white rice from Spain, use any short grain white rice.
You can substitute vegetable stock for white wine.
You can make this completely on the stove-top; once the mixture comes to a boil, reduce heat to low, and simmer undisturbed until the liquid has evaporated and the rice is tender.
Paella, which means "frying pan" in Valencia, Spain, is the authentic pan to use, but if you don't have one, the next best thing is a cast-iron pan.
(Kary Osmond is a Canadian recipe developer and former television host of the popular daytime cooking show "Best Recipes Ever." Her easy recipes include helpful tips to guide you along the way, and her love of plant-based cooking offers healthy alternatives to some of your favorite dishes. Learn more at karyosmond.com.)