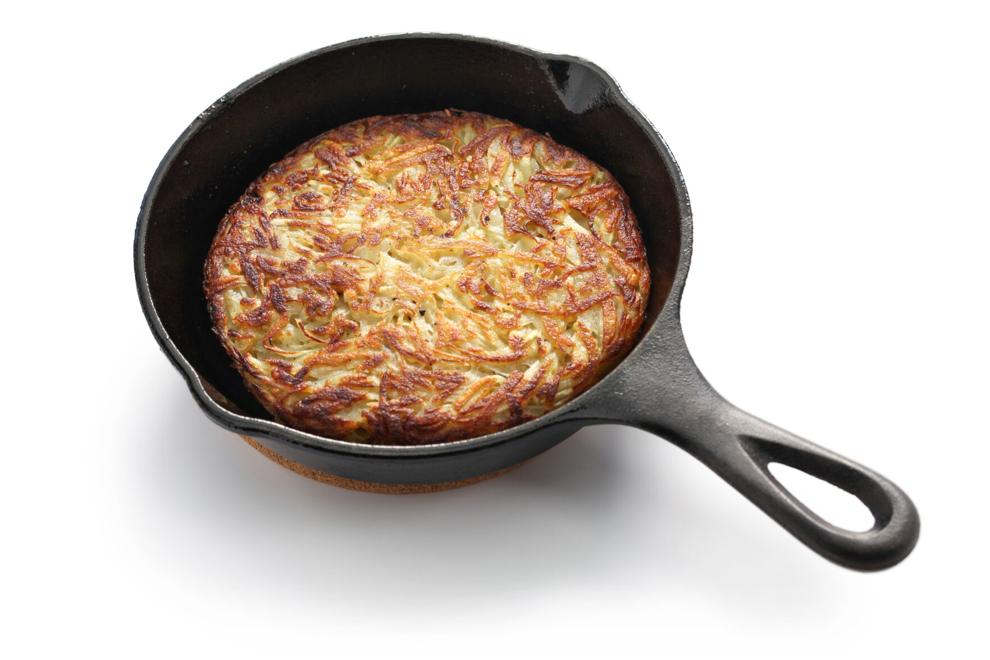 This year we will all be having tiny gatherings to celebrate this happy holiday. So rather than making individual potato pancakes why not try this one-pan take on the traditional potato pancake?
This is a good solution, since it cuts down on the time to prepare and everyone gets a nice slice. And it's just perfect to serve four. It looks like a round flat pancake and cooks similarly to a frittata, hence its name. It's amazing you only need one potato to feed four. It also uses less oil for those watching their diet.
I've included my favorite applesauce to accompany this crispy potato frittata. The Gala and Pippin apples work best combined together to achieve a rustic texture. If you prefer a less chunky version, puree with an immersion blender right in the pot. Even though it makes 4 cups you will be surprised how quickly it disappears. Don't forget the sour cream on the side!
Potato Pancake Frittata Maple Cinnamon Applesauce
1/2 medium onion, quartered
1 egg
2 tablespoon parsley leaves
1 large baking potato, peeled and cut into 2-inch chunks
Salt
Freshly ground black pepper to taste
1 tablespoon matzo meal
1/4 teaspoon baking powder
Vegetable oil like peanut or grapeseed oil
1. Preheat the oven to 425 F.
2. Puree the onion and eggs together in a food processor fitted with the metal blade until they are smooth and fluffy. Add the parsley and potatoes and pulse until the mixture is finely chopped but still retains some texture. Add the salt, pepper, matzo meal, baking powder and quickly process to combine. Do not over-process. Reserve.
3. Heat the oil about 1/8-inch deep in a 9-inch non-stick skillet with an oven-proof handle (or cover a wooden handle with foil) or cast-iron skillet over medium-high heat. When the oil is hot (it will shimmer) pour the batter into the pan and smooth the top with a rubber spatula. Cook, shaking pan occasionally; and moving the bottom with a wide spatula. Make sure the bottom doesn't burn. Saute the mixture for about at least 5 minutes or until the bottom is nicely browned.
4. Transfer skillet to the oven to the upper middle rack and bake until the pancake is slightly puffed and light brown, about 10 to15 more minutes. Remove from the oven and carefully slide onto a 12-inch round platter, placing a spatula underneath it to ensure it will slide out easily. Make sure that the browned top faces up. (You can also serve this right out of the skillet.) Cut into wedges and serve immediately with applesauce and sour cream.
Maple Cinnamon Applesauce
3 Gala apples, peeled, cored, and cut into 2-inch chunks
3 pippin or Granny Smith apples, peeled, cored, and cut into 2-inch chunks
6 tablespoons maple syrup
1 tablespoon cinnamon
1 tablespoon fresh lemon juice
1. Place all the ingredients in a heavy nonaluminum saucepan over medium heat. Cover and simmer for about 12 minutes, or until the apples are slightly softened.
2. Uncover and continue cooking, stirring occasionally to break up the large pieces, for 7 to 10 minutes, or until the apples are soft but there is still some texture. Adjust the seasoning with more syrup, ground cinnamon, and/or lemon juice. Remove from the heat, let cool and chill before serving.
Advance preparation: Can be prepared up to one week ahead, covered and refrigerated.
(Diane Rossen Worthington is an authority on new American cooking. She is the author of 18 cookbooks, including "Seriously Simple Parties," and a James Beard Award-winning radio show host. You can contact her at www.seriouslysimple.com.)