This time of year, with the first hints of warm breezes blowing through and a peek into the sunny days to come, can put people in the mood to clean and modify spaces.
Everyone likes to talk about spring cleaning, but what about post-winter hibernation refresh?! Indeed, this year more than ever it feels like we need to make a big change to welcome in a new season of life.
What better way than with a fresh coat of paint on the walls? Painting the interior of your home is a big undertaking and is certainly not without its challenges.
Recently, we took the leap and repainted our entryway at the shop, and it has truly transformed the space.
As soon as I saw a swatch of our new color, Atchison, I knew I had found the one.
Atchison is a creamy, dreamy, earthy taupe that brings to mind clean and comforting spaces and makes me think of cozy nights spent with family and friends.
This shade is one of pure comfort and home, so I thought there no better name than one that pays homage to our original home in Atchison, Kansas.
Taupe is a wonderful paint color because it provides the best of all worlds. It brings a warmth to a space that is hard to achieve with stark white while remaining the perfect backdrop for any accent color palette from pastels to jewel tones to even more neutral hues.
Atchison has a depth to it that is enveloping, soothing and oh-so-charming, making it perfect for spaces where you want to create a welcome and cozy atmosphere.
A few of our talented Nell Hill's designers have found inspiration in our refreshed space and have pulled together some stunning fabric pairings that enhance this perfect taupe.
Fresh starts
Terrific texture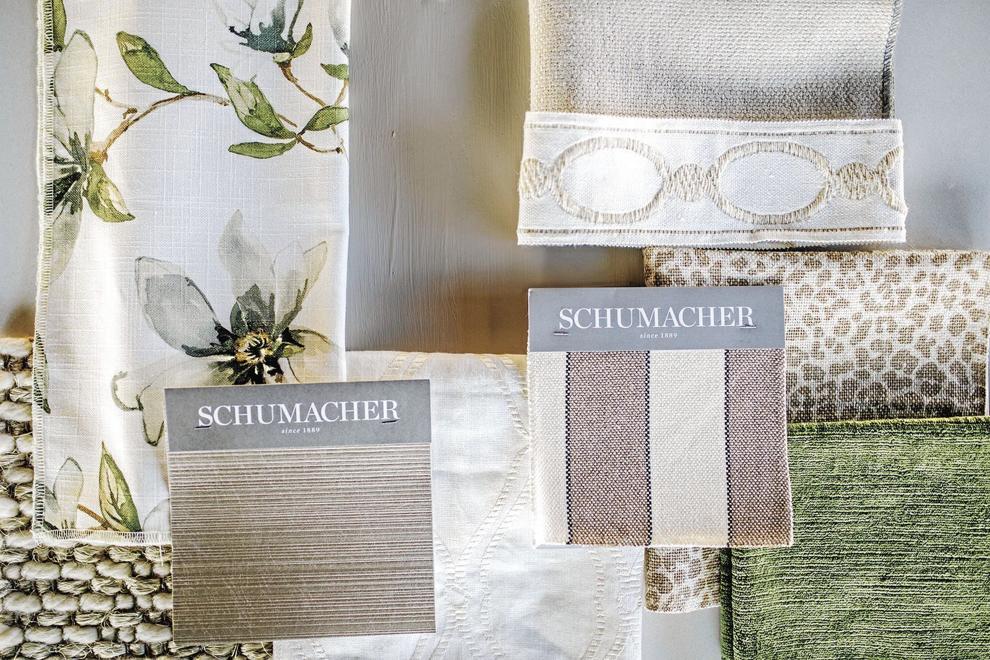 Our first designer, Jenna, envisioned a light and airy living area that shows her love of using classic elements to create timeless living spaces.
What I adore most about this simple color palette is her gorgeous use of texture. From the oversized weave of the natural fiber rug and the ridged shine of the Schumacher accent wallpaper to the smallest finishing touch of embroidered trim perfect for a sofa skirt that flows effortlessly into her pearl-on-white
window-covering textile, each detail brings interest and energy to her room. The fern coloring of her chosen velvet fabric is perfect for a show-stopping ottoman and showcases one of my favorite new Nell Hill's stock floral fabrics at the same time. This crisp look is perfect for a room with lots of natural light peeking in through the curtains.
Beautiful balance
For our second featured look, our team member Dallas was inspired to create a nursery palette in honor of her dear friend who is currently a mommy-to-be. More and more baby and kid rooms are turning to neutral wall colors that allow children to grow into their own style easily and without yearly fuss over a new favorite color of the week.
A playful rug is the perfect starting point to introduce pastel shades of yellow, blue and pink into this room. Atchison is a wonderful color to pair with soft shades, as it truly lets them shine on their own. By mixing in a balance of plush velvets and linens with boldly textured embroidery and tweed accents, this pairing achieves the difficult task of being both subtle and bold.
Pretty pairings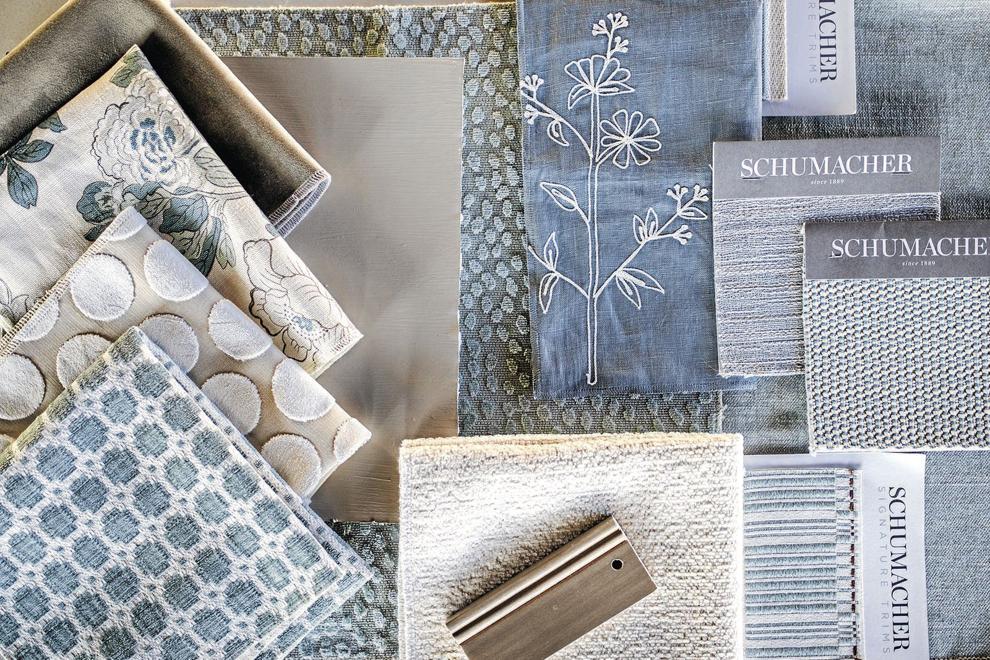 Our final favorite look from Ellen incorporates one of our go-to color pairings for taupe, which is a complementary shade of blue. Since our Atchison color has warm undertones, blue is the perfect balancing color and truly pops against this marvelous taupe. In fact, looking at this pattern mix has me thinking about redoing my bedroom here and now!
One of Ellen's talents is her ability to marry the old with the new as well as excelling in pairing trendy neutrals with muted colors, so this pretty pairing comes as little surprise to me. Mixing traditional floral prints and simple embroidery with both youthful oversized polka dots and modern irregular velvet dots is a risk well worth taking. The muted blue and matching tones of her chosen color allow for more room to play with a variety of textures and patterns without overwhelming or downplaying the chosen paint color.
Home improvement shows to get you inspired
Whether you're a "Fixer Upper" fan or "Rehab Addict" fanatic — or love home organizing shows — there's a show for everyone.
Good interior design shows
'Home Town'
Ben and Erin Napier are #couplegoals. This sweet duo have an easy rapport that just flows in between the homes they renovate with a vintage vibe in their hometown of Laurel, Mississippi. The show's entire first season with 10 episodes is now streaming on Hulu.
Each episode starts with the Napiers showing someone new to Laurel several options for a home that needs serious renovations. They overhaul each house and then completely decorate it, always incorporating a mix of vintage and new decor.
"Home Town" is, in many ways, a love letter to not just the homes the Napiers create but to the power and community of small towns. And it oozes some awesome Southern charm such as when Erin, after discovering oak floors under some yucky carpeting, declares: "I am just pleased as punch."
'Fixer Upper'
Speaking of #couplegoals, does it get any better than Chip and Joanna Gaines? While the beloved duo who put farmhouse design on the map in a new way is gearing up to launch their new TV network next year, their original HGTV hit, "Fixer Upper" is available on demand with some cable subscriptions. The entire series also is available on Hulu.
Chip, the goofball carpenter, and Joanna, the steady interior designer, said goodbye to "Fixer Upper" after five seasons in 2018. But earlier this year, the couple announced the show would return to their Magnolia Network in 2021.
If you love farmhouse design and haven't watched this super fun series, run — don't walk — to binge as many episodes of "Fixer Upper" as you can.
'Getting Organized with the Home Edit'
For design fans who swoon over good organization, Netflix's "Getting Organized with the Home Edit" is for you. It follows professional organizers Clea Shearer and Joanna Teplin, both young moms now living with their families in Nashville, Tennessee, as they work with both celebrities and everyday folks to organize problem areas.
Each show takes viewers step by step as Shearer, Teplin and their team tackle each project. And who doesn't want to see inside actress Reese Witherspoon's closet? (Witherspoon is an executive producer.)
"Getting Organized with the Home Edit" — Shearer and Teplin also have a line of products with the Container Store — will motivate you to get off your couch and tackle that unwieldy junk drawer or closet. But only after you're done binging the show.
'The Big Flower Fight'
Floral design climbs to crazy new heights in "The Big Flower Fight," which debuted earlier this year on Netflix. The British show pits eight teams of floral designers — some of which are from the United States — and pushes them to create fashion, bugs, sea creatures and giants all out of flowers and plants.
The show is fun and whimsical and has drawn comparisons to "The Great British Bake Off" — except without food.
'Rehab Addict'
For eight seasons of "Rehab Addict," Nicole Curtis has brought back old homes to their former glory.
As she gears up to debut a new show in early 2021, "Rehab Addict Rescue," her original hit, "Rehab Addict," is available on the HGTV Go app. It's also available on demand with some cable subscriptions.
'Flea Market Flip'
"Flea Market Flip" has been running for 14 seasons.
Hosted by Lara Spencer, each episode follows two competing teams as they buy items at an East Coast flea market, flip them and then go head-to-head selling their three re-imagined pieces at another market. Whoever sells their items with the biggest profit margin wins $5,000.
It's a treat not just to see what each team comes up with — you'll see more coffee tables and bars than you could ever imagine — but also how they go about closing the deal with potential buyers.
'Good Bones'
What makes this home renovation show unique is not just where it's set — Indianapolis — but that it features a mother and daughter duo buying and renovating old homes.
Karen Laine and her daughter Mina Starsiak Hawk have been renovating homes for more than a decade with their firm, Two Chicks and a Hammer. Each show ends with the completed home completely decorated, usually in an updated traditional aesthetic. Laine usually includes some kind of DIY project in each episode.
'Love It or List It'
Talk about an oldie but goodie. What makes HGTV's hit show, "Love It or List It," so popular is not the slightly wacky premise — homeowners renovate their homes to address major problem areas while also looking for a possible new home — but the relationship between Hilary Farr and David Visentin.
These two have such a fun dynamic, playfully competing against once another, that it adds a whole other dimension to the show. Now on the air for 15 seasons, several seasons are available on Hulu.