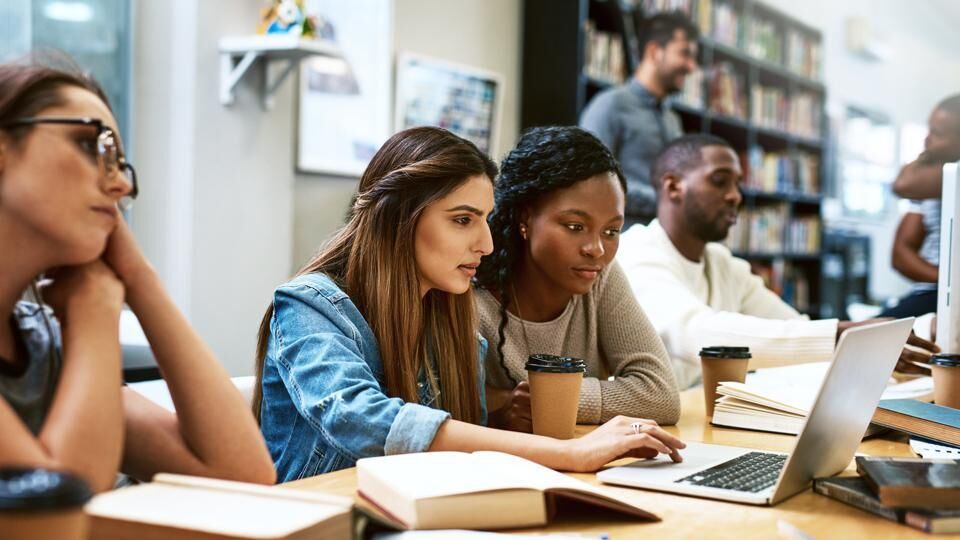 With thousands of women's scholarships coming from private companies, nonprofits and public institutions, there's no shortage of college funding options geared specifically toward female students.
Scholarships and grants are essentially free money for your education, and don't need to be repaid. Scholarships are typically merit-based, while grants are often need-based. Here are some of the best scholarships for women, but don't limit yourself to just this list. Explore all your funding options before you head to college.
Top College Grants and Scholarships for Women
To find the best scholarships and grants for women, consider how much money you can receive, what the application requirements are and whether it's a one-time prize or can be renewed for multiple years. Some organizations use the terms "scholarship" and "grant" interchangeably, so pay attention to the eligibility and submission rules for each award.
1. Ford Emerging Voices Scholarship
The Alliance for Women in Media (AWM) and the Ford Motor Company Fund requires one audio or video piece that answers the question: What's the importance of women's voices in media? Students studying to be writers, editors, directors and producers are encouraged to apply. In addition to a cash prize, the winner can also choose to be mentored by an AWM board member.
Award amount: $5,000
Deadline: May
How to apply: When applications open on the AWM site
2. Any Award From the American Association of University Women
The American Association of University Women (AAUW) awarded almost $5 million in fellowships and grants for the 2021-22 academic year. They offer American and international grant and fellowship opportunities for both undergraduate and graduate women. Some are specific to degree programs like engineering and science, while others don't have an academic requirement.
Award amount: Varies; up to $35,000
Deadline: Staggered throughout the year
How to apply: Through the AAUW website
3. Jane M. Klausman Women in Business Scholarship
The Jane M. Klausman Women in Business Scholarship, funded by Zonta International, is awarded to female undergraduate or graduate students majoring in business management or a related field. Thirty-two scholarships are awarded annually to women who can demonstrate outstanding potential in their field of study.
4. Adobe Research Women-in-Technology Scholarship
If you're enrolled in at least your second year of schooling or higher at a North American college or university, you might qualify for this award. You must major in computer science, engineering, or a related technical field to be eligible. You'll also need to send in your resume, transcripts, three letters of recommendation, answers to essay questions and, to boost your odds, submit a 60-second video describing your dream career.
Award amount: $10,000
Deadline: September
How to apply: When applications open on the Adobe Research site
5. Chris Andersen WomenLead Scholarship
Women of diverse backgrounds studying ministry are encouraged to apply for this scholarship. Two awards are given to master's or doctoral level students with at least a 3.0 GPA studying public service, nonprofit leadership or Christian ministry.
6. Newsette No-Essay Leadership Scholarship for Women
For readers of The Newsette, a daily newsletter that celebrates women, you can apply for this $1,000 award—no essay required. If you're selected as a finalist, you'll be interviewed about what you've learned from The Newsette.
Award amount: $1,000
Deadline: Applications are accepted on a rolling basis, but awarded in June
How to apply: When applications open on Bold.org
7. Any Award From the Society of Women Engineers
If you're currently studying engineering, engineering technology or computer science at the undergrad or graduate level, you might qualify for an award from the Society of Women Engineers (SWE). In 2020, the organization distributed nearly 260 awards. Some scholarships are even renewable, so you could receive money over multiple years.
Award amount: Varies; up to $17,000
Deadline: Spring
How to apply: When applications open on the SWE site
8. Generation Google Scholarship: For Women in Gaming
This scholarship is for women pursuing degrees in video game programming, game engineering, game design or a related field. You'll need to demonstrate financial need and have a strong academic record at a U.S. or Canadian school. All levels of education—undergrad, graduate and PhD students—are eligible.
9. Women's Independence Scholarship Program (WISP)
If you're a woman who's a survivor of partner abuse and have been separated from your partner for at least a year, you might qualify for this scholarship. You'll need to showcase financial need and be accepted into an accredited institution, including community colleges, universities and technical or vocational schools. Preference is given to students who are pursuing their first bachelor's degree, those attending a vocational school and single mothers.
Award amount: $500 to $2,000 per quarter or semester
Deadline: November
How to apply: When applications open on the WISP website
How to Search for Scholarships and Grants for Women
With so many scholarships and grants to choose from, you might find the options overwhelming. It's a good idea to spread out the scholarship search and application process over several months. Here are 4 tips on how to get organized so you can keep track of potential awards.
1. Get Your Paperwork in Order
The Free Application for Federal Student Aid (FAFSA) is key to accessing student aid, so make sure to submit it each year. Your FAFSA will determine your financial aid at the federal level, and some scholarships and grants might require this information as part of your application. Keep all your financial aid documents in a folder on your computer so you can easily access required documents when completing applications.
2. Start an Award Spreadsheet
Keeping track of all your applications is like a part-time job. As you search for scholarships for women, start a spreadsheet that lists out things like:
The name of the scholarship or grant
Applicable deadlines
Eligibility rules
Submission requirements
Award amounts
Any major must-haves for your application (transcripts, letters of recommendation, etc.)
Link to application
It might help to color-code your spreadsheet as well. Create a color legend that shows which awards you need to apply to, those you've already applied to, ones you've won and rejections. You might want to include if the award goes directly to your school or to you.
Your spreadsheet is the best way to avoid applying to the same award more than once and make sure you're applying to all the ones you're eligible for.
3. Track Tricky Requirements
Following your spreadsheet will help you see what you have to do throughout the year for each award. Often, larger awards require more detailed applications and supporting documentation.
Make sure you get any necessary documents—like letters of recommendations or transcripts—as soon as you can. Since you're relying on other people for these, give them as much notice as possible. That way, you're not waiting on someone else when the deadline comes along.
4. Use As Many Keywords As Possible
When searching through the many different scholarship sites and search engines, don't be afraid to use keywords beyond your major or potential career. Use other parts of your background to your advantage. You can search by your socioeconomic level, race, ethnicity, disability, sexual orientation and more.
Bundle terms where they fit. For example, "scholarships for LGBTQ nursing students" might interest you. Also consider where you live or where you're going to school, such as "college grants for black women in Georgia." The more niche the scholarship is, the smaller the applicant pool will be—and the greater your chance of winning.
It's a lot of work to track scholarship and grants, but it's a process that can be incredibly worthwhile. If you want to owe as little student loan debt as possible, find all your free money options first.