New York City had its "Cats" on Broadway. Cincinnati has its Bengals.
None compare to Richmond's full-time feline influencers.
From Richmond A-lister Francine, the Broad Street Lowe's Employee of the Month every month, to Alice, who roams Hollywood Cemetery, the city's street, alley and shop cats have become a constant conversation starter on and off social media.
While there are numerous Instagram accounts and Reddit tags dedicated to the city's finest, no one works as hard as the cats running several local businesses' advertising departments.
Here is a litter of the city's hardest workers: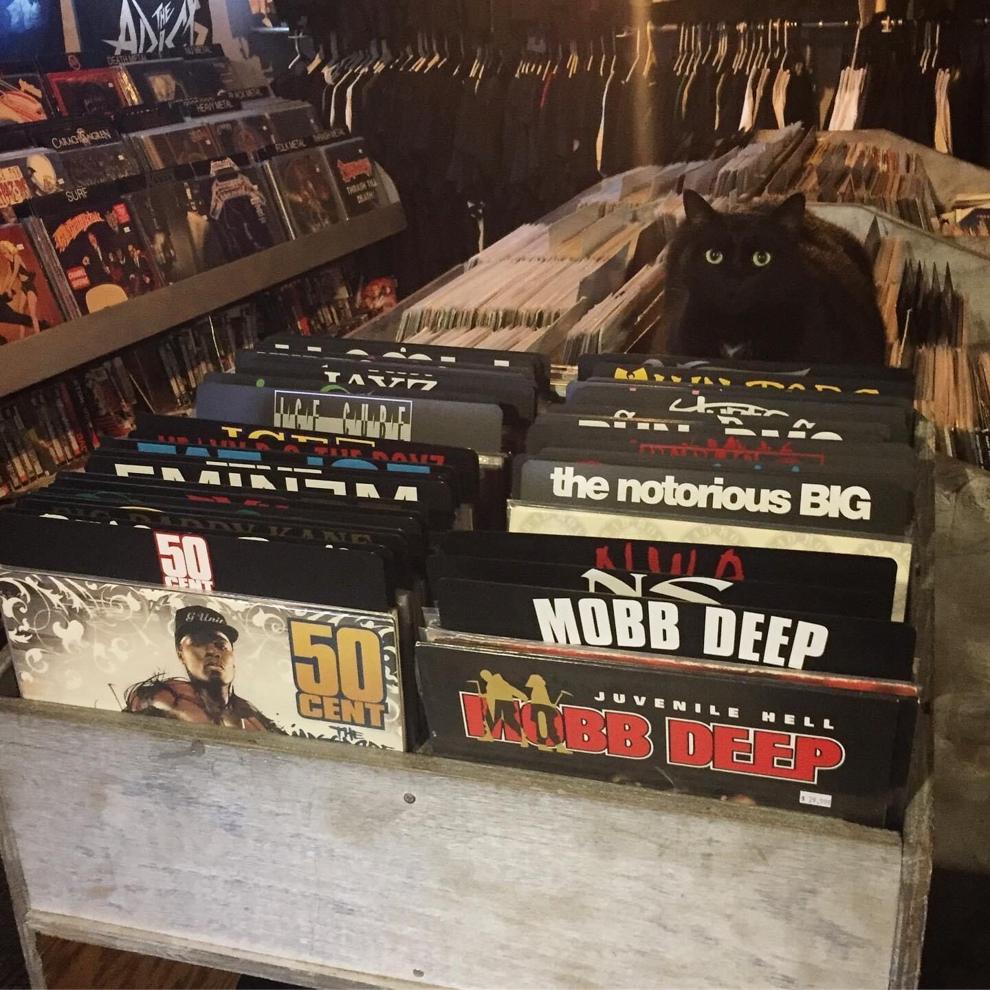 Mihos, a black cat that became the mascot of the Scott's Addition-based record store Wax Moon, arguably has the same affinity for vinyl as his owner, Andrew Griimoiire.
On any given day prior to his retirement, Mihos could be found lounging across the stack of heavy metal albums or stretching against the wall of VHS tapes.
If he was feeling playful, customers could expect to find him attempting, rather unsuccessfully, to swat pinballs from the various machines in the shop.
"He's my best friend," Griimoiire said. "People come in just to see him. It's nice; he helps pay the bills."
For the past seven years, Mihos has been a central part of the business at 1310 Altamont Ave. A mural of his likeness fills one side of the building. Inside the shop, there are shirts that feature him.
It was a friendship that began when Griimoiire began feeding some stray cats in the alley behind his home. Then one day, Mihos followed him home, and they have been a big part of each other's lives ever since.
When Griimoiire opened Wax Moon in 2015, Mihos became synonymous with the shop. While Mihos is typically friendly, Griimoiire said he has gotten grumpier with age. So Griimoiire made the decision to retire Mihos.
Now, instead of spending his days napping on top of the records, he rests on a couch at home. Recently, Griimoiire brought in a new hire, Lunastella.
Lunastella is a black kitten who is taking over the role of shop cat. Often, she can be found listening to records and sitting by the front desk.
From barn cat to calendar model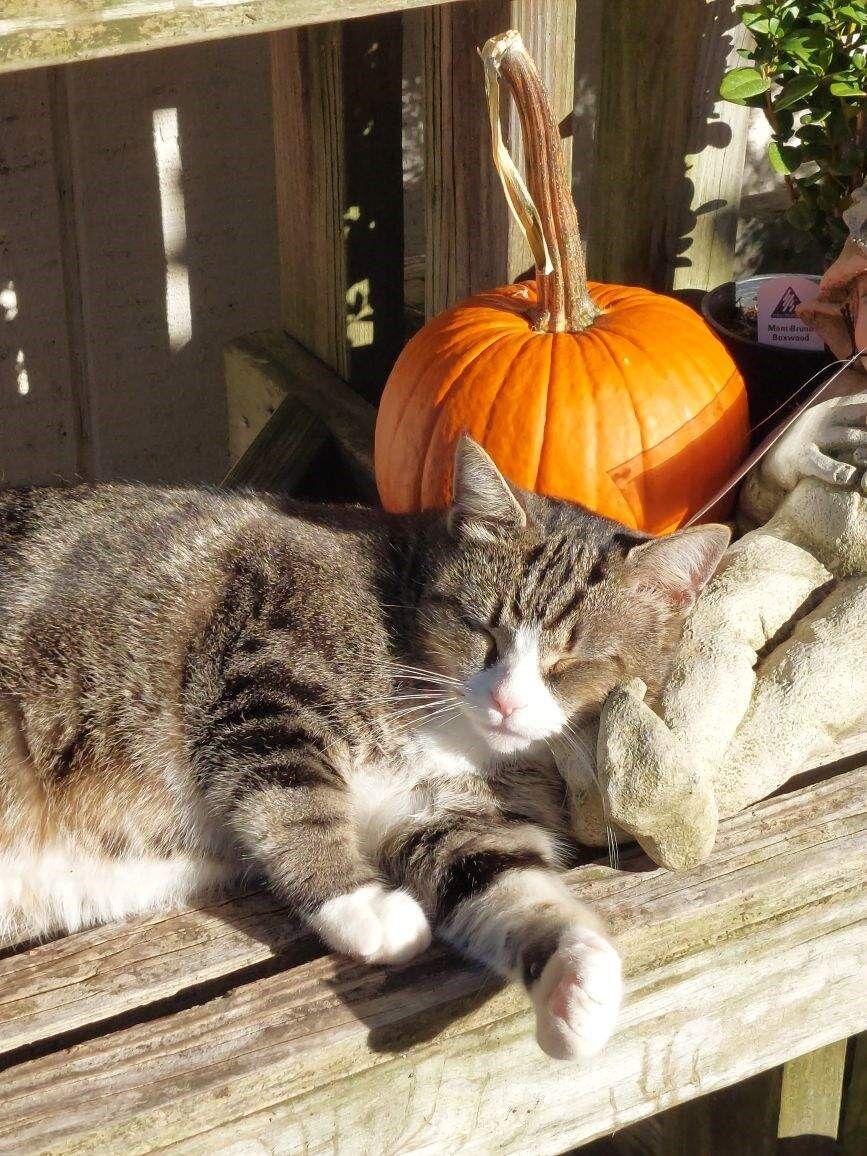 Between the occasional raccoon and a couple of chickens, Jenny Rash is no stranger to welcoming dependents to the property.
The Sneed's Nursery operations manager has seen numerous critters make a home in the back garden in the 20 years she has worked there. While some choose only to visit, others become lifers.
None has been as popular as Cricket.
Cricket, a brown and white tabby, came to the nursery from a customer's friend's barn. It was not long after she arrived that she started to turn heads.
"She just came in and she wasn't nervous. She just made herself at home," Rash said. "She's just really, really sweet-natured, and people just fell in love with her."
Cricket has been known to follow customers around and has jumped in people's trunks as they were filling them with various plants, Rash said.
She has become a staple at the nursery and, at times, the face of the operation. Folks have brought in their own paintings and drawings of her and, every year, she is the subject of the nursery's calendar, the proceeds of which go toward an animal rescue.
Often, people come to the nursery just to catch a glimpse of Cricket.
"We don't do any advertising," Rash said. "It is all word of mouth and social media. So we just feature her a lot, and people come to see her and they take their own pictures and tag us."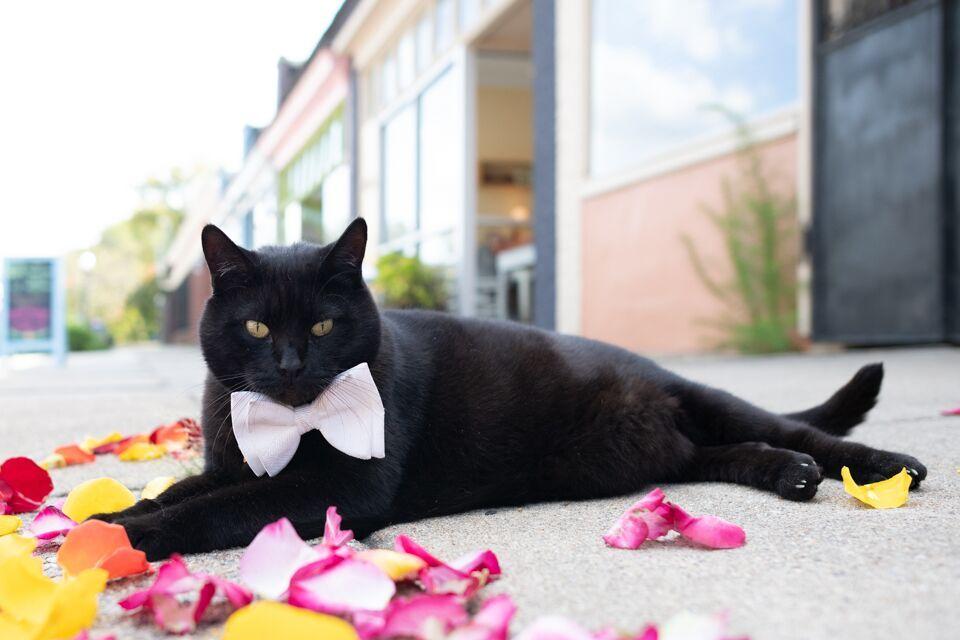 He grew up quick and he grew up mean. His claws got hard and his wits got keen. He roamed from town to town and had to fight his whole life through. Life hasn't been easy for a boy named Sue.
At least, that is how Nicole Roberts, owner of Nicola Flora at 1219 Bellevue Ave. in Bellevue, explains her longtime shop companion.
Sue, whose namesake comes from the Johnny Cash song "A Boy Named Sue," which tells of a man who is constantly fighting people as a result of his feminine name, came to Roberts under similar circumstances.
While Roberts was in the midst of telling a shop guest about her late cat who had just passed, Sue strolled through the front door.
His face had a deep gash and he was not in the best condition, probably as a result of a street fight. After a trip to the vet, Sue found himself at home in the shop.
Now, over a decade later, Sue has become the talk of the neighborhood and is often coined the Mayor of Bellevue.
"He's been around, but he always stayed with us. He just kept coming back," Roberts said. "He greets everyone and loves everyone."
When he is not lying on his bed or playing with his sister, Chloe the turtle, Sue can be found greeting his constituents in the neighborhood.
With the floral shop located next to a restaurant, Roberts said she has found Sue lounging on patio chairs and sitting on the bench behind the restaurant where workers go to smoke. He has also climbed onto the seats of a few motorcycles.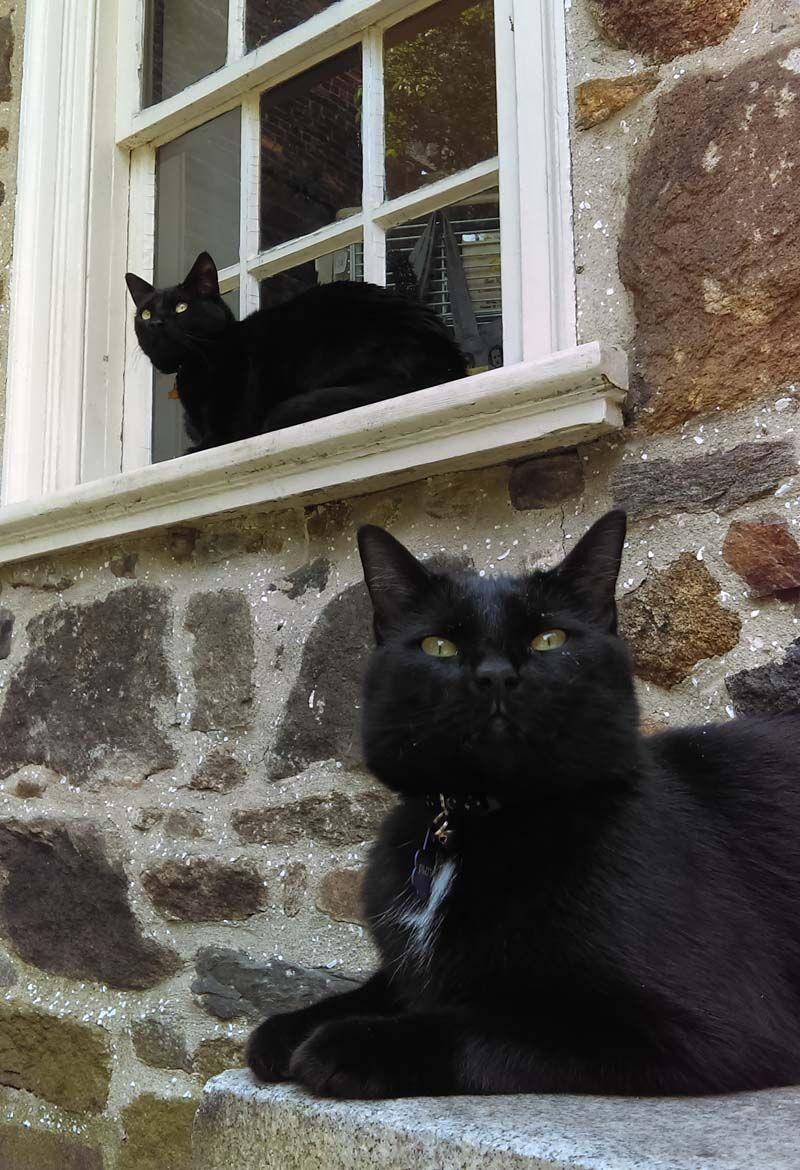 It was a serendipitous occasion when workers at The Poe Museum, at 1914 E. Main St., found three kittens in the back garden one morning.
For months, they had contemplated adopting a pet and were leaning toward getting a raven — instead, they found three black cats born on Halloween.
Despite a lack of evidence of stray cats in the area, the kittens found their way to the sole literary museum dedicated to the king of macabre.
Not unlike Edgar Allan Poe's own siblings, of which Poe was the middle child of three, there were two boys and one girl.
The kittens — named Edgar, after the author himself; Pluto, the name of the cat from one of Poe's stories; and Katerina, the name of Poe's own cat — had seemingly appeared out of nowhere.
Likely, the three had come from the alley behind the museum to seek shelter. Katerina was adopted by a tour guide, while Edgar and Pluto stayed behind and have called the back garden their home for over a decade.
According to museum curator Chris Semtner, the cats have become a part of the museum's appeal and carry with them their own lore.
"It was just perfect that they came along," Semtner said. "They love people; I think they think they own the place."
After 10 years, the cats have become tenured tour guides. They have memorized the routes that people take nearly every day and will follow along with the tour. On several occasions, Edgar and Pluto have both decided to jump, play and climb trees as stories are read to visitors.
Why Richmond?
While it is not uncommon to find stray cats in cities, it is less common to see them be an active part of a business.
In Richmond, it is a common occurrence with more than a dozen businesses harboring their own mascots. Often, folks seek out these places just to visit with them.
While it is uncertain why this is practice is a given in the city, Richmond Animal Control Director Christie Peters said it is a testament to the city's animal-loving residents.
Among the most beloved includes Francine, who is an honorary employee at the Lowe's at Broad and Lombardy streets. A spokesperson with the company could not be reached for comment.
"It makes me love Richmond so much more, and I don't know if that's even possible, and I love it because it feels like such and animal-centric city," Peters said. "I know without a doubt that we have so many compassionate people that live and work in the city, and they are so wonderful to take these cats in and allow them to be a part of their businesses and their community."
For Peters, who sees anywhere from 1,200 to 1,500 kittens come through the shelter each year from the Richmond area alone, it is important to see such strong support.
While the department sees numerous folks come in to adopt cats for their homes, Peters said it is not uncommon to see people adopt cats for their businesses.
According to Peters, they refer to these cats as "working cats." They can serve as pest control and, if it means that they no longer have to spend their lives in a cage, then the department is happy to adopt them out of the system.
"If there's someone with their own businesses or warehouses or breweries and they're thinking about adding an organic form of pest control into their life," the shelter is happy to help, Peters said.
"We get lots of people interested in working cats," she added.
Em Holter (804) 649-6178
@EmHolterNews on Twitter