This time of year, you can usually find Chris Burnside and Karl Green on their screened porch — along with hundreds of invited guests.
The visitors are monarch butterflies — or, more often and more precisely — eggs, caterpillars and chrysalises that eventually become monarchs, a species on the edge of endangered status that Burnside and Green have grown devoted to.
They have planted scores of the monarchs' favored milkweed plants around their parklike, South Richmond yard to attract the butterflies on their twice-yearly migratory flights — northward in the spring, southward in the late summer.
Then after the monarchs stop for a visit, Burnside and Green, like garden detectives, watch for monarchs in their yard and search for the minuscule eggs deposited on the milkweed leaves or the tiny caterpillars they hatch into and rescue them before they become a meal for birds and other insects.
They bring the eggs and caterpillars onto their porch, place them in screened boxes and commence the process of caring and feeding that consumes Burnside and Green through the various stages — egg, caterpillar, chrysalis and, finally, butterfly — for the coming weeks until the new monarchs emerge, ready to take flight.
"It's just incredible; [the caterpillars] are voracious, and they're pooping all day long," Burnside said with a laugh. "We both have master's degrees, but this is our job now: feeding them and cleaning up the poop. If we don't feed them, they're cannibalistic, and they'll eat each other. We try to keep them happy."
Burnside and Green, who are married and have been together for 32 years, have been raising monarchs for the past four years, drawn to their pastime for different reasons and from different directions.
Burnside, 73, a retired professional dancer and choreographer who taught for 20 years in Virginia Commonwealth University's Department of Dance and Choreography, said that as a child, he always liked monarchs, but it was a dreadful incident he experienced as a young adult that embedded in his memory.
He was in his 20s and a member of a West Coast dance troupe headed from Los Angeles to New York and ultimately a European tour. They were in a van, driving across the flatlands of Texas when he noticed a "haze of orange" on the horizon. The "haze" proved to be monarchs, perhaps hundreds of thousands of them.
"It was incredibly gorgeous," Burnside recalled.
But the beauty soon turned to carnage as the swarm of butterflies passing low over the highway fell victim to the fast-moving vehicles that plowed into the mass of monarchs, leaving them plastered to windshields and bumpers.
"I was horrified," he said. "That image stuck with me for years and years."
A few years ago, Burnside read of the world's declining monarch population and of the causes of the decline: an herbicide used by farmers in the Midwest that wiped out milkweed, the host plant for monarchs.
As milkweed vanished along their migratory path, so too did monarchs, which depend on the milkweed both as a place to lay their eggs and as a food source for the caterpillars.
"We decided we were going to make our yard a pollinator habitat," Burnside said. That effort included planting milkweed all over the yard to offer a hospitable waystation for monarchs.
Green, 59, a fashion and costume designer by trade, is the gardener of the house. He's a country boy who didn't always appreciate the finer points of country living.
"I grew up in the country, and I hated being outside," Green said with a laugh. "Mother used to scream at me to go outside and get dirty, and I was like, 'I'm sewing!'"
But he eventually took to gardening — "It was sort of in my blood; my grandparents were farmers" — and when he first started digging in the dirt in earnest about 40 years ago, he was most interested in exotic plants that struck him as unique.
However, about a decade ago, he read a book about the link between native plants and native wildlife, "Bringing Nature Home" by Douglas Tallamy, and his eyes were opened to the importance of native plants and the role he could play. Out went the non-native shrubs and grass and in came plants such as milkweed, and the monarchs followed.
"I love plants, and when I understood the relationship between insects and plants, it became even more special," said Green, who taught at VCU in the theater and fashion departments and managed the theater costume shop. He later taught at Elon University. He also has designed for fashion, dance, theater and musical theater.
"The first time the monarchs came in the spring, I was sitting in the garden, digging, and she came and laid her eggs on a milkweed right next to my head."
That first year, they raised and released maybe 20 monarchs, Burnside said. Last year, the number was over 140.
This year? More than 400.
"Wonderfully overwhelming" is how Burnside described it. The caterpillars have devoured so much milkweed in the last month that Burnside and Green had to buy more plants. A friend also donated stalks of milkweed to the cause.
They have become part of the Monarch Joint Venture, a partnership of federal and state agencies, nongovernmental organizations, businesses and academic programs working together to protect the monarch migration.
But they're not just concerned with monarchs, Green said. They're interested in helping all pollinators and the local ecology at large. Their yard reflects that emphasis on native plants, many of which they raise from seed, and they're happy to share their bounty and their knowledge. They give away plants to neighbors, encouraging them to follow their lead.
They set up their own little outdoor bookcase in their yard — similar to the Little Free Libraries that have sprouted across America — and stock it with brochures and books about the environment, including a children's book co-authored by Burnside and Cat Studdard with illustrations by Jessica Mayes that's titled "The Gift" and is a story about the environment told to two children by a monarch butterfly.
"There's a lot going on in this half-acre," Green said.
Monarchs are among nature's most amazing handiwork, known not only for their orange-and-black beauty but their multigenerational, more than 2,000-mile migration from Mexico to Canada and back every year.
At one time, the butterflies were ubiquitous in America's backyards, even a symbol of summertime, but their population has plummeted in recent decades, said Karen Oberhauser, director of the University of Wisconsin-Madison Arboretum and a monarch specialist who has studied the butterflies since the 1980s and has long viewed them with "wonder and awe."
Climate change is one factor, as are pesticides, but the loss of habitat — milkweed being wiped out by herbicides — might be the primary driver in the population decline, Oberhauser said. Insect populations typically experience population ups-and-downs, often driven by extreme weather, but, she said, "Beyond the year-to-year fluctuations, we see this long-term downward trend in monarch numbers."
The decline of monarchs is a "sign that all is not well in the world when something common declines."
From a biological perspective, she said, the loss of monarchs "probably wouldn't have a huge kind of cascading impact," but the butterflies represent a "really important connector between people and the natural world ... and in a world where we're becoming less and less connected with nature, it's a problem when we lose something that brings us together."
Even though the loss of monarchs is measured in the millions and the number of butterflies raised by Burnside and Green — and others doing the same thing — is more typically counted in the hundreds, that sort of work is significant in other ways, she said.
"Raising awareness in terms of helping the population is probably more important than raising monarchs," she said. "But raising monarchs is doing good things for those monarchs that they rear."
It takes about four weeks to go from egg to butterfly. Once the butterflies emerge, Burnside and Green move the screened boxes off the porch and into the yard and gently raise the lid and let the butterflies decide when it's time to go. They keep the eggs/caterpillars/chrysalises on the porch so they are protected, but at the same time remain as much in a natural environment as possible.
The couple take that approach because studies have shown butterflies raised indoors, away from natural light and outdoor air, sometimes cannot migrate because they are unable to read "environmental cues" that tell them in which direction to fly, a deadly flaw for butterflies that cannot survive the winter cold.
The butterflies raised by Burnside and Green are generally ready to fly about three or four hours after emerging from the chrysalises. But if it's a cloudy or rainy day, the butterflies sometimes hesitate and decline the offer.
"If they decide they're not going out, we don't force them," Green said. "We bring them back in, and they go the next day."
The whole process is "daunting and time- and energy-intensive, but ultimately rewarding," Burnside said. The decline of monarchs and the overall concern with the environment and climate change can be depressing and overwhelming, he said.
"But I've learned if I'm doing some little something that's contributing to a change or a return to balance, then I feel better," he said. "This makes me feel better."
PHOTOS: Raising Monarch butterflies from eggs
20200XXX_MET_MONARCH_AWE01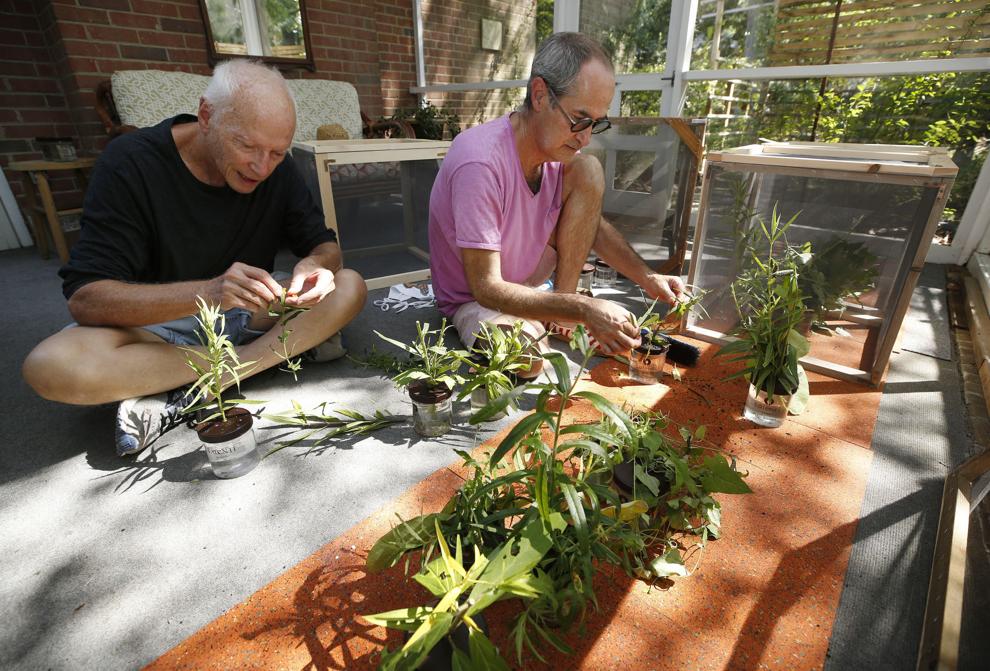 20200XXX_MET_MONARCH_AWE02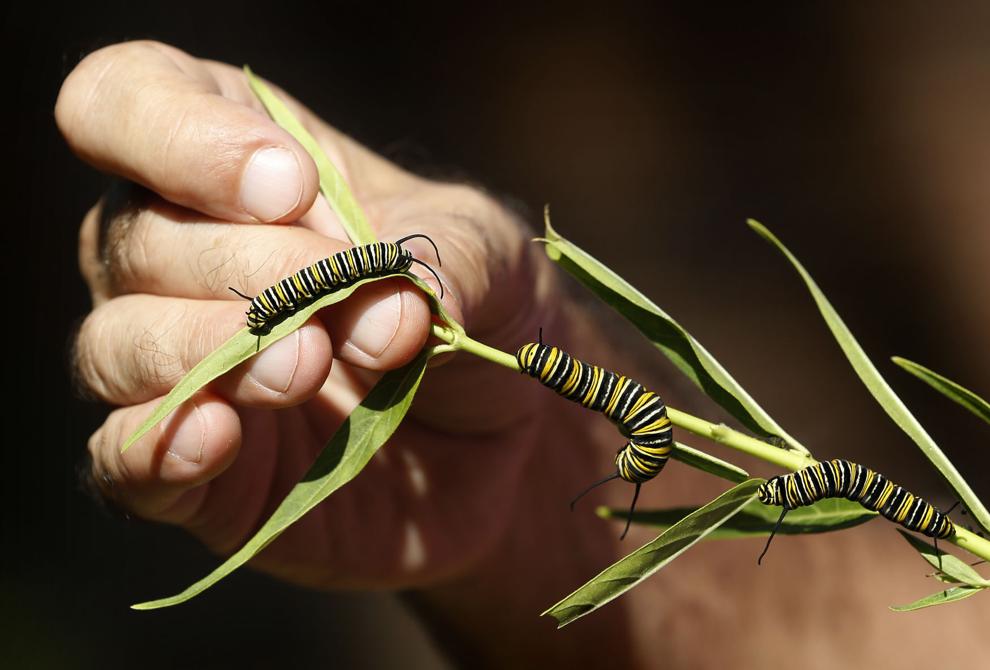 20200XXX_MET_MONARCH_AWE04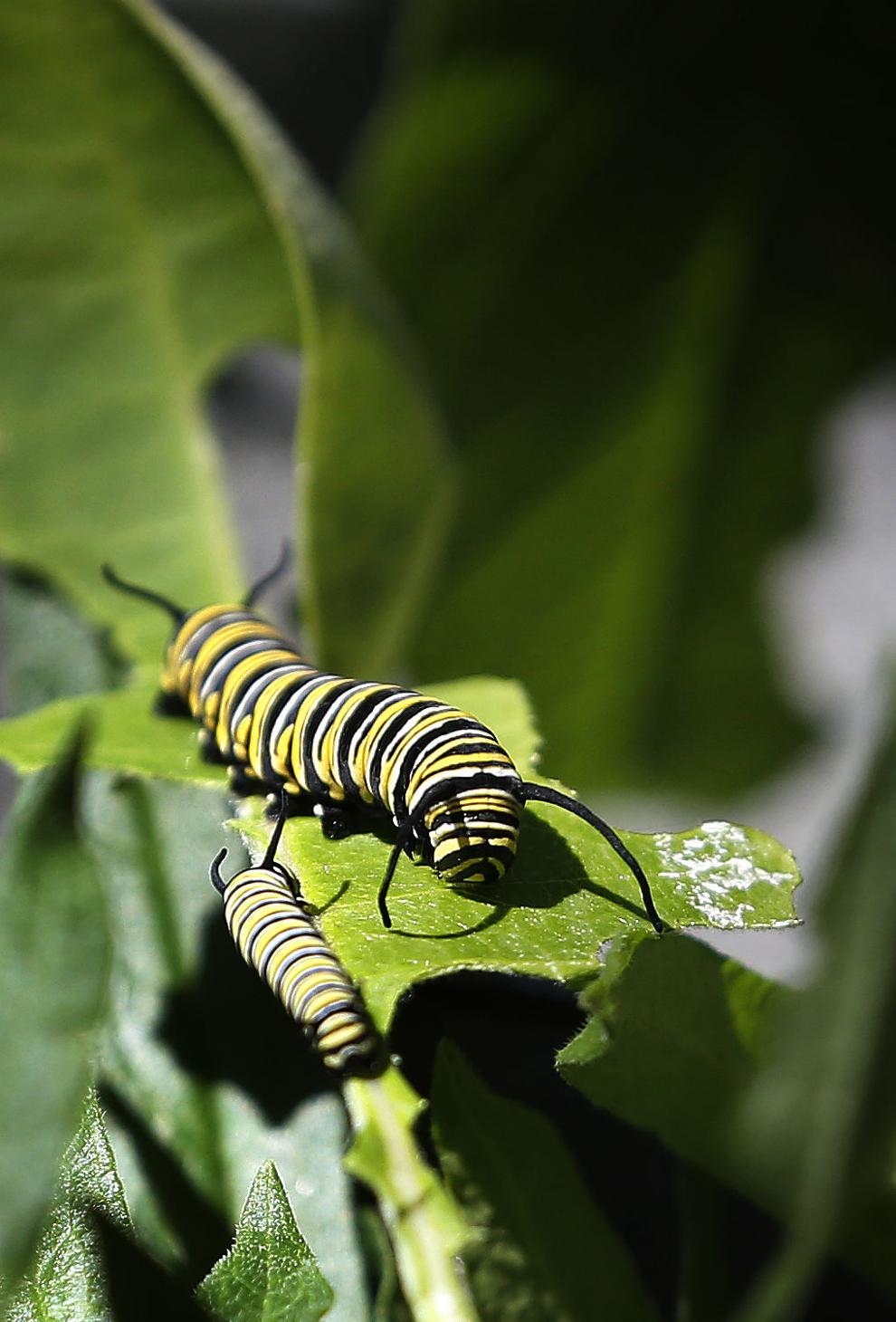 20200XXX_MET_MONARCH_AWE05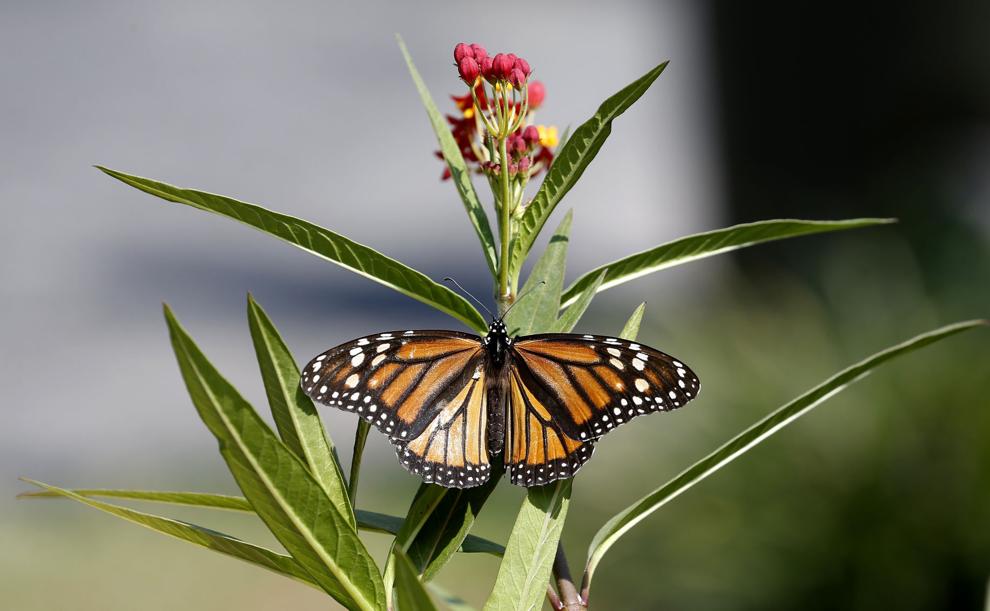 20200XXX_MET_MONARCH_AWE06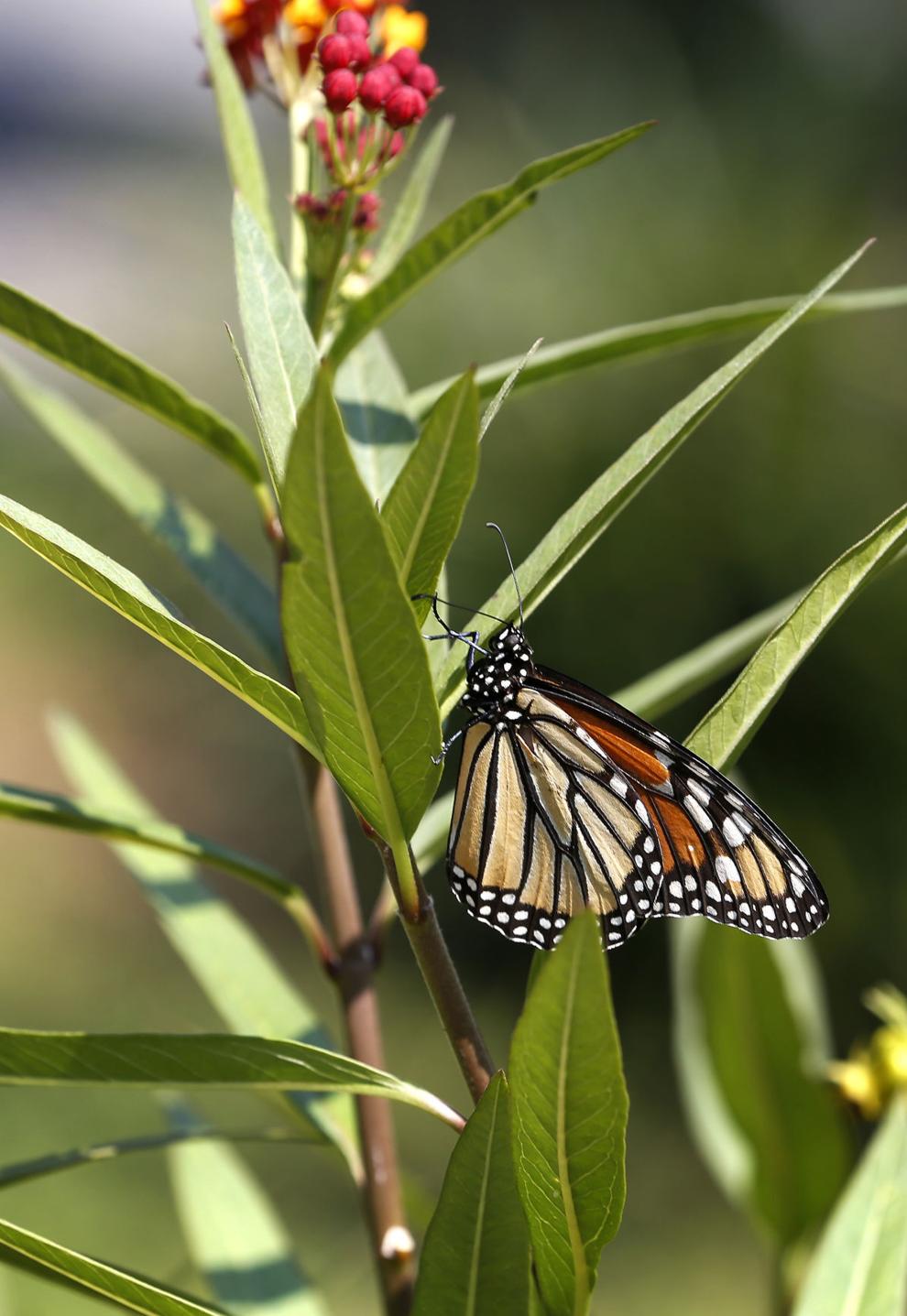 20200XXX_MET_MONARCH_AWE07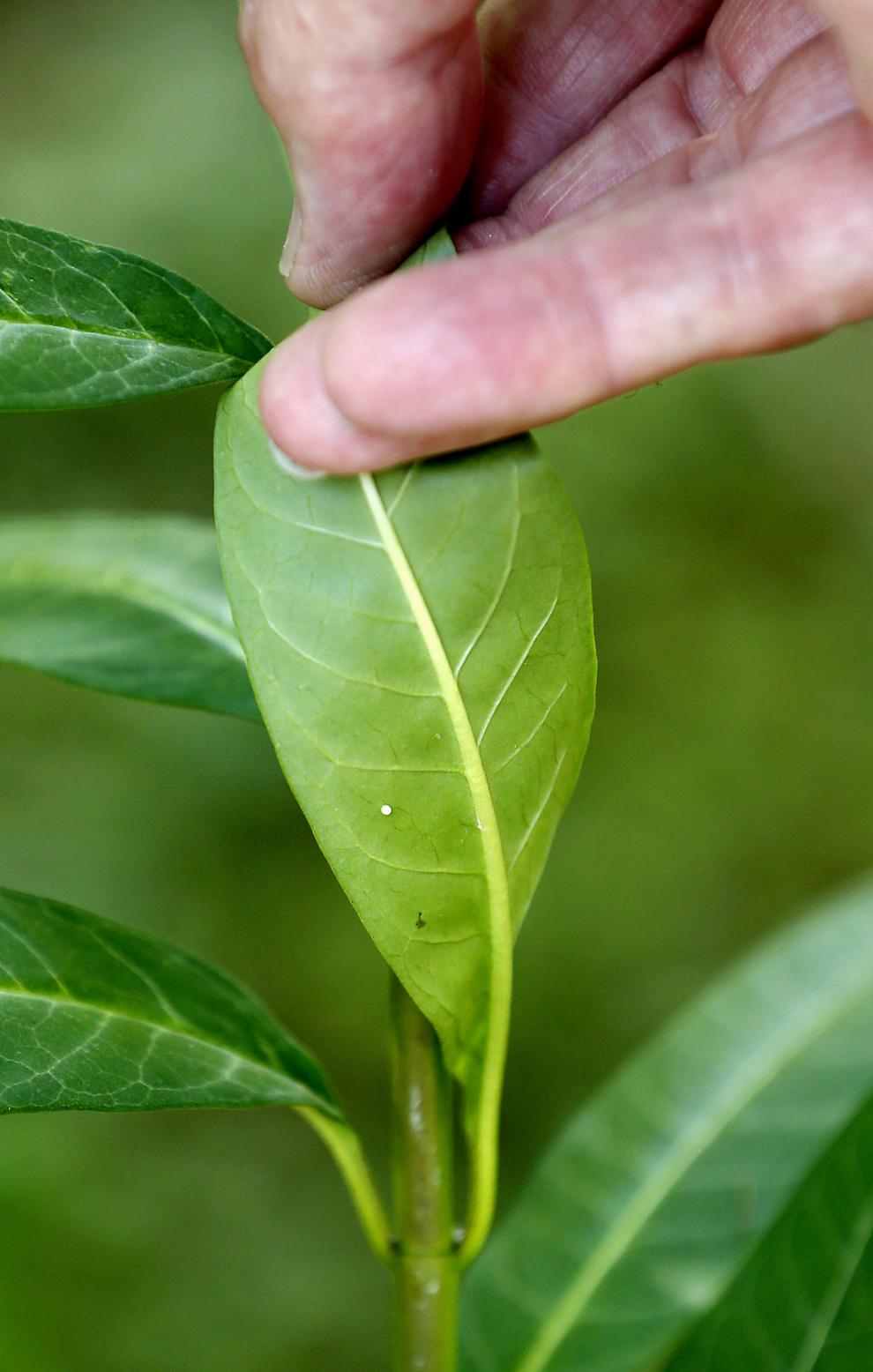 20200XXX_MET_MONARCH_AWE08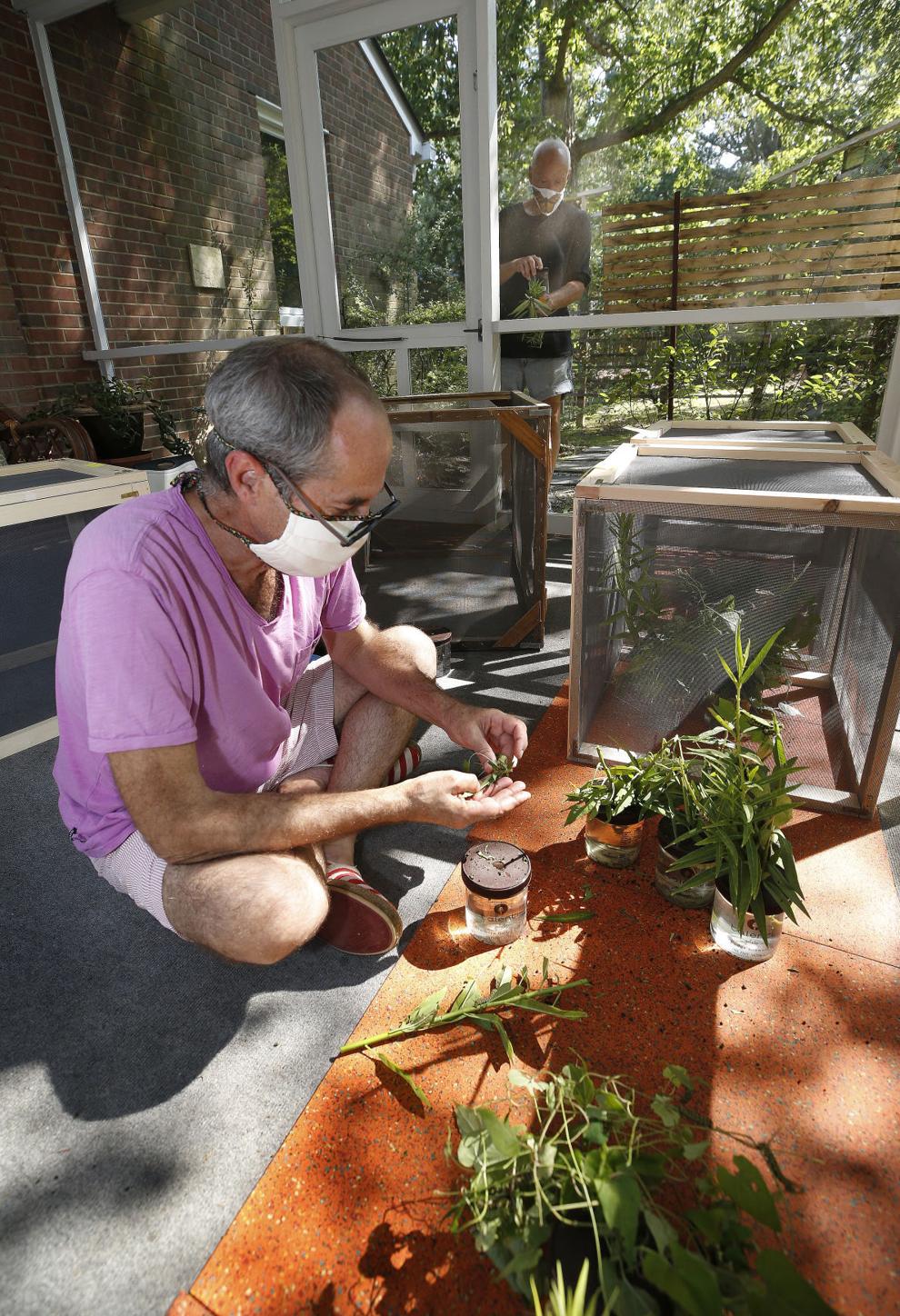 20200XXX_MET_MONARCH_AWE03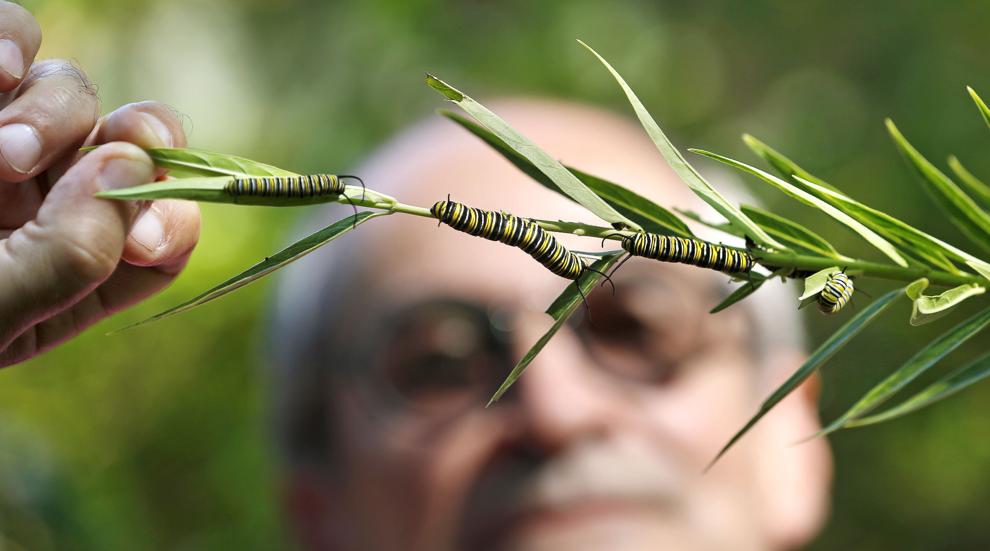 20200XXX_MET_MONARCH_AWE09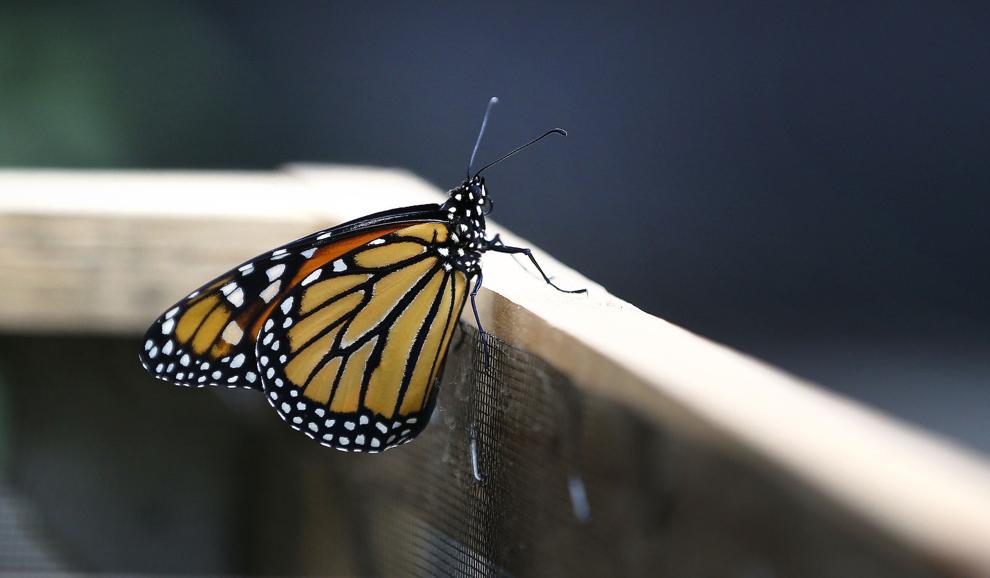 20200XXX_MET_MONARCH_AWE10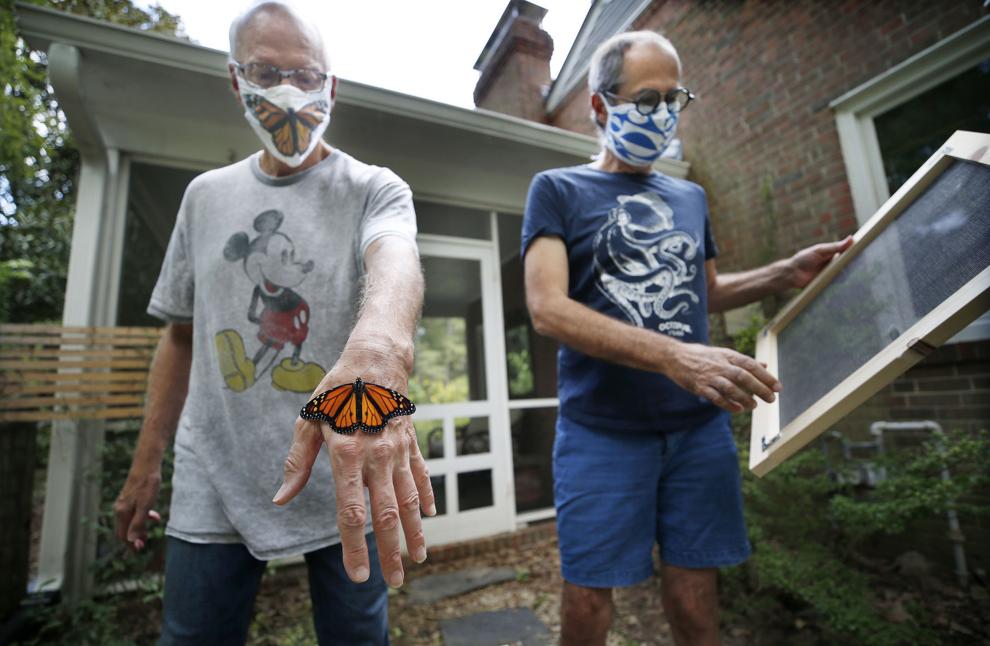 20200XXX_MET_MONARCH_AWE11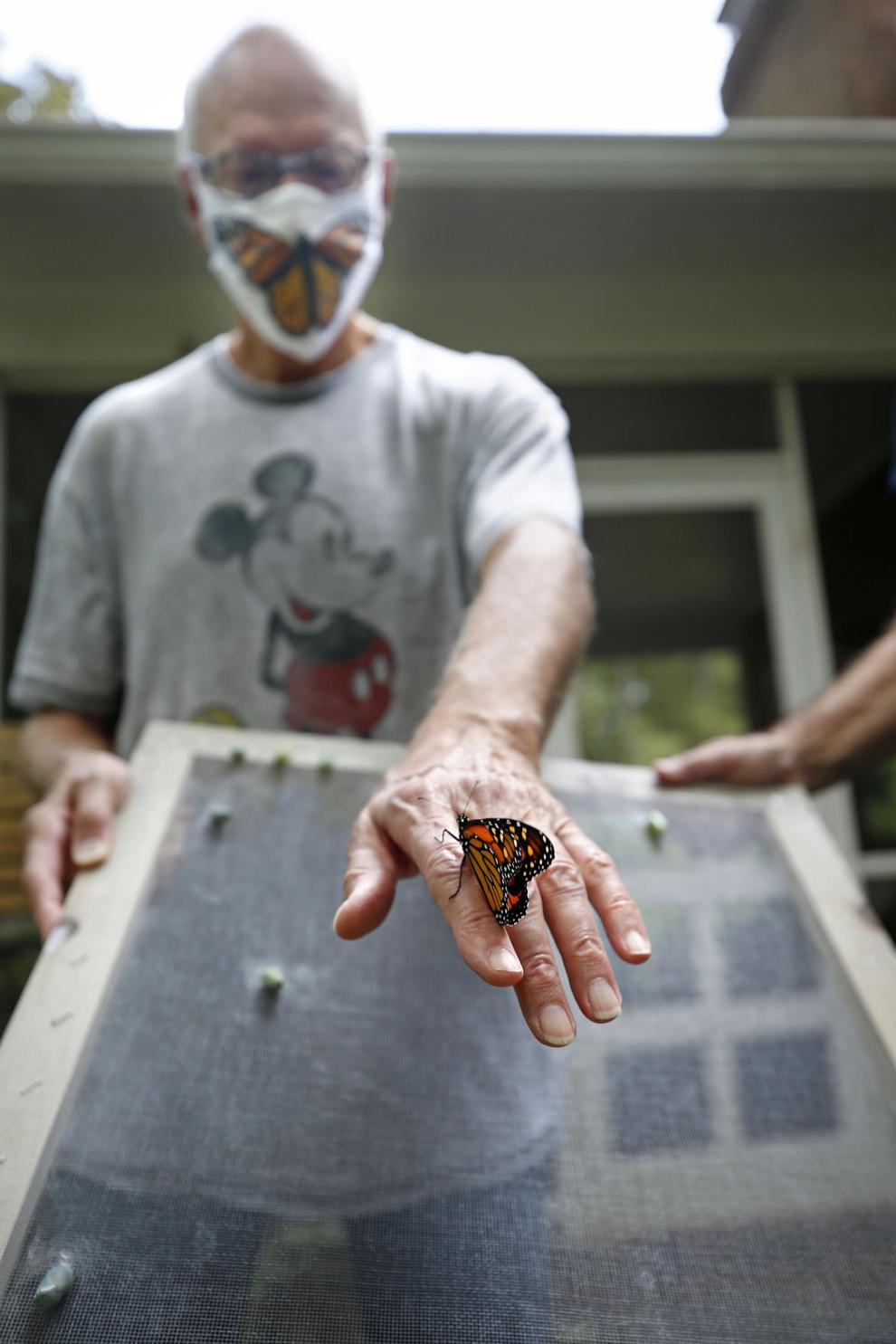 20200XXX_MET_MONARCH_AWE12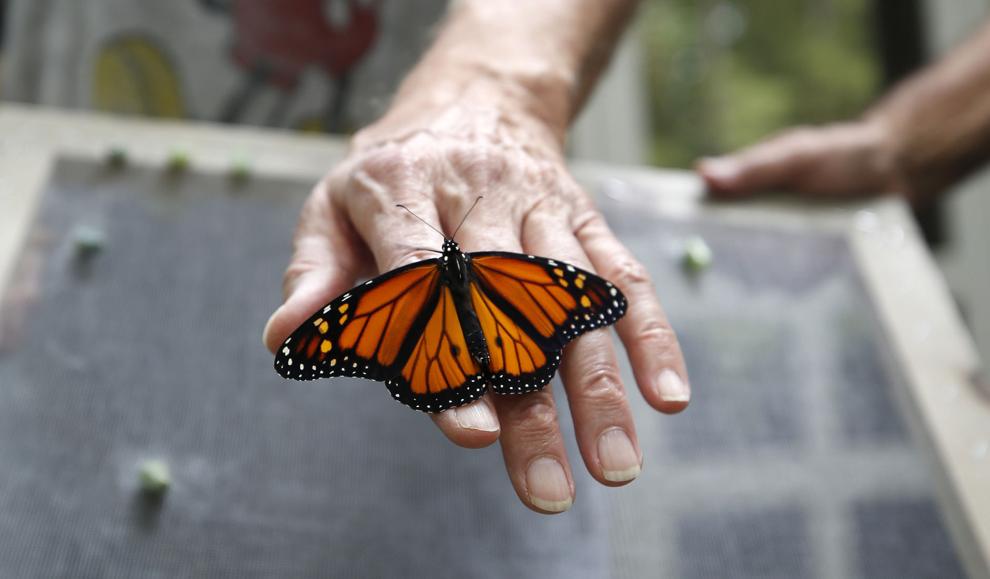 20200XXX_MET_MONARCH_AWE13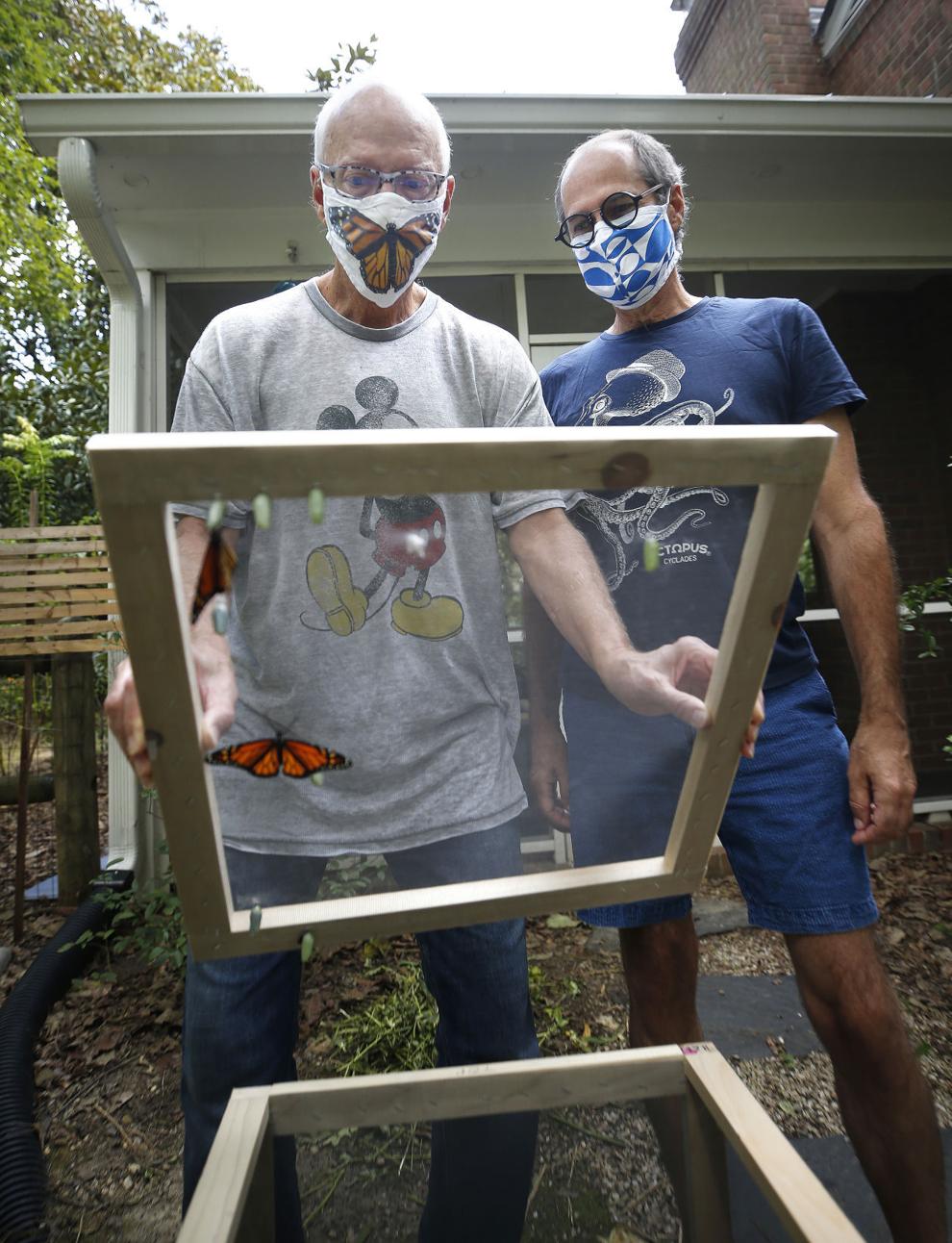 USE -- HIDE VERTICAL GALLERY ASSET TITLES --