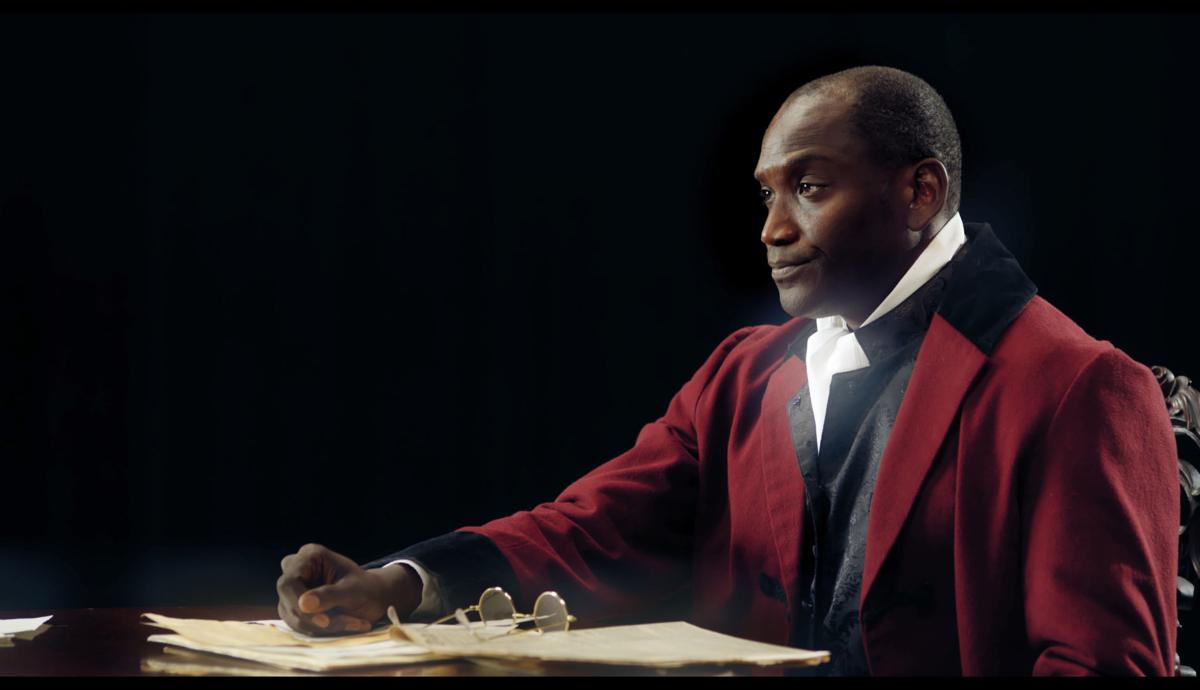 The actor J. Shawn Durham might not seem an obvious choice to portray Thomas Jefferson in an upcoming film produced in the former Capital of the Confederacy, but then again, like Jefferson, he is 6-foot-2.
"We are the same profile, so that's awesome," Durham said with a laugh.
Durham, 42, also is black, which might have been a showstopper years ago for such a mainstream production, but no longer, particularly with the success of "Hamilton," the Broadway blockbuster musical that cast non-white actors as the Founding Fathers.
Yet, it's noteworthy nonetheless, and you could make the case — Durham does — that the Rev. Martin Luther King would be pleased.
"This is the sort of thing Dr. King strove for ... judge a person by the content of their character, not by the color of their skin," Durham said in a phone interview from Washington where he lives. "Don't judge me as a person of color, judge me as a man."
Durham portrays Jefferson and other characters in the film adaptation of "The King of Crimes," a play about the 1807 Aaron Burr treason trial in John Marshall's court that was written by Richmond author David Robbins and commissioned by the Richmond-based John Marshall Foundation.
Post-production of the film is expected to be completed by the end of January, with a broadcast scheduled for April on WCVE-TV and the possibility of wider distribution through other PBS affiliates around the country.
The foundation, which exists to educate the public about the rule of law under the Constitution through the life and career of the fourth chief justice of the United States, wanted a theatrical interpretation of the Burr trial, which was one of the most historically significant of Marshall's career and one that took place in Richmond, as a way to reach audiences in a different way.
Director Michael Duni said "Hamilton" showed that "history told through the lens of diversity is incredibly meaningful and intriguing.
"The musical undeniably affected the current zeitgeist in I think a very profound and healthy way," Duni said. "We found great benefit in applying this approach to our film, and I hope to see other historical pieces utilize diverse casting to tell stories and lessons from the past that resonate with our experiences today."
Casting for "The King of Crimes" was open — all ethnicities and all genders for all roles, a concept that is not particularly new in the theatrical world though not always practiced — but the casting of Durham as Jefferson is a compelling pick, not only because Jefferson is a familiar historical figure but because he comes with considerable baggage when it comes to slavery.
Duni said Durham's confidence was evident in his audition.
"He embodied the gravitas of Jefferson ... and he captured the essence of the role," Duni said. "You're going to be seeing an interpretation you haven't seen before. I couldn't be happier with what Shawn brought to the table."
Why did Durham seek the role?
"The first thing an actor wants is a role that pays," he said with a laugh.
Beyond that, "I'm also a big fan of history. I studied it in college. The opportunity afforded itself, and the more I dug into the source materials, 'Wow! This is cool!'"
He said it wasn't so much of an "honor" to play Jefferson with all of his warts, but it was a satisfying, too-rare opportunity for a black actor to step outside the "racial prism" and portray a white historical figure dealing with "weighty issues of what is justice, what is democracy, what is fairness — all of these pillars."
Durham joked Jefferson might be rolling over in his grave.
"Who is playing what?!" Durham said with a laugh. "But he wrote the Declaration of Independence — 'All men are created equal' and all that jazz — and if that's really true then he shouldn't in theory have a problem with an African-American portraying him."
Durham came to acting in recent years after stints in journalism (at newspapers in Athens, Ga., and Durham, N.C.) and corporation communications. He's a sports fan, an avid cook and a University of Georgia alum.
He had done some acting when he performed a one-man show to support a book he wrote a few years ago, and he was emboldened to pursue an acting career full time when the Supreme Court upheld the Affordable Care Act, assuring him health insurance once he left his corporate job.
On top of that, he's survived a crash as a passenger on a bus and the surgeries that followed, and now his turn as Jefferson will land him on local PBS affiliates — this fan of "Masterpiece Theatre" — with the prospect of even wider broadcast, as well as a screening of the film at the Virginia Museum of History & Culture's Robins Family Forum this spring.
"Seeing where I was to where I am now, fully self-sufficient as an actor and creative person in Washington, D.C.," he said, "is a pretty American story."