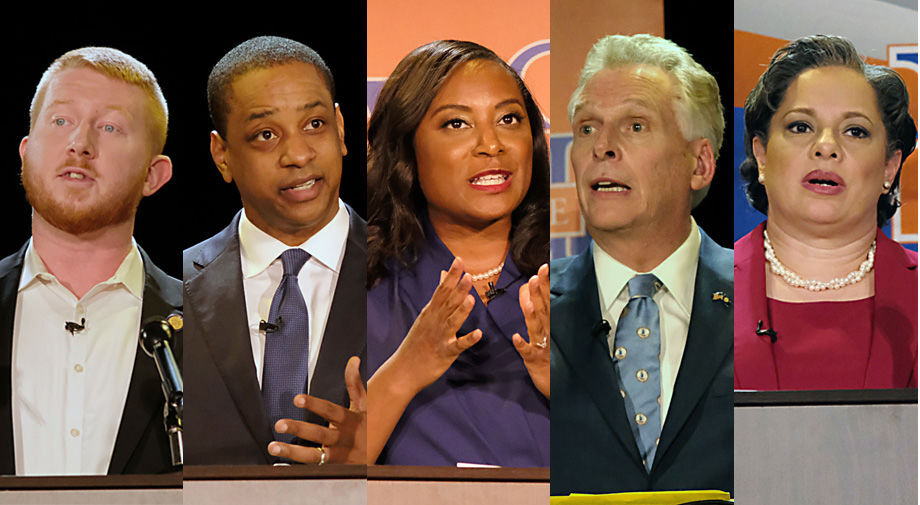 Former Gov. Terry McAuliffe appears to have the clearest path to victory as Democrats head into their gubernatorial primary June 8. But Sen. Jennifer McClellan and former Del. Jennifer Carroll Foy are fighting for an upset, betting on voters who tend to sit out off-year primary elections.
The candidates have less than 10 days to deploy canvassers, make calls and galvanize their supporters to go to the polls. With COVID-19 restrictions in Virginia newly lifted, the campaign trail is buzzing: Carroll Foy will crisscross Northern Virginia this weekend, while McAuliffe and McClellan will campaign in the Richmond area.
All plan to hit the state's largest metro areas by the date of the primary.
Carroll Foy's campaign says it is tapping into the support of the 12 labor unions that are backing her to reach voters, particularly young voters and voters of color who will be motivated by the historic significance of electing the state's — and the nation's — first Black female governor.
McClellan, a Richmond senator since 2017 and a legislator since 2006, is leaning on grass-roots support from three Virginia-based advocacy groups with field power to reach voters who might be disillusioned with the political process and systemic inequity, and to pitch her as the right combination of historic representation and political experience.
McAuliffe, who has focused intensely on the threat of the GOP to Democratic control, is campaigning actively in the last stretch. He'll visit Richmond-area small businesses this week as part of a broader message to reshape the state's economy after COVID-19.
The race also includes Del. Lee Carter of Manassas, a socialist, and Lt. Gov. Justin Fairfax, who have lagged behind the rest of the field in fundraising and far behind McAuliffe in name recognition.
The Carter campaign decided early on to hold back from any in-person campaigning out of safety concerns related to COVID-19 — a decision that will remain unchanged through June 8. Carter is instead investing in print ads, including in Black and Hispanic publications, and with a heavy focus in the state's rural areas, his campaign said.
Carter's focus remains the same since day one: turning out the 300,000 voters who supported Sen. Bernie Sanders of Vermont in Virginia's 2020 Democratic presidential primary. (Joe Biden easily won the primary, receiving 700,000 votes.)
Fairfax, who faced two sexual assault accusations in 2019, has been campaigning in person but has not wielded resources for broad advertising and field work. His campaign did not provide his schedule for the last stretch of the race in time for publication.
The Democratic nominee will face Glenn Youngkin, a former private equity executive who analysts say presents a formidable challenge to any Democrat thanks in part to his personal wealth, reportedly $200 million or more. Still, the governor's race could be the Democrats to lose, as Virginia voters have not elected a Republican statewide since 2009.
The most recent public poll in the Democratic primary, conducted in mid-April, showed McAuliffe, governor from 2014 to 2018, had the support of 47% of likely primary voters, while 27% remained undecided. Support for the other candidates registered in the single digits. The Wason Center at Christopher Newport University, which conducted the survey, polled 806 likely primary voters.
Del. Josh Cole of Fredericksburg, a prominent supporter of Carroll Foy, said her path to victory is to energize voters who don't typically participate in off-year gubernatorial primaries. About 543,000 people voted in the 2017 Democratic primary in which Lt. Gov. Ralph Northam topped former Rep. Tom Perriello. (About 366,000 voted in the 2017 GOP primary in which Ed Gillespie edged Corey Stewart.)
"We know Terry is a giant and a goliath in Virginia. He was a popular governor," Cole said. "But it's because of who she is and who she represents that she can generate support from people who wouldn't usually show up in a governor's election.
"That's what gives me hope for this primary."
Freddy Patterson, a McClellan canvasser working for the advocacy group New Virginia Majority, said he knocked on about 130 doors in Richmond on Friday. He said about 6 in every 10 voters were aware of the election, but still in the "research phase" of picking a candidate.
Patterson, who lives in Henrico County, visited two predominantly Black neighborhoods — Belmont Woods and Windsor — and found many voters who were disillusioned with politics. They cited poor infrastructure and schools in the communities that are home to people who look like them. "Why should they vote when they're seeing these things time and time again just ignored?"
He continued: "People want a governor that will work for them and not overlook them, and that's where Jennifer comes in. If they're familiar with her, they are enamored with what she's trying to do. I think people see her not as a firebrand but as someone who is thoughtful and who cares — in essence what we need right now."
McAuliffe's supporters, including a long list of Democratic leaders in the state, say the former governor is the best shot at ensuring Virginia's new status as a blue state isn't a fleeting moment — the message the campaign is amplifying in the homestretch.
His backers include prominent African American leaders such as Senate President Pro Tempore Louise Lucas, D-Portsmouth; House Majority Leader Charniele Herring, D-Alexandria; Richmond Mayor Levar Stoney; and Norfolk Mayor Kenny Alexander.
During a recent debate and in two digital ads, McAuliffe sought opportunities to describe Youngkin as politically extreme and an ally of former President Donald Trump in a state where Trump lost the popular vote last year by 10 points.
"Donald Trump is a stain on our democracy. Now, Glenn Youngkin wants to bring Trump's extremism to Virginia," one of the digital ads says. "We can't let the extreme right take us backwards," the ad says, referring to abortion rights and laws Democrats passed to expand voting.
As the primary contest comes to a close, McAuliffe is making the case that with his name at the top of the ticket, he will be able to wield his fundraising prowess and popularity in the state to help Democrats up and down the ballot. Virginians are also electing a lieutenant governor and an attorney general.
This fall, Democrats also are defending control of the House of Delegates, where they hold 55 of the 100 seats.
Del. Shelly Simonds, D-Newport News, is one of several Democrats in competitive House districts who are backing McAuliffe.
Simonds famously lost her bid for the House in 2017 in a random drawing from a glass bowl to break a tie. Simonds went on to unseat GOP Del. David Yancey in 2019, when Democrats gained control of the House.
Simonds said Democrats owe that victory in part to McAuliffe, who used his name recognition and funds to help House candidates. McAuliffe was a keynote speaker at two key fundraisers for Simonds, "when I was on my long, uphill battle to flip my seat."
"He's part of the story of how we turned Virginia blue," Simonds said in an interview. "He's a strong campaigner, and I think we're going to need that to retain and even expand our power," she added, describing McAuliffe as a "workaholic."
Simonds said McAuliffe is best positioned to take on the GOP, starting with its well-funded gubernatorial nominee.
"I endorsed Terry before I knew about Youngkin, but honestly, now I know we're going to need that firepower at the top of the ticket," Simonds said.
"I've seen how money can influence messaging and perception. Youngkin will spend a lot of money framing himself as a moderate. For me, the stakes are really high."
McAuliffe launched his campaign with a focus on increasing teacher pay and school funding to combat racial and socioeconomic disparities in learning outcomes. He has since emphasized expanding access to health insurance, and touted his ability to attract business to Virginia as the state's economy reshapes in the aftermath of COVID-19.
For Democrats enticed by the possibility of electing the nation's first Black female governor, the question has been who to side with: McClellan or Carroll Foy.
Cole, the Fredericksburg delegate first elected in 2019, said he was first approached by Carroll Foy in the early days of 2020 for his support. He had sat behind her on the House floor, and said he has seen her hold her own against GOP "heavy hitters" in the legislature.
"I thought that we needed to have a Black woman governor. I felt like we owed it to Black women for the work they've done in Virginia," Cole said. "I was willing to support any one of the Jennifers, but Carroll Foy got to me first."
Cole said Carroll Foy, 39, who represented Prince William County in the House from January 2018 to December 2020, is the kind of candidate who can attract a new crowd of animated voters, and can set herself as a clear contrast from Youngkin. He said McAuliffe and Youngkin are "essentially the same person — two older white guys." McAuliffe is 64. Youngkin is 54.
(Carter is 33, Fairfax is 42, and McClellan is 48.)
During a recent event in Richmond, Carroll Foy emphasized her support for repealing the state's right-to-work law, which allows employees to withhold dues from the unions that represent them without risking their jobs. She has also focused on health and housing disparities among Virginians of color, and promised to increase unemployment benefits to match the average of surrounding states.
From its early days, Carroll Foy's campaign has also been tapping national groups for and touting subsequent endorsements — at times appearing to best McClellan on endorsements, like one from Emily's List, a powerful national group focused on female leaders.
While McClellan secured an endorsement from the Virginia arm of the abortion rights group NARAL, the group at the same time issued a statement of support for Carroll Foy and McAuliffe, somewhat diluting the message behind the endorsement.
Still, McClellan's team has tapped into NARAL's field network to reach voters, including with postcards. Her campaign is also leaning heavily on the field support of New Virginia Majority, which advocates on issues that affect marginalized communities, and CARE in Action, which represents domestic workers in Virginia.
Tram Nguyen, the co-executive director of New Virginia Majority, said the group threw its support behind McClellan as a candidate who can bring a "new perspective to the office" as a Black woman and a mother, appealing to a new slice of voters.
"And we don't have to gamble on experience," Nguyen said.
McClellan has focused on the need to eradicate socioeconomic and racial disparities in the state, and to that end, pledged to deliver affordable and high-quality child care for every Virginia child under the age of 5 by 2025. McClellan also recently proposed expanding Medicaid eligibility to cover 88,000 Virginia children, including 13,000 undocumented children.
McClellan does not support repeal of the right-to-work law.
Nguyen said name recognition has been a challenge for McClellan: "The issue is that she doesn't have the amount of money other folks have. It's hard to compete with that name recognition when McAuliffe can go on TV as much as he has, send fancy mailers. The challenge has been to get her story out there."
National groups weighing in on the race, she said, are often not tapped into the grass roots of the state, warning that they don't always signal a candidate's path to victory.
For Carroll Foy, those endorsements have translated into funding to bolster her name recognition: Four broadcast TV ads supporting Carroll Foy will air in the state's five key markets through Election Day. (One will be paid exclusively by the utility-reform group Clean Virginia, run by the influential political donor and philanthropist Michael Bills.)
A key national group that went all in for Carroll Foy is Higher Heights for America, which is focused on expanding and boosting Black women running for higher office. It says a critical goal is electing the nation's first Black female governor, and Virginia became a key target when not one but two such candidates jumped in the race.
Glynda Carr, the president and CEO, said emphatically in an interview that both candidates "are beyond qualified, and are both uniquely positioned to lead in this moment — from day one."
The group made the decision to endorse Carroll Foy in the past few weeks, following a virtual candidate forum that included both women and conversations about the campaigns' structure.
Carr said Carroll Foy has the "fundamental building blocks" of a campaign that can succeed on June 8 and through the general election — a broad coalition of local, state and national support.
Beyond what can be quantified right now, Carr said, Carroll Foy "is the type of candidate creating the energy and excitement that can attract a broad group of voters."
"If Carroll Foy can catapult herself to the general election, you'll see her galvanize voters in the state and around," said Carr, arguing that the funding needed to compete against Youngkin would pour out from across the country if she became the nominee.
Carr pointed to Georgia's Stacey Abrams, who in 2018 became the first African American woman nominated as a major party candidate for governor before narrowly losing to Republican Brian Kemp.
"Abrams ran in a tough primary — ironically, against another woman named Stacey," said Carr, referring to Georgia state representative Stacey Evans. Once Abrams seized the primary, "it was not only Georgia's excitement, but it became a nationally followed and talked about race."
(804) 649-6254
Twitter: @MelLeonor_