In the video, Virginia State University President Makola Abdullah looks like a Globetrotter. Standing outside the school's student union, Abdullah removes his suit jacket, bounces a basketball off a student's forehead, through the student's legs and elusively across his body. He leaves the crowd of onlookers astonished.
The opponent, VSU graduate student Afolabi Oyeneyin, posted the 53-second video to Twitter on Wednesday, and it quickly went viral. It has been watched 4 million times and was picked up by ESPN's "SportsCenter," which introduced the clip by declaring, "The president of Virginia State is breaking ankles."
In reality, the game of one-on-one wasn't as spontaneous as the video suggests. It was scripted by Oyeneyin, an amateur filmmaker with a skill for creating a compelling moment and drawing a big audience.
Oyeneyin, 24, has been filming short, silly videos with his roommates for the past two years. He has an eye for what makes a quality video, he said. In one clip, he dances to "Get Down on It" by Kool & the Gang while brushing his teeth. Then his roommate, Orlando Andrews, appears behind him, rips off his shirt and begins to dance. Oyeneyin stares at him in disbelief.
That video has been watched 15 million times on Twitter, and Oyeneyin has developed a large following for his content. He has about 70,000 followers on Twitter and Instagram.
In another video, Andrews slam dunks a ball on a small plastic hoop hanging from a door. Andrews, who weighs more than 250 pounds, crashes into a wall, leaving a hole in the drywall. That clip took off, too, and Abdullah reached out to offer his congratulations and to volunteer to star in a future video.
But the pandemic occurred a few weeks later, and it took more than a year for the school president's cameo.
For his latest project, Oyeneyin decided to film a series of shots where he shows off his basketball dribbling skills, showing up random passers-by on campus. When he encounters Abdullah, the president outshines the student.
Oyeneyin served as director, telling Abdullah to first bounce the ball off Oyeneyin's forehead, then dribble it through his legs. Then, in a moment shown in slow motion, Abdullah dribbles with his left hand, leaning to his left side, then quickly darts to the right, crossing up Oyeneyin, drawing an amazed reaction from bystanders.
"I know how to make it look real," Oyeneyin said in an interview.
They recorded multiple takes, but "it was all good takes," Oyeneyin said. In one take, Oyeneyin actually slipped and fell during the crossover, but that shot didn't make the final cut.
The video ends with Abdullah calmly putting on his suit jacket and walking off as if spontaneously schooling students in basketball is an everyday occurrence. Oyeneyin and Abdullah agreed it was their favorite moment.
Oyeneyin quickly edited the clips on his iPhone and published it Tuesday, two days before the start of the NCAA men's basketball tournament. "I was walking around Virginia State & the president of the school just embarrassed me," he posted.
It took just an hour for him to realize the video had sparked a high interest with viewers. In 60 minutes, more than 30,000 people had liked the video on Twitter, tripling the performance of his second most popular video.
"We didn't expect to be this worldwide," he said.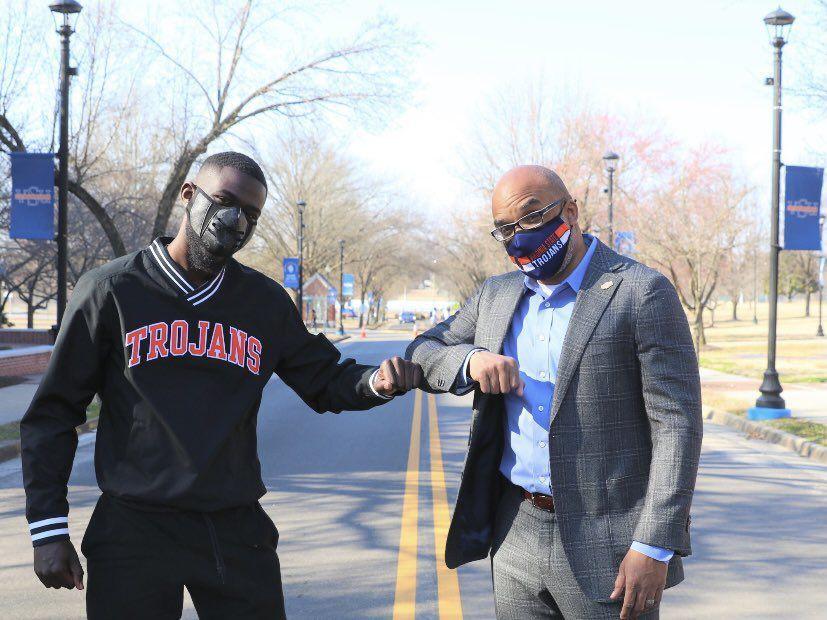 Oyeneyin is a graduate student at Virginia State, where he's pursuing a degree in sports management. He's interested in becoming a sports agent or basketball coach, and he also has an interest in directing television shows and films.
Abdullah has played intramural basketball for years and is on a faculty and staff team that plays against students at VSU. His competitive playing days ended in high school. He was too short and too unskilled to play in college, he said.
"I think you've seen my biggest highlight," Abdullah added.
The faculty team made it to the VSU championship game, where it lost to a team including Davon Stephens, Oyeneyin's other Moore Hall roommate, who served as the video's cameraman.
It means a lot to Oyeneyin that so many people watching the video saw the words "Virginia State." It was a good feeling seeing people come together, if only for a few moments, during a year when people have lived so far apart.