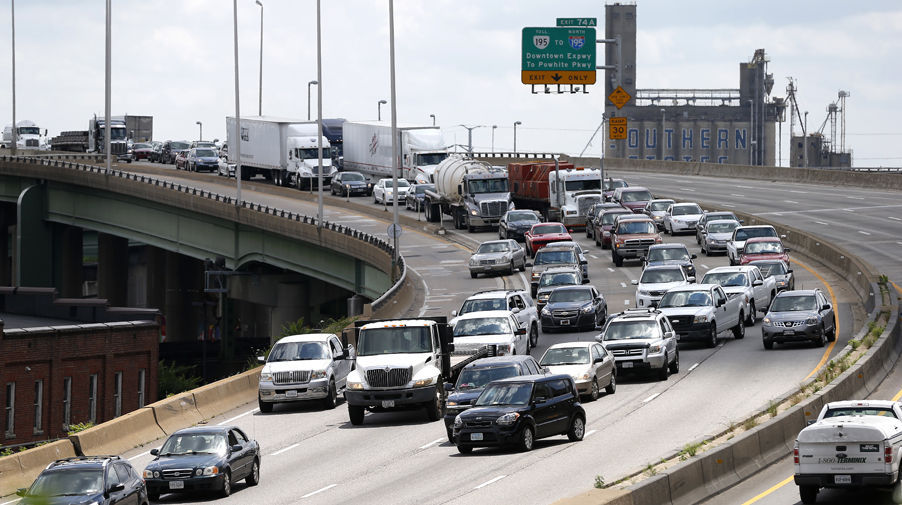 A report released last week by a national nonprofit safety group warns that Labor Day weekend could be the deadliest on U.S. highways since 2008, the product of a rising trend in motor vehicle fatalities the past two years.
Though nationwide deaths are up 9 percent through the first six months of 2016 compared with the same period last year and 18 percent higher than two years ago, Virginia is not among the states showing sharp increases, according to the report by the National Safety Council.
"It's good to be below national averages sometimes," said Ken Kolosh, who manages the council's statistics department.
Virginia had 348 deaths for the first six months of this year, a 1 percent increase over the first six months of 2015 but 13 percent more than in the first half of 2014.
Brandy Brubaker, a spokeswoman for the state Department of Motor Vehicles, said 2014 marked a record low number of driving fatalities.
"Right now, our fatalities are down," she said.
As of Aug. 22, there had been 439 traffic fatalities this year, compared with 457 for the same period in 2015, Brubaker said.
The safety council's report, which points toward low gasoline prices producing more miles traveled and an improved economy as factors in increasing fatalities, has generated headlines across the country, but Virginia's figures don't lend themselves to an easy explanation.
According to Kolosh, for three out of the first four months of 2016, the number of road miles driven climbed in Virginia, though that did not produce a corresponding increase in deaths.
"We do know that the fatality trends we're seeing on the roads are more than just miles driven," Kolosh said. "There's a lot of factors that impact fatalities. ... We just don't have all the answers at this point."
Among those: distracted driving, which has grown hand-in-hand with the ubiquity of touch-screen mobile devices such as smartphones and tablets.
Though the phenomenon is increasing among all age groups, it is being led by drivers ages 15 to 24, already the most at risk for crashes, Kolosh said.
According to Virginia DMV data, the number of convictions for texting-while-driving offenses has risen dramatically during the past four years, from 439 in 2012 — the year before texting while driving was made a primary offense by the General Assembly — to 1,698 for the fiscal year that ended in June 2015.
So far this year, there have been 15,601 crashes producing 111 fatalities and 8,763 injuries in which distracted driving is believed to have played a role, Brubaker said. During the same period in 2015, there were 16,586 crashes, 92 deaths and 9,380 injuries.
Though the number of distracted-driving crashes generally has declined year-to-year since 2011 — with the exception of 2015, when they shot up — fatalities are up and down.
Janet Brooking, executive director of Drive Smart Virginia, a nonprofit that works to promote safe driving behavior, says it's time to revisit the regulations.
"The laws in Virginia are not strong enough to address this issue," she said. "While we do have a primary texting ban, technology has advanced such that it's now becoming necessary to look at what that next step would be in order to help keep people safe."
Brooking's group says about nine out of 10 crashes in Virginia involve "driver inattention within 3 seconds of the incident."
"Of course, the phone is far from the only distraction. Eating, reading, grooming, caring for pets and watching your children are just a few examples of distracting behaviors," she said.
"We encourage all drivers to remember that their drive time is not their downtime and that their car is definitely not their living room. Any of the above activities done in combination with driving could be deadly."
John Saunders, director of the DMV's Highway Safety Services, said there were 16 fatalities in Virginia during the four-day Labor Day weekend last year. The previous year, there were 11.
"That's about a 45 percent increase," he said. "Labor Day weekend can be a dangerous weekend for motorists. It's the last weekend of the summer, more people are traveling, the weather is good and gas prices are down. All of those things play into it."
Although he said an increase in road deaths during Labor Day was "likely," he noted that it doesn't have to be.
"We encourage people to be well-rested when traveling, to buckle up, to take your time going where you're going," Saunders said.
"Drive safer, drive sober and be attentive while driving — it's these things we always talk about. If we all do these things, we can decrease the number of fatalities on our roadways."
(804) 649-6453
Twitter: @rczullo