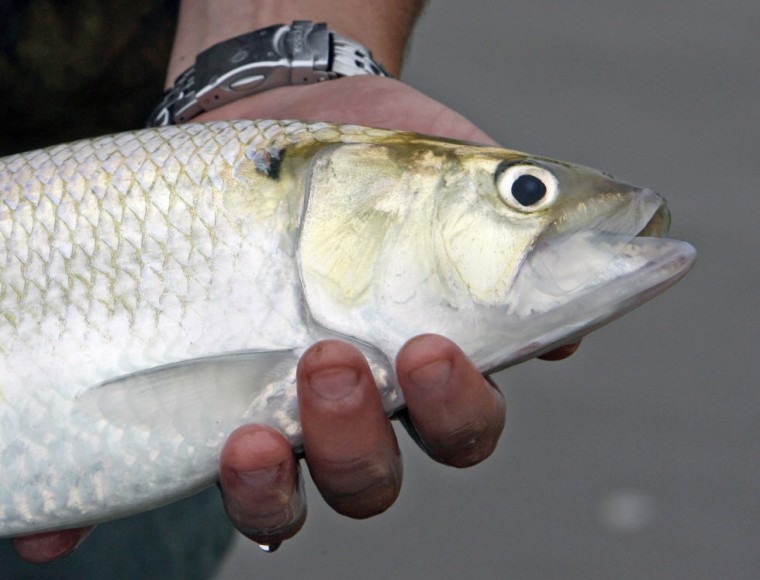 The American shad is a silvery beauty, a valuable creature so entwined in our culture that it's called the "Founding Fish."
Today it's a foundering fish — despite decades of work to save it.
Preliminary findings by the Virginia Institute of Marine Science estimate that the shad populations in the James and York rivers this spring were the lowest since the institute's shad survey began in 1998.
"It's concerning, but one year doesn't mean a spiral," said Eric Hilton, a VIMS fish expert who leads the survey.
Of more interest, Hilton said, are apparent trends over time: Shad seem to be increasing in the Rappahannock River; decreasing in the York; and exhibiting little trend, other than low numbers, in the James.
"That's the million-dollar question," Hilton said.
VIMS workers and watermen catch shad in gill nets — nets stretched between stakes — in the tidal James, York and Rappahannock rivers each spring, when the fish swim out of the ocean and up freshwater rivers to spawn.
Among other things, the survey indicates the health of the population with a "catch index" — a figure based on the number of fish caught per net per day over the roughly three-month season. The higher the index, the better.
A catch index of 1.2 in the James, the lowest number on record. The highest index for the James was 9.3 in 2003.
A catch of 1.9 in the York, also the lowest number on record. The highest index was 14.7 in 1998.
A catch of 5.1 in the Rappahannock, down from 8.7 last year, the highest number on record. The lowest number for the Rappahannock was 1.3 in 1999.
The numbers will be double-checked and included with other data in the 2015 shad-survey report, which comes out in spring 2016.
The numbers can be confusing to lay people, but they tell a sad story.
Greg Garman, a VCU fish ecologist, said there are so few shad today that what looks like up-or-down population trends over the years simply could be "natural variation or statistical noise" — minor differences with little significance in the effort to restore shad.
"It's like counting pennies when you're already a million dollars in debt," Garman said.
American shad, with silver sides and greenish-blue backs, grow to about 20 inches.
Huge numbers of shad on spring spawning runs once fed hungry Indians and settlers at winter's end. Americans have caught shad for fun and profit since Colonial days.
Legend has it that migrating shad saved George Washington's troops from starvation at Valley Forge in 1778. Many call the shad our "Founding Fish," after a 2002 book of that title by outdoor writer John McPhee.
Scientists say shad numbers dropped from centuries of pollution, overfishing and dam building, which blocked the fish from many miles of spawning grounds.
Efforts during the past quarter-century to bring back shad included opening or removing dams in the James and Rappahannock and stocking millions of hatchery-raised baby shad in the James well above Richmond.
Millions in federal, state, local and private dollars have been spent in the James alone. That included building a $1.5 million fish passage that opened in the Bosher Dam, just west of the Willey Bridge, in 1999.
Experts thought the passage eventually would allow thousands — even hundreds of thousands — of shad to swim past the dam each year to reclaim long-blocked spawning territory.
One state official called the passage "the final chapter of a success story."
Instead, about 200 shad swim through the passage on average each year.
It could be that something is wrong with the passage — although thousands of other fish swim through it — or that few shad make it to the dam, said Alan Weaver, a biologist with the state Department of Game and Inland Fisheries.
As the fish struggle in the Chesapeake Bay region and along much of the Atlantic Coast, their problems aren't totally understood.
"There is obviously some major ingredient missing to get these fish back to anything close to their heyday," Weaver said.
Perhaps shad are caught accidentally at sea in nets set for other fish. Perhaps pollution continues to bedevil them.
It even could be that blue catfish — voracious, invasive predators taking over much of the Chesapeake Bay and are particularly numerous in the James — are gobbling up lots of shad.
Shad were beloved by Virginians who caught them in huge numbers and ate their roe and tasty-but-bony flesh.
The state made it illegal in 1994 to keep shad. That ended centuries of commercial shad fishing and angling for their meat.
It also means a generation of Virginians have grown up who don't look forward to shad meals in spring.
"It's still an important fish for catch-and-release" angling, said Rob O'Reilly, chief of fisheries management for the Virginia Marine Resources Commission, which regulates commercial fishing.
And shad are important ecologically, because they provide meals for striped bass and other fish.
VCU's Garman said the importance of shad today may lie in what they can teach us — that human activities may push a species "to a biological point of no return, where no amount of time or effort can turn things around."
"I hope that is not the case for American shad," he said.