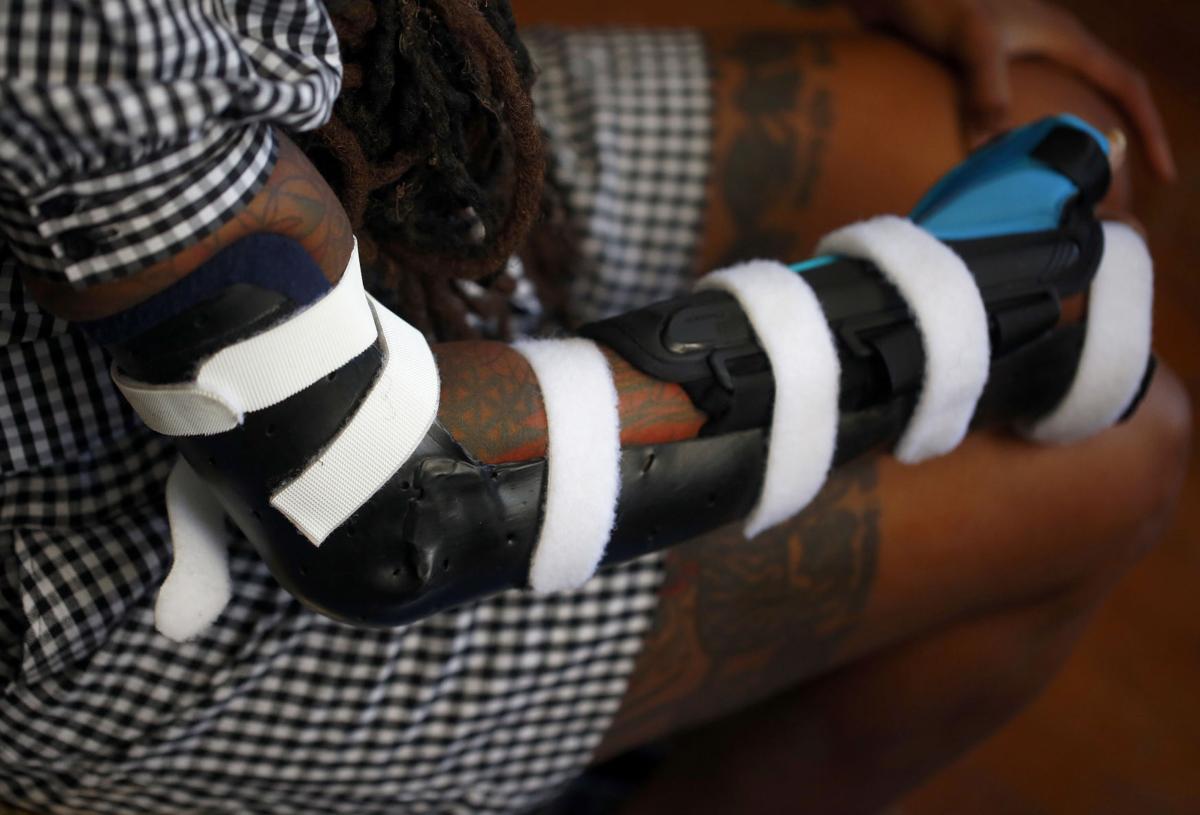 Richmond prosecutors will no longer pursue charges against a woman who was arrested by Richmond police last month as she filmed two officers interacting with a homeless woman near the Whole Foods store on West Broad Street.
Richmond police arrested Khalah Sabbakhan on Oct. 4 for allegedly trespassing on private property and interfering in the arrest of the other woman, who had a warrant for a trespassing charge at the same location in the 2000 block of West Marshall Street a week before.
Sabbakhan said the officers violently slammed her to the street, causing injuries to her head and arm.
Police said Sabbakhan caused her injuries.
Commonwealth's Attorney Colette McEachin said her office dropped the case Monday after a judge declined the prosecution's request for a continuance because a witness was unavailable for the trial. Sabbakhan's lawyer said one of the officers was absent due to an illness.
"The Commonwealth does not intend to indict or pursue the charges from this event," McEachin said. "The matter is concluded."
Sabbakhan's arrest last month raised questions about police accountability, use of force and transparency after a spokesman for the department said she was responsible for her injuries.
Sabbakhan's video ends abruptly when one of the officers appears to grab her phone and say "stop." A video filmed by a witness who heard the commotion picks up with two officers pinning Sabbakhan to the ground as she yelled that they were hurting her.
McEachin responded to questions by email Monday, but declined an interview request to discuss the case.
The Richmond Police Department has also yet to respond to a Freedom of Information Act request for body camera footage from the incident, which would shed light on the moments in between the two cellphone videos. A department spokesperson said an answer is not due until Tuesday.
Medical records Sabbakhan shared with the Richmond Times-Dispatch show evidence that she suffered a possible fracture in her elbow in addition to cuts and bruises on her head, arms and legs.
She said a bloody head wound from the arrest also became infected because of inadequate treatment she received at a hospital to which police transported her before going to jail.
Eli Coston, a co-chair of the city's Civilian Review Board Task Force, said police did not appear to violate criminal law or department policy arresting Sabbakhan, but still found the incident troubling.
In an interview last week, Coston said a new civilian-run department and review board that has been proposed by the task force could have the authority to review use-of-force incidents and propose policy changes to prevent violent arrests.
Sabbakhan, who suffered a traumatic brain injury several years ago in a vehicle crash, said she has felt mentally overwhelmed by the arrest, her brief imprisonment and the ensuing court proceedings over the past seven weeks.
It was unclear after Monday's court hearing whether the prosecutor might seek a grand jury indictment to try the case in circuit court instead of general district court.
When informed later that McEachin had told The Times-Dispatch that her office was done with the case, Sabbakhan said she was relieved after feeling distressed all day, thinking that she would remain subject to prosecution for up to a year.
"What they were doing, in my heart, it wasn't right," she said of the officers who arrested her and the other woman last month. "I'm grateful. But when I think about her and the other homeless people out there, and people who get arrested just for being homeless, it's terrible."