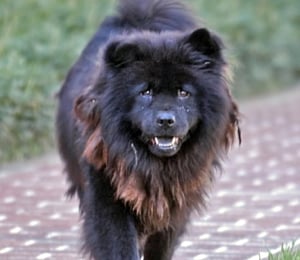 The scruffy black canine with dreadlocks on his chest roamed tony West End neighborhoods for many years. He had nearly 700 friends on Facebook, but untold more followed his travels.
Black Dog was found dead Thursday morning near the intersection of Cary Street and Maxwell Road, apparently struck by a vehicle.
"It's a sad day," Linda Staples, a resident of the Windsor Farms neighborhood off Cary Street, said yesterday.
"I would hate to think that is how he met his demise," she said. "He was so street-smart. We never worried about him getting hit."
Black Dog would appear out of nowhere, Staples said. "You would never know when you would see him, but it was magical when you did. He was always very respectful."
Staples said the chow almost looked like a bear. "We would tell new folks to the neighborhood about him so they wouldn't be afraid or call animal control on him."
Hardly anyone could get near Black Dog. But his friends in Windsor Farms and surrounding neighborhoods would leave food for him and open their garage doors in winter so he could find refuge. He was even credited with scaring off an attacker. "We wanted to keep him feral," Staples said. "That was part of his charm."
Staples has lived in Windsor Farms for 17 years, and Black Dog has been part of the neighborhood throughout that time, she said. He often appeared when the children got out of school and he would watch them walk home, she said.
A group called Friends of Black Dog monitored his comings and goings.
"This group was formed to bring together all friends of that ever-elusive, sometimes almost mythical canine who roves Richmond's near West End," according to its Facebook site.
Black Dog's fame was spread locally by Mark Holmberg, a former Richmond Times-Dispatch columnist who now works for WTVR and wrote often about Black Dog.
Black Dog was buried on private property in Buckingham County, Holmberg reported in a newscast.
"You will not be forgotten," Molly Dellinger-Wray wrote on Facebook. "We learned a lot from you, Black Dog, and your spirit will remain with this community and in our hearts forever."
---