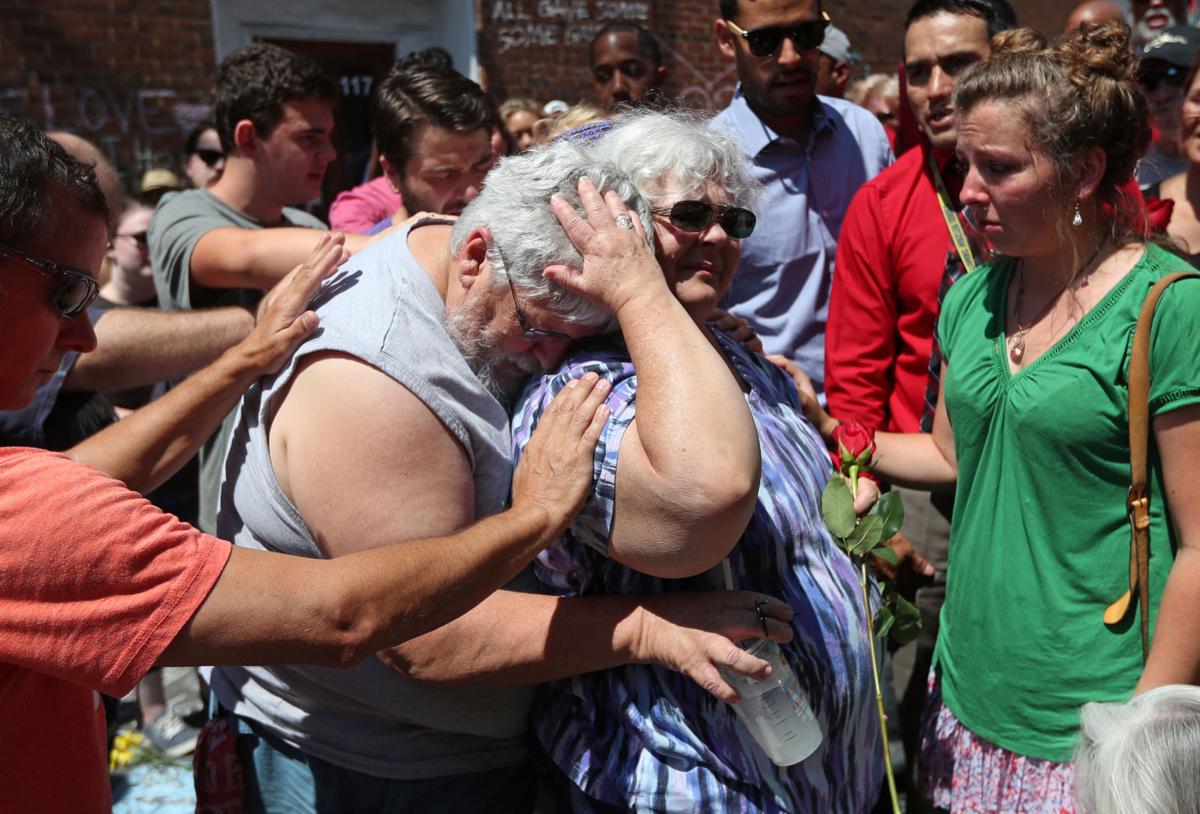 CHARLOTTESVILLE — On Saturday afternoon at 1:40, Susan Bro stood at the site where exactly one week earlier, her daughter, Heather Heyer, was killed in downtown Charlottesville and invited those around her into an embrace.
She stood on Fourth Street facing Water Street, staring at the flowers, candles and other tokens left on the pavement to honor Heyer. Bro made sure to be there as close to the time Heyer died as possible.
"I dreaded it, but I just needed to be here on the moment she died, and I had to come," Bro said.
At the same time, a group of local Seventh-day Adventist churches were on their way from the Free Speech Wall, where a daylong peace gathering was happening. When they arrived, Bro invited everyone — the churchgoers and anyone standing nearby — to come together, and they talked, hugged and prayed.
"Love is what's keeping me going," she said.
On Aug. 12, after police broke up the Unite the Right rally in Emancipation Park, a car slammed into a crowd of people on the Downtown Mall, killing Heyer and injuring 19 others.
City police quickly arrested the driver of the car, 20-year-old James Alex Fields Jr., of Maumee, Ohio. He has been charged with second-degree murder in Heyer's death, and faces five counts of malicious wounding, three counts of aggravated malicious wounding and one count of hit-and-run.
Later that day, two Virginia State Police officers who had assisted in the law enforcement response died in a helicopter crash in Albemarle County. H. Jay Cullen of Midlothian and Berke M.M. Bates of Quinton died at the scene.
In the week after the rally, residents of the Charlottesville area came together for multiple vigils in an effort to move on from the presence of white nationalists.
"This was a horrible challenge, but if they thought they would defeat who we are, they picked the wrong city, and you're seeing an eruption of love everywhere in many different ways and you're going to see it more," Mayor Mike Signer said.
On Saturday, residents came together for the Charlottesville Peace Gathering. The church groups that met with Bro started their march from there.
The gathering was organized to help people once again feel welcome and safe on the Downtown Mall. People wrote messages on the Free Speech Wall, played music, sang and ate free sheet cake, a reference to remarks made by U.Va. alumna Tina Fey on a recent episode of "SNL Weekend Update."
"My hope is that people who see this or attend this know that the city and the people of Charlottesville will not be victim to hate again and we will not accept people that come in and bring their hatred into a city of love and diversity and art and music," Kelsey Ripa, one of the organizers of the event.
Alex Benshoff, another organizer of the event, said he hopes they can help people feel like it's like any other day in Charlottesville while still respecting the victims of last week's events.
"It should be just a normal day getting out there, showing the world while we're still in the world's eye that this is what Charlottesville is all about," Benshoff said. "It's all about people getting together on the Downtown Mall, local business, music and poetry and art and culture, you know?"
Priscilla and Chris Sonne, Nelson County residents, came out to the peace gathering because they wanted to show others that hanging out on the Downtown Mall and enjoying the company of others is closer to what defines the area than what happened Aug. 12.
"We felt like coming to this as just sort of a step toward saying, 'Hey, this is more of who we are,' " Chris Sonne said.