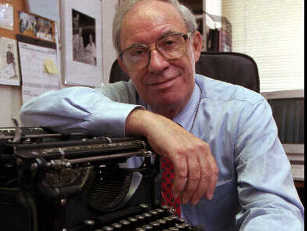 Charles Rice McDowell Jr. brought a gentle wisdom to the national conversation, bridging the chasm between political philosophies.
A political columnist for the Richmond Times-Dispatch from 1954 until his retirement in 1998, he gained national fame as a panelist for 18 years on PBS television's Washington Week in Review and as a voice in "The Civil War" and other documentary films by Ken Burns.
The author of three books, he was inducted into the Virginia Communications Hall of Fame in 1988 and was awarded the National Press Club's Fourth Estate Award in 1996.
Mr. McDowell, who had suffered from dementia for a decade, died this morning in Virginia Beach of complications from a stroke. He was 84.
Bill Millsaps, who was The Times-Dispatch sports editor and eventually executive editor during much of Mr. McDowell's tenure at the paper, said Mr. McDowell "gave people a strong connection with the paper for a lot of years."
Millsaps said McDowell's way of imparting his opinions was unlike the confrontational I'm-right-you're-wrong style that has become routine.
"He always left open the possibility that he could be wrong," Millsaps said, "and people trusted him because of that."
Burns said that on Washington Week in Review, Mr. McDowell "had that archetypal, avuncular wisdom. He appealed to our 'better angels,' as Lincoln said."
Burns enlisted Mr. McDowell's help, notably his voice, for his documentaries. In each episode of the epic series "The Civil War," Mr. McDowell was the voice of Samuel Watkins of Co. H from Clarksville, Tenn. He read from Watkins' letters with a natural, distinctive twang that became a staple for millions of viewers.
"Through his voice," Burns said, "he brought himself, Charley McDowell, with all his humor and sensitivity and a kind of confidence that things are going to be OK in the end.
"It was that confidence that informed his writing and thinking. He was a great reporter, a great writer, but most of all a great person."
Born in Danville, Ky., Mr. McDowell was a boy when he moved with his family to Lexington, Va., where his father was a law professor at Washington and Lee University.
Mr. McDowell graduated from W&L, where he majored in English. He earned his master's degree in journalism at Columbia University, then started work at The Times-Dispatch in 1949.
He covered local news, wrote for The Times-Dispatch's former Sunday magazine and wrote investigative and in-depth reports before he began writing his column, which was syndicated nationwide. In his columns he introduced a cast of imaginary characters – a neighbor, Mr. Bumbleton; a small-town political activist, Aunt Gertrude; a political insider, Reliable Source, and others – who helped make sense of the issues of the day.
In 1965 he became the newspaper's Washington correspondent. He would cover national and international news. In 1959 he trailed Soviet Premier Nikita Khrushchev on his celebrated visit to the U.S.
He described the Soviet leader as "a tireless tourist, student, professor, farmer, humorist, propagandist, tough guy and happy friend of man." And one point he said Khrushchev looked like "a former pro football player, probably a guard, dressed up for a coaches' banquet in a dark suit and tie that was almost white."
Former U.S. Sen. John W. Warner, R-Va., recalled his days with Mr. McDowell when they were both students at Washington and Lee. Many of the students were World War II veterans. Mr. McDowell had been involved in the Navy's V-12 officer training, but the war ended and he did not enter active duty.
"The World War II gang was back home. .¤.¤. They were anxious to move ahead with lives and careers and families," Warner said. "On the whole it was a very tough, serious bunch. Oh, they partied, but they were determined to make up for lost time.
"Charley was a standout at Washington & Lee amid that tough competition."
Warner said that when he entered public life, "There was Charley with a pad and pencil, scratching notes — and sometimes scratching me.
"He was always fair and objective. When you talked with him, when you read what he wrote, you knew he had Virginia's interest at heart."
Another former Senator, Harry F. Byrd Jr., said in a statement released yesterday that Mr. McDowell was "not only one of the best political reporters I have known, he was totally professional.
"In his professional life, no one was a friend and no one was an enemy. His reporting was fair and accurate. In reading his news articles .¤.¤. one could not tell just what was his political persuasion.
"As an individual, however, he was delightful to be with. He had a wonderful sense of humor.
Andy McCutcheon of Richmond was a lifetime of friend of Mr. McDowell starting with their days as W&L classmates. They were two of several young newspapermen who lived together in a former tourist home on Chamberlayne Avenue during their salad days. Later McCutcheon worked on the staffs of Virginia politicians that McDowell sometimes wrote about.
"Charley was an all-round good guy," McCutcheon said, "who never let his outstanding ability as a writer, speaker and humorist separate him from his legion of less talented friends."
It was during those early days that Mr. McDowell met his wife to be on a blind date in 1951.
"We just hit it off," said Ann Webb McDowell of Virginia Beach.
She said fame didn't change her husband, in demand as a speaker at conventions and on continuing-education cruises that took them around the world. His humor made him a favorite among high school and college students at seminars for future journalists.
"Everywhere we went, we met people who recognized him," Mrs. McDowell said. "I got used to the idea that they weren't the least bit interested in talking to me."
She said many journalists came to her husband for guidance and advice. "I think he had to world's greatest principals and integrity. But he wasn't pedantic, he was practical."
Del. Lacey E. Putney, I-Bedford, chairman of the House Appropriations Committee, was another Washington and Lee classmate of Mr. McDowell's. He remembered him as "small and wiry — a scrapper on the basketball court."
Mr. McDowell donated his papers to the Library of Virginia, where archivist James R. Greve processed the papers. In reading some of Mr. McDowell's columns, Greve said that in the era before the 24-hour news cycle Mr. McDowell was "concerned with presenting a story in a literate, thoughtful, understated, informal, personal, and narrative fashion. He felt that style is what gave credibility to a newspaper."
Gil Klein, who worked with Mr. McDowell for years at the newspaper's Washington bureau, said he often met people who said they were big fans of Mr. McDowell and asked what he was really like. "I would always tell them, 'What you see with Charley is what you get.'¤"
Mr. McDowell's humor in remembered fondly in Richmond newsroom. Reporter Bill McKelway recalled that just after he started at The Times-Dispatch he got a typewritten note from Mr. McDowell: "You write the best stuff I've ever read for someone your height and weight."
The rail-thin McKelway, about 6-foot-4, 160 pounds at the time, said it "took me a while before I realized there probably wasn't anyone else around who was my height and weight."
In addition to his wife, among Mr. McDowell's survivors are two daughters, Jennifer M. Pellegrini of Potomac, Md., and Catie McDowell of Boulder, Colo.; a son, William C. McDowell of Missoula, Mont.; and six grandchildren.
A memorial service is set for Friday at 4 p.m. at the Stonewall Jackson Memorial Cemetery in Lexington. Another service is planned for Nov. 13 at the National Press Club, with the time to be determined.
Staff writer Jeff E. Schapiro contributed to this report.