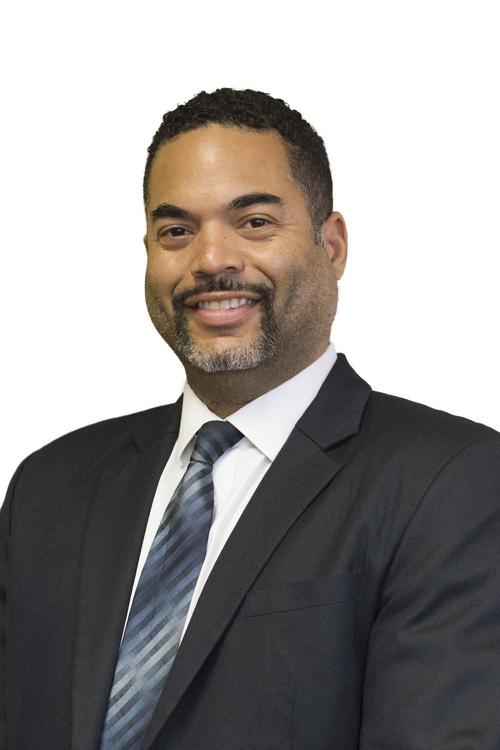 Harry Hughes plans to step down as Richmond Public Schools' chief schools officer in July.
Hughes said Thursday that while he doesn't yet have a job lined up, he hopes to work more directly with students and teachers than he does right now in RPS. Currently, he oversees principal directors and school climate and culture, among other duties.
"I just want to be able to have daily, direct contact with students," he said. "I just think right now is the right time for me to transition back to a school setting or maybe a community setting where I could just, again, have daily interactions with students being able to build those authentic relationships with not only them but their parents as well."
Hughes said he's missed the classroom since he left it after spending seven years teaching the fourth grade. He went on to become an administrator at Harriet Tubman Elementary School in Washington, D.C., before working in the system's central office, where he and Jason Kamras, now superintendent of Richmond Public Schools, both worked.
While Kamras was in the central office, Hughes served as an instructional superintendent, where he oversaw the principals in the public school system. The two didn't work directly together, Kamras said. Kamras tapped Hughes to come to the division in 2018 after witnessing Hughes do good things while in District of Columbia Public Schools.
"He was an incredible award-winning principal, first and foremost," Kamras said. "He was an incredible teacher before that. Then I got to witness him as a principal manager in D.C., and he really built an incredible team and was just really an expert at developing his principals and hiring great ones and retaining them. ... So I really couldn't think of anyone better for the role than him."
Hughes said he was incredibly proud of the social-emotional learning initiatives that began in RPS under his leadership. During the pandemic, the division launched community circles, where students and teachers take time in the mornings to focus on relationship building. The division also implemented changes long championed by advocacy groups to the division's code of conduct. The changes are meant to lower suspension rates, which disproportionately affect Black students in RPS.
"The way you get students to grapple with and be successful with a rigorous academic curriculum is they have to have these [social and emotional learning] skills," Hughes said. "You can't have a Socratic seminar if you don't know how to manage your emotions."
Kamras said that neither Hughes, nor any of the others who left leadership positions in the central office, were asked to leave. Instead, he said he understands that central office positions can be taxing.
"Any team like this, you're going to see changes over time. These are very taxing positions, and so it's natural there's a season for everyone," Kamras said.
For Hughes' replacement, Kamras hopes that RPS will invite someone who will "lead with love," as the school division's motto says, and will take serious steps to reduce the school-to-prison pipeline in RPS.
Two other people have left the leadership team in Richmond Public Schools since Kamras first arrived at the division. Both have been replaced.
Jennifer Bramble, who was formerly the Chief Talent Officer overseeing human resources in the division, left RPS in 2019 after 10 months, according to her LinkedIn profile. In an email, she said the challenge of working in Richmond while living two hours away in Maryland was that the distance "became burdensome" on her and her family. Now, she is the chief people officer at the education news outlet Chalkbeat.
Bramble was replaced by Sandra Lee, who took on the job late last year. Before coming to Richmond Public Schools, Lee served as the Director of Personnel for Gallup-McKinley County Schools in New Mexico.
Darin Simmons Jr., who came in under Kamras as the chief operations officer, left in 2020 after working with RPS for two years. He now works as the COO of Bottom Line, an organization that helps low-income students get to and through college. He said in an email that he's planning to join American University as an adjunct professor. He is also in the Education Policy doctoral program at the University, he said. Ultimately, he said he left the division after he and his wife adopted a child, which made late School Board meeting nights less conducive.
Alana Gonzalez became the system's new chief operations officer in February. She previously worked in the New York Governor's Office of Storm Recovery, where she helped the state recover from the aftermath of Hurricanes Irene and Lee and Superstorm Sandy. She formerly was chief of staff to the general manager in the New York Housing Authority, according to the RPS website.
Harry Hughes will still be in RPS until July. The division had not posted the position as of Thursday.