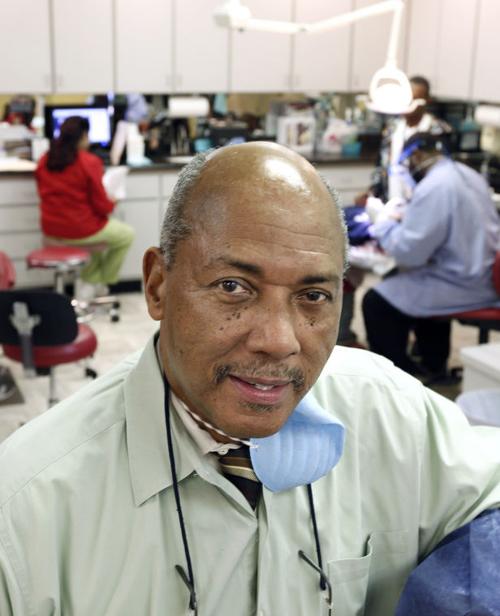 Randy Adams remembers the Danville jail as metal and concrete, nothing as soft as a mattress in the summer that turned the tide on civil rights 50 years ago.
As a 17-year-old, he was among an estimated 600 people charged with 1,200 offenses during the Danville Movement, the only time that national attention found Virginia authorities using the brutal tactics of the Deep South.
On the night of June 10, 1963, Danville police corralled 50 demonstrators in a blind alley beside City Hall and attacked with nightsticks and fire hoses. Forty-seven people went to the hospital for treatment.
• authorities in Birmingham, Ala., used police dogs and fire hoses against nonviolent black protesters in May;
• civil rights activist Medgar Evers was killed in Mississippi in June;
• the Rev. Martin Luther King Jr. gave his "I Have a Dream" speech at the March on Washington in August, with support from hundreds from Richmond and even Danville;
• four black girls were killed in a Sunday morning church bombing in Birmingham in September; and
• President John F. Kennedy's proposed civil rights legislation was strengthened in response to the summer's violence and reported out of committee two days before his assassination in November. It became the Civil Rights Act of 1964.
"There was so much violence, and so much of the violence was directed against young children," said Lauranett Lee, curator of African-American history at the Virginia Historical Society. "And so much was seen on television. It woke America up to what was happening.
"Much like our recent Newtown experience, when children are involved it really brings things home," she said, referring to the recent school massacre in Connecticut. "It really makes you stop and think, 'What are we doing?' "
Raymond Hylton, a history professor at Virginia Union University, said the brutality and senselessness of events "may well have turned Kennedy from being on the sidelines and not wanting to take huge steps to avoid offending Southern Democrats to submitting the civil rights bill."
In Danville that summer, Adams — now a pediatric dentist in Richmond — joined a family effort. His uncle, Julius Adams, helped create the Danville unit of the Southern Christian Leadership Conference to take a more active approach to desegregation.
"I just remember walking down the street," Adams said. "We sat down in a group. They called the police cars or trucks and put us in and took us to jail. I also remember it was nonviolent. Our principle at the time was we were not to respond back to anything anybody did to us. If they hit you or did anything else, you were supposed to turn the other cheek. It took a lot of willpower and self-control."
Adams wasn't there the day that marchers were beaten with nightsticks and blasted with fire hoses, but he heard about it.
Ruth Harvey Charity, a Danville lawyer, recalled what happened in a 1982 interview for Southern Exposure magazine, in which she estimated that 600 people were charged with offenses over the course of the protest. The Library of Virginia has case files of more than 250 people in its Danville civil rights collection. Nationally known lawyers — including Arthur Kinoy, William Kunstler and Len Holt — joined the local group to push for federal court rulings on constitutional rights.
On June 10, following up on a May 31 march, a student group went to City Hall. Leaders were arrested and police turned fire hoses on members of the group, who ran frantically for protection, Kinoy said in the article.
That night, Charity said, "Reverend (H.G.) McGhee led a group down to the jail 'to pray for our brothers and sisters.' As he stood up, the order was given to 'let them have it.' And the 'Night of Infamy' happened.
"You see, there was an alley between the jail and the Municipal Building. ... The state troopers had been called in, and they lined up to block the alley so there was no exit. The firetrucks and hoses were pulled up to the entrance, thus trapping the persons who were there for the prayer service.
"When the order was given, city police, (including) deputized garbage collectors ... moved in against the demonstrators, beating them and turning on the hoses, washing the people down the street, like so much trash. Gloria Campbell (wife of the influential Rev. Lawrence G. Campbell) received such a high-intensity stream of water, it tore her dress off, and I'm sure she still suffers from the injuries sustained that night."
Adams said he couldn't understand why the group had been treated in such a violent fashion when the demands were simple justice — desegregation of public facilities, equal job opportunities, and appointment of black representatives to city boards and commissions.
"At first I felt very bad because I did not understand why we as a group (were) treated that way," he said. "It didn't seem to me that it was as big a deal as they were making about the things we wanted. It seemed to me it should have been something everybody could have agreed on."
In jail, the demonstrators sang freedom songs and prayed with the black ministers who were among the leaders, he said. "I remember us singing and hearing other people singing as well. I think it was just the point of us being together and doing something to pass the time and, especially the younger people, to make them feel comfortable and to know they were not alone."
Hylton said 15 students from Virginia Union went to Danville on July 28, continuing a civil rights activism that in Richmond had been successful and peaceful. Holt wrote in his 1965 book about the Danville Movement, "An Act of Conscience," that VUU professor Ben-Zion Wardy brought along drug-laced hamburger as a weapon against police dogs.
King, president of the Southern Christian Leadership Conference, came to Danville on July 11 to show his support.
"I have seen some brutal things on the part of policemen all across the South in our struggle, but very seldom, if ever, have I heard of a police force being as brutal and vicious as the police force here in Danville," King said in a portion of the speech recorded by a Roanoke television station and archived at the University of Virginia.
"I'm sure we will all agree that we stand today on the threshold of a most significant breakthrough in civil rights. … You have inspired all of us through your courageous efforts, your willingness to suffer, and your willingness to stand up for a cause which you know, and which we all know, is a righteous cause, and one that will ultimately triumph."
Injustice in Danville, he said, "is a threat to justice everywhere. And as long as this community has problems, as long as the Negro is not free in Danville, Virginia, the Negro is not free anywhere in the United States of America."
Looking at progress in the 50 years since that summer, Hylton used the analogy of a 100-mile journey. "We've gotten a little beyond the 50-mile point, but we have a ways to go," he said. "There's tremendous improvement, but we can't be complacent. There is still much to be done."