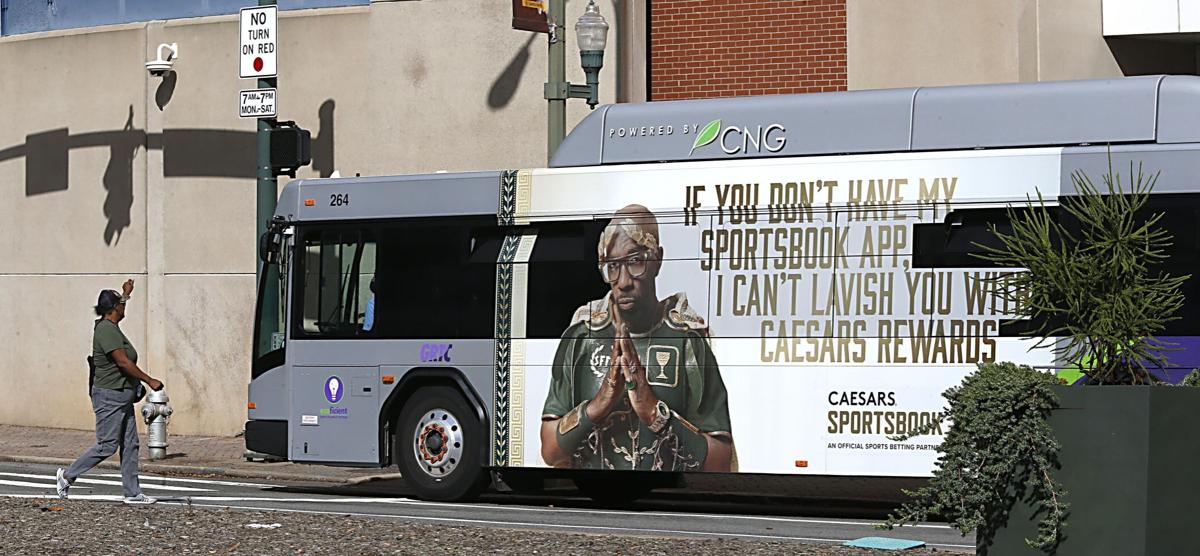 An advertising company executive is questioning the timing of GRTC's decision to suspend its entire advertising program last month, days after the transit company's CEO privately shared her dislike for sports betting ads that have been on buses this fall.
The GRTC Board of Directors voted last month to suspend the advertising program based on concerns company officials said they had about litigation in federal court challenging public transit bans on political messages. Many ads will remain on GRTC buses for a few more months as the transit agency says it will honor contracts that have already been inked. The decision, however, prevents the approval of new ad buys.
A few days before the vote, GRTC employees, including CEO Julie Timm, in a private Facebook group shared their disapproval of the large Caesars Sportsbook advertisements on the side of one-third of the transit system's 140 buses, according to screenshots anonymously sent to officials at Media Transit Inc., a third-party company that arranges advertising sales for GRTC and other transit agencies across Virginia.
Projected advertising revenue covers about 1% of GRTC's $63.2 million annual operating budget, but the suspension comes as the transit company is struggling with a labor shortage and seeking to maintain a zero-fare policy for its passengers, which would require additional local and state government funding once federal COVID-19 relief runs dry.
"They just don't seem to appreciate that those are private dollars, not tax dollars," said Tim Brazil, vice president of Media Transit. "There's absolutely no reason to suspend the advertising program and all the revenue that comes with it."
The Caesars ad campaign generates about $25,000 in monthly revenue, Brazil said.
"I agree. I hate those ads," Timm commented in reply to someone who posted a picture of a bus with the Caesars Sportsbook ad, which features entertainer J.B. Smoove dressed as an ancient Roman emperor in a green and gold costume.
The advertisements, which have also appeared on other transit agency buses throughout the state, according to Brazil, is part of a national advertising campaign for the mobile sports betting application and its loyalty rewards program.
A GRTC spokesperson verified the screenshots that Media Transit shared with the Richmond Times-Dispatch, but denied that Timm or any other employee's personal feelings about Caesars influenced her recommendation to suspend the entire advertising program.
"Ms. Timm has been very clear no employee's position on the content of any advertising campaign will have any bearing on the acceptance and installation of that advertising campaign on GRTC assets," said GRTC spokeswoman Carrie Rose Pace in an email last week in response to questions about Timm's comments on social media.
Timm said in an interview last month that GRTC officials had been considering changes to the system's advertising policy for several months before the October vote.
Timm said she proposed the suspension as the transit company remains in litigation over a 2017 lawsuit filed by the White Coat Waste Project, a Washington-based nonprofit and taxpayer watchdog that says GRTC unlawfully rejected its request to place an ad about animal testing at McGuire Veterans Affairs Medical Center in Richmond.
GRTC's two-page advertising policy, adopted in 2018, says its buses or vehicles are not meant to be a "public forum for dissemination, debate, or discussion of public issues."
In a letter to the GRTC Board of Directors, Media Transit said no other Virginia transit agencies have abandoned their advertising programs, even as other high-profile cases regarding transit advertising are still being fought in federal court.
"This is a complex issue. There's a lot around it," Timm said in a GRTC board meeting earlier this month, addressing the letter. "My feelings around advertising aside, there's a large opportunity for us and a large risk we are considering."
"This has been fully vetted through our attorney and we are continuing to do things in a proactive way to try and address both the revenue issues as well as legal issues, especially with our policy."
Board member Ben Campbell was the only other official to comment on the letter, saying that GRTC and the board are committed to their legal responsibilities and developing a new advertising policy.
"This vendor is free to put out anything they want to put out publicly, but we are not at liberty to discuss much of what needs to be said behind the scenes," he said.
GRTC employees, according to the screenshots obtained by Media Transit, also talked about adopting policies to limit how much ad space a single company can buy, noting the possibility of more gambling ads if Richmond voters approved the One Casino and Resort in the Nov. 2 referendum.
The casino is no longer being considered for Richmond after the project failed to pass earlier this month, but Rose Pace said GRTC had rejected an advertising campaign for it earlier in the year, citing its ban on political messages.
Brazil also raised concerns about GRTC violating its policy with the Freedom Constellations art wrap installed on one of the system's buses last month.
Brazil said he thinks it violates the company's ban on political messages because two nonprofit organizations associated with it, RISE for Youth and Performing Statistics, are involved in activism focused on the criminal justice system, youth and racial equity. The wrap features images of young artists and activists along with messages that read: "We dream of a world where all youth are free. We can love ourselves."
Two large banners with similar imagery and messages are hanging from Richmond City Hall as part of the public art project.
Rose Pace said the Freedom Constellations bus wrap is not advertising but rather a community-oriented message that GRTC sponsored for $5,000. The wrap is expected to remain until next fall, she said. "It is intended to be one of a small series of wraps that reflect the values of GRTC and community messaging."
There's no concrete timeline for when advertising sales will resume, but a few board members said they want to bring it back as soon as possible.
Brazil said the Caesars advertising campaign will end on Dec. 26.