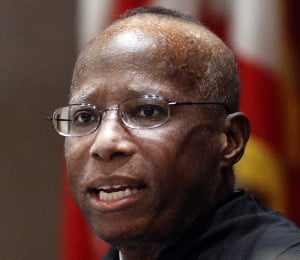 Virginia Supreme Court Chief Justice Leroy R. Hassell Sr. said yesterday that he will step down as head of the court but will continue serving as a justice.
In 2002, Hassell became the first person elected chief justice by a majority of the seven justices after the General Assembly changed the selection method -- previously based on seniority. He was sworn in for his first four-year term as chief on Feb. 11, 2003.
Katya Herndon, a court spokeswoman, said that when the court switched to electing the chief justice, it agreed that the chief would have a two-term limit. She said Hassell announced that he would step down during his state of the judiciary address in Norfolk yesterday.
Hassell was the first African-American to serve as chief justice. He was appointed to the court in 1989, at age 34, by then-Gov. Gerald L. Baliles.
He is a graduate of Norfolk's Norview High School, the University of Virginia and Harvard Law School.
After graduating from law school in 1980, he joined the McGuireWoods law firm, where he was co-counsel to the Richmond Redevelopment and Housing Authority.
He also served as director of Richmond Renaissance, the Greater Richmond Chapter of the American Red Cross, and the Carpenter Center for the Performing Arts. He served on the Richmond School Board, including time as its chairman.
According to the court's website, the chief justice serves as the administrative head of Virginia's judicial system and is charged with overseeing its efficient and effective operation. He or she may assign any judge of a circuit court temporarily to any other circuit court and may recall a retired circuit court judge to active duty.
The chief justice also may designate a retired judge, an active district court judge, or an active circuit court judge, with his/her consent, to help with a heavy workload in any district.
Carl Tobias, a professor at the University of Richmond School of Law, said Justice Lawrence L. Koontz Jr., who will be 70 by the next General Assembly session, will retire, leaving a vacancy on the court.
He said that would leave Justices Cynthia D. Kinser and Donald W. Lemons as the two most senior justices. It is not clear when the justices will vote on a new chief.
Hassell was second in seniority on the court, to then-Justice Elizabeth B. Lacy, when he was elected in August 2002.
---