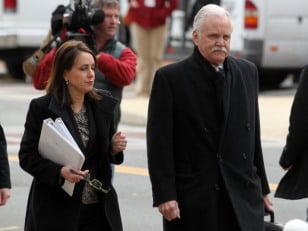 The judge in the murder trial of former University of Virginia lacrosse player George Huguely V said the case will not be heard today because one of the defense lawyers is ill.
Court had been set to start at 9:30 a.m. but Judge Edward Hogshire told the court that there would be a delay until 12:30 p.m. because of Rhonda Quagliana's illness. When the parties reconvened after the recess, Hogshire said court would resume Friday morning.
Hogshire did not offer any elaboration on the timetable of the trial. The defense was set to begin its first full day of presenting its case. Hogshire had said earlier that he would like jurors to receive the case by this weekend.
Huguely is accused of killing women's lacrosse team member Yeardley Love in May 2010. He has pleaded not guilty.
(This has been a breaking news update. Check back for more details as they become available. Read more in tomorrow's Richmond Times-Dispatch.)