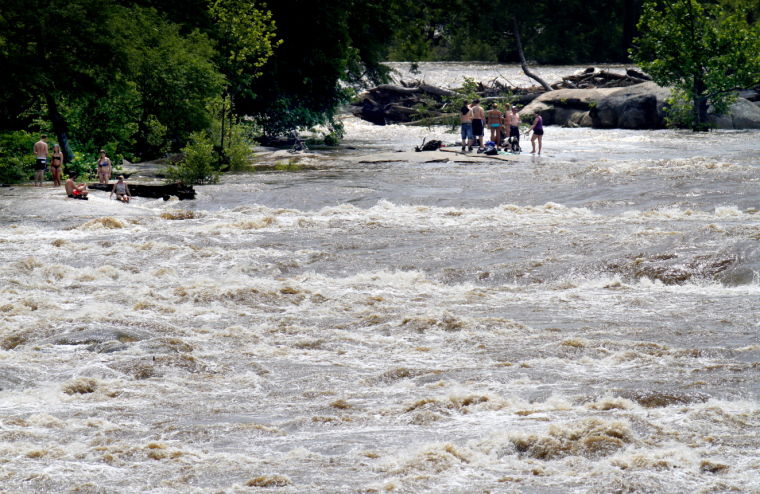 The mighty James River in Richmond can delight you, and it can hurt you.
"The river is dangerous," said long-time James swimmer Donald Joyner, 31, as roaring, coffee-colored waters rushed limbs and logs past Belle Isle on Wednesday.
If you aren't familiar with the James, Joyner said, you can easily get swept away.
This is a particularly dangerous time of year for swimmers, waders and rock hoppers. Spring rains, even miles upriver, can quickly make the James higher and more powerful, taking visitors by surprise.
And while the air is warm, the water will be cool until about mid-June. If you end up in it, your muscles can lose their dexterity, making it hard for you to swim to safety.
"The biggest thing to remember is the James is just so unpredictable," said Richmond fire Lt. Robbie Hagaman. "It's a good environment. It's a lot of fun. But we've got to be careful. We've got to play by the rules."
The rules include a city requirement that people stay out of the river, unless they are wearing life jackets, when the water level tops 5 feet at a gauge near the Huguenot Bridge.
And when the river hits 9 feet, you can't go in the water without a city permit, usually sought by paddlers.
The fire department has responded to more than 30 river calls this year, Hagaman said. About half involved rescues.
In a typical scenario, someone wades out to a rock, the river comes up, and that person either can't get back or gets swept away trying. Or someone slips off a rock into rushing waters.
Firefighters rescued seven people on Sunday and three more Tuesday from the James near Belle Isle, a favorite spot for young people. None was wearing a life jacket, Hagaman said.
Police charged two adults in the Sunday incident with not wearing a life jacket, a misdemeanor carrying a fine of up to $100.
The decision to charge a river swimmer can depend on such things as whether the person had been warned earlier, said police spokesman Gene Lepley. "It's always up to the officer's discretion."
Despite the James' dangers, officials say, drownings are fairly unusual – from zero to the low single digits in a typical year. Lepley said the low numbers may be partly due to good work by rescuers.
The James was approaching flood stage — 12 feet — Wednesday afternoon, but that didn't stop a few people without life jackets from walking through shallow-but-swift water to mingle on a flat rock beside Belle Isle.
A little earlier, one young woman lying in shallow water got swept downriver, said witness Trey Moody, 25, of Richmond.
"She almost drowned," said Moody, sitting on a rock ledge and watching the violent water roar past. "At one point, she was underwater" for about 15 seconds. "When she was under there, I was like, 'Oh (expletive), am I going to have to go in there and get her?' "
The woman popped up in slower water and made it to the bank, Moody said.
It is easy to know the James is dangerous when it's raging and tree trunks are rushing by. But the river can be deceptively unsafe at lower levels.
The river doesn't look much different to the untrained eye between, say, 4.5 feet and 6.5 feet, but the higher level poses a much bigger threat.
"The truth is, the hydraulics and power of the river are a lot greater when the river rises above 5 feet," said Ralph White, manager of Richmond's James River Park. The park includes Belle Isle near downtown and Pony Pasture Rapids in South Richmond, among the popular areas for swimmers and waders.
The James should be in the 7- to 8-foot range this weekend.
Another thing to remember: When the river reaches 5 feet near the Huguenot Bridge — the level at which life jackets are required — the uneven bottom can be much deeper in other places.
Pollution is also an issue. Rains can wash waste into the river from dogs, wildlife, upstream cattle and the occasional sewage-system overflow, raising levels of fecal bacteria.
"In general, the James is fine for swimming except if there has been a significant rainfall," said state Department of Environmental Quality spokesman Bill Hayden.
People should wait two or three days after a significant rain before going into the river, Hayden said. That allows time for bacteria levels to go down.
People who swallow water tainted with fecal bacterial can get upset stomachs and diarrhea.
Sharp objects — broken glass, nails in boards that wash down the river — pose yet another threat. "If you don't wear shoes, you'll get cut sure as shooting," said White, the park manager.
Judging by the amount of trash and graffiti left near the river, visitation appears to have doubled this spring, probably because unusually warm weather got people coming earlier, and they kept on coming, White said. That means more people are potentially at risk.
"We have always had lots of visitors in May," White said. "We have lots more now." A nice May day will draw "thousands," he said.
The James is a great place to take a refreshing dip or play with your dog while turtles bask nearby and herons fly overhead. You shouldn't let potential perils keep you away, White said.
"Use the river," he said, "but use it in a sensible fashion."
Enjoy the river, but take proper precautions.
Pay attention to signs. They will tell you if the river is high.
Wear shoes. You could step on a nail or glass.
Float feet first if you get swept away, to protect your head from rocks.
Put life jackets on children.
Go in the river when the level is above 5 feet unless you wear a life jacket.
Go in the river when the level is above 9 feet unless you have a city permit.
Go in the river at all if you can't swim.
Drink alcohol at the river. It can make you less alert in an emergency.
For river levels, call: (804) 646-8228. Hit 4 and wait for "Westham."