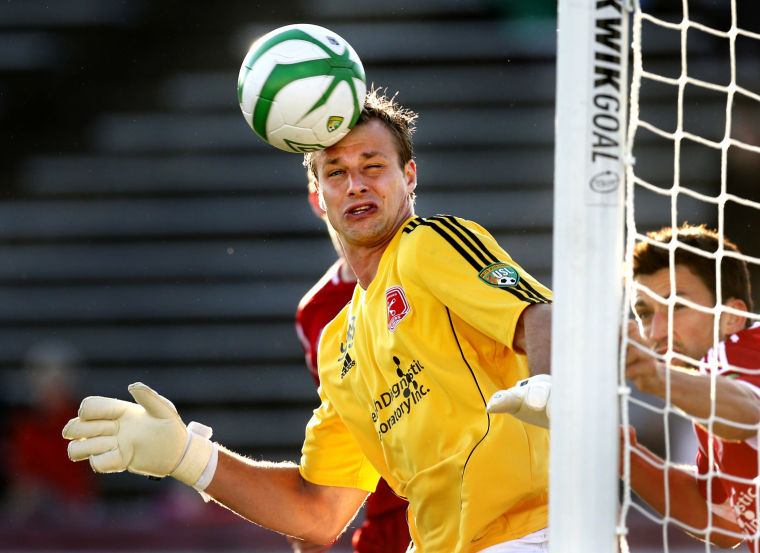 The Richmond Kickers began the long Memorial Day weekend in appropriate fashion: by playing a memorable soccer game.
Their roster depleted by injuries to three full- or part-time starters, the Kickers reached deep Friday night and produced one of their most complete efforts of the season. A nine-save performance by goalkeeper Andrew Dykstra and second-half goals by Nate Robinson and Michael Seaton carried Richmond to a 2-0 victory over the Harrisburg City Islanders on an unseasonably chilly night at City Stadium.
"We didn't have a lot of options," said Kickers coach Leigh Cowlishaw. "I asked them for their best performance and in many ways, that's what they delivered."
The Kickers played without forward Jason Yeisley (shoulder) and defenders Sascha Gorres and Juan Arbelaez (each with knee problems). Nonetheless, they cobbled together a defensive effort of which Cowlishaw was proud.
"We defended very well as a team," said Cowlishaw, whose team improved to 5-0-3. "Tonight, even guys who are known for scoring and attacking gave us an honest effort on the defensive side."
Harrisburg tumbled to 5-2-1.
Dykstra made it possible. The 6-foot-4 USL PRO veteran, acrobatic and at times terrific, got his third shutout of the season. He stopped three shots during the scoreless first half and six more during the second. He compared the sensation to that of a basketball player who buries one long-range jump shot after another.
"You make a save and then you make another one and then you just start to feel it," he said. "If you're lucky, it carries on from there. Tonight, it did." He said a first-half save of a shot that deflected off the arm of a Kickers defender "snapped me into the game pretty quickly."
Robinson, a 23-year-old rookie midfielder who leads the Kickers in assists with five, got the first goal of his professional career in the 60th minute. He accepted a feed from Joseph Ngwenya and, while still on the move, drilled a low, hard shot from the right wing past City Islanders goalkeeper Nick Noble. Robinson recalled having time for one thought before Ngwenya's pass arrived.
"I said, 'Take one touch and shoot it' — and that's what I did." He said the scoreless first half "was actually encouraging. We were creating chances. We were getting shots. We just had to keep pushing" in the second half "until something went in."
Seaton, a 17-year-old who is playing on loan from D.C. United, added an insurance goal in the 66th minute. He scored from the doorstep after a splendid feed from Brian Ownby, a former Deep Run and University of Virginia standout.
The Kickers now turn their attention to perhaps their most conspicuous home game of the season. They play host to D.C. United of MLS in Tuesday's third-round U.S. Open Cup match. That contest will be a rematch of last year's third-round game in Richmond. The Kickers, playing inspired defensive soccer, fell 2-1 when Marcelo Saragosa scored for D.C. United early in the second overtime period.
Richmond and D.C. United are thoroughly familiar with one another. They announced an exclusive player-development agreement before the season and met during the preseason in an intersquad scrimmage. Five members of the D.C. United organization — Dykstra, Seaton, forward Casey Townsend and defenders Conor Shanosky and Taylor Kemp, have competed for this season Richmond.