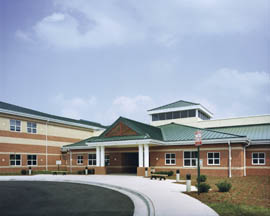 HENRICO -- Authorities today confiscated an unloaded handgun from the bookbag of a 13-year-old student who was carrying a loaded magazine in his pants pocket at Wilder Middle School in Henrico County, police said this afternoon.
The school was placed on lockdown about 11:40 a.m. after administrators at the school in the 6900 block of Wilkinson Road "received information that a student may have a weapon in his possession," Henrico police said in a news release.
The student was located in the cafeteria by the school resource officer and administrators, and the magazine was seized.
"The student's bookbag was in another location within the school. When the bookbag was searched, an unloaded handgun was found.  At this time, there are no reports that the gun was used in a threatening manner," Henrico police said.
The student is in police custody and charges are pending.
The lockdown was lifted shortly after noon.
On Tuesday, Glen Allen High School was locked down for more than two hours while police investigated a threat. A 16-year-old student was arrested off campus and taken into custody while a large police presence, including SWAT team officers, searched the campus. The youth was charged with a felony after being accused of threatening a male acquaintance. No weapons were found at Glen Allen or the student's home.
Henrico Police Lt. Linda Toney said several officers responded at Wilder Middle but said the incident different from what happened at Glen Allen.
"We knew exactly where the student was," she said. "We did not have the belief that anyone else was involved.
"We feel like the response was appropriate," Toney said.
Henrico County Public Schools spokesman Any Jenks said students were not in danger and personnel on hand took care of the incident.
"It was a totally different situation" from last week, he said.
Toney said charges were pending against the student.
Jenks said school officials wouldn't discuss sanctions against the student until the police were finished with their case.
(Times-Dispatch staff writers Tom Kapsidelis and Zachary Reid contributed to this report.)