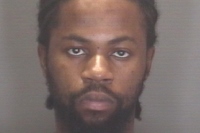 RICHMOND -- Police today arrested a man in Tuesday's shooting death of a man in the Hillside Court public-housing complex in South Richmond.
Richmond police said Chris L. Taylor, 26, of the 3700 block of Crutchfield Street, was arrested just before 3 a.m. when detectives found him hiding in a hotel on Commerce Road.
In addition to several outstanding warrants, he was also charged with murder and use of a firearm in a felony for the shooting death of Brandon E. Goode, 20, of the 200 block of West 33rd Street.
Officers were called to the 1700 block of Rosecrest Avenue at 4:20 p.m. Tuesday to investigate a report of shots fired and a man down. When they arrived, they found Goode shot in the street. He died at VCU Medical Center.
It was Richmond's 40th homicide of 2012.
The investigation into Goode's death is continuing. Anyone with information can call Crime Stoppers at (804) 780-1000 or text Crime Stoppers anonymously by texting 274637, using the key word "ITip" followed by their tip.