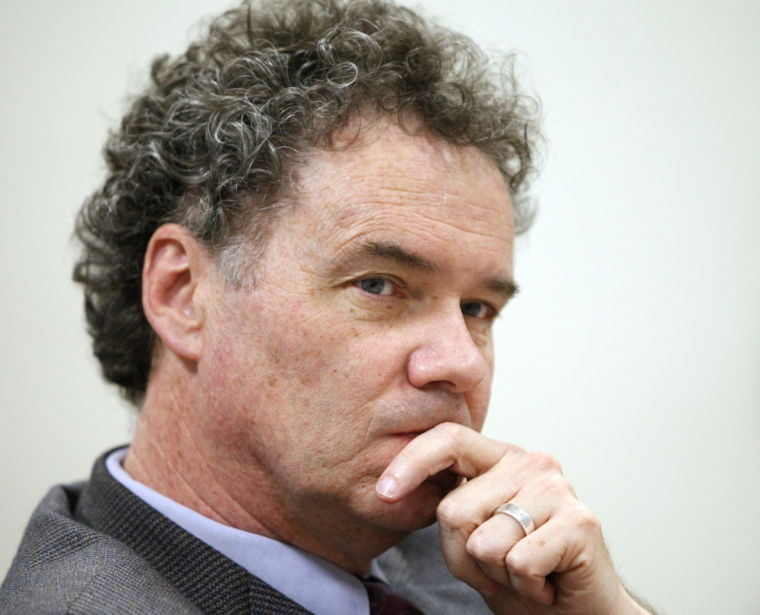 University of Richmond President Edward L. Ayers, a scholar of the American South who last year won the National Humanities Medal, said Friday that he will resign at the end of the next academic year to return to his research.
Ayers, 61, said he will step down June 30, 2015, after eight years as UR president but will remain on the faculty "eager to continue my life as a teacher."
"I have a lot of unfinished scholarly work to do, and I want to do that work as a faculty member at the University of Richmond," Ayers said in a message sent to the university community as UR's board of trustees was meeting.
"I have what feels like a million books to read and at least two to write," he said.
Ayers, well-known around metro Richmond for the series of community conversations he led to make sure the sesquicentennial commemoration of the Civil War included a focus on slavery, said his resignation is timed to the completion of UR's strategic plan and fundraising campaign.
His announcement follows several controversies on campus, including the decision to drop men's soccer and concern over revelations of sexist and homophobic jokes made by UR trustee and donor Paul Queally during an induction ceremony for a secret Wall Street fraternity.
According to the UR student newspaper, Ayers choked back tears at a forum Tuesday night held by UR's Common Ground for LGBTQ Campus Life to discuss Queally's participation in the skit.
"It is humbling to see that no matter how hard we work, what we have built can be damaged quickly," The Collegian quoted Ayers as saying.
But Ayers said by email that the controversy was not connected to his decision, and the reasons for his announcement "are straightforward."
He said he began discussions with UR Rector Charles A. Ledsinger Jr. in January about his plans to step down at the culmination of the Richmond Promise strategic plan and the capital campaign.
The dates coincided with the end of his contract, he said, and he was obligated to let the board know of his plans by March.
"As you know, I set aside an ambitious agenda of scholarship and of my work to make history accessible to the widest possible array of audiences when I took on the presidency, and that agenda has only grown over the last seven years," he said in his email.
The completion of the two major initiatives provides "a natural conclusion to my term as president," Ayers said. He said he plans to continue his work with UR's Digital Scholarship Lab to create a digital atlas of American history.
Ledsinger said the board accepted Ayers' decision "with disappointment, but also with deep gratitude." In a statement he said the university "is stronger today by every possible measure" because of Ayers' leadership and vision.
Ledsinger pointed to accomplishments during Ayers' tenure that include increases in minority and Pell-eligible students, and a commitment to inclusivity through programs for LGBTQ students and the addition of the university's first campus rabbi.
He said the board will establish a search committee by summer to find a new president.
Patrick Love, president of the Richmond College Student Government Association, said Ayers has been "a catalyst for positive, constructive change at the university" and he looks forward to seeing what he will accomplish in his final 16 months as president.
UR senior Lucas Virnig called Ayers "an incredible leader" and said he was extremely disappointed by the news.
"I will not say that I understand what he goes through on a day-to-day basis," he said by email, "but I can assure you it is not easy."
Virnig, SGA vice president of student experience for Richmond College, said Ayers' willingness to work with students and his visibility on campus make "me realize his commitment to the university not just at the highest levels but on an individual level also."
Ayers was dean of the University of Virginia's College and Graduate School of Arts & Sciences when he became UR's president in July 2007.
In Richmond he has sought to forge a closer link with the university's namesake through the establishment of the UR Downtown campus and the community conversations known as "The Future of Richmond's Past."
"Ed has gone far beyond the normal role of a college president in being very involved in the community," said Waite Rawls, formerly president of the Museum of the Confederacy.
He credited Ayers' leadership for creating a consortium of Richmond's history and cultural institutions to talk about Richmond's past and future.
Rawls is now co-CEO with Christy Coleman of the American Civil War Museum, newly formed by the combination of the Museum of the Confederacy and the American Civil War Center.
Coleman called Ayers "a remarkable asset to the city, and while he may be stepping down from U of R I am sure he is not stepping away from Richmond and his commitments, and for that we should be extremely grateful."
Ayers, who serves as founding chair of the American Civil War Museum, also plans to continue his nationally syndicated public radio program, "Backstory with the American History Guys."
Staff writer Katherine Calos contributed to this report.