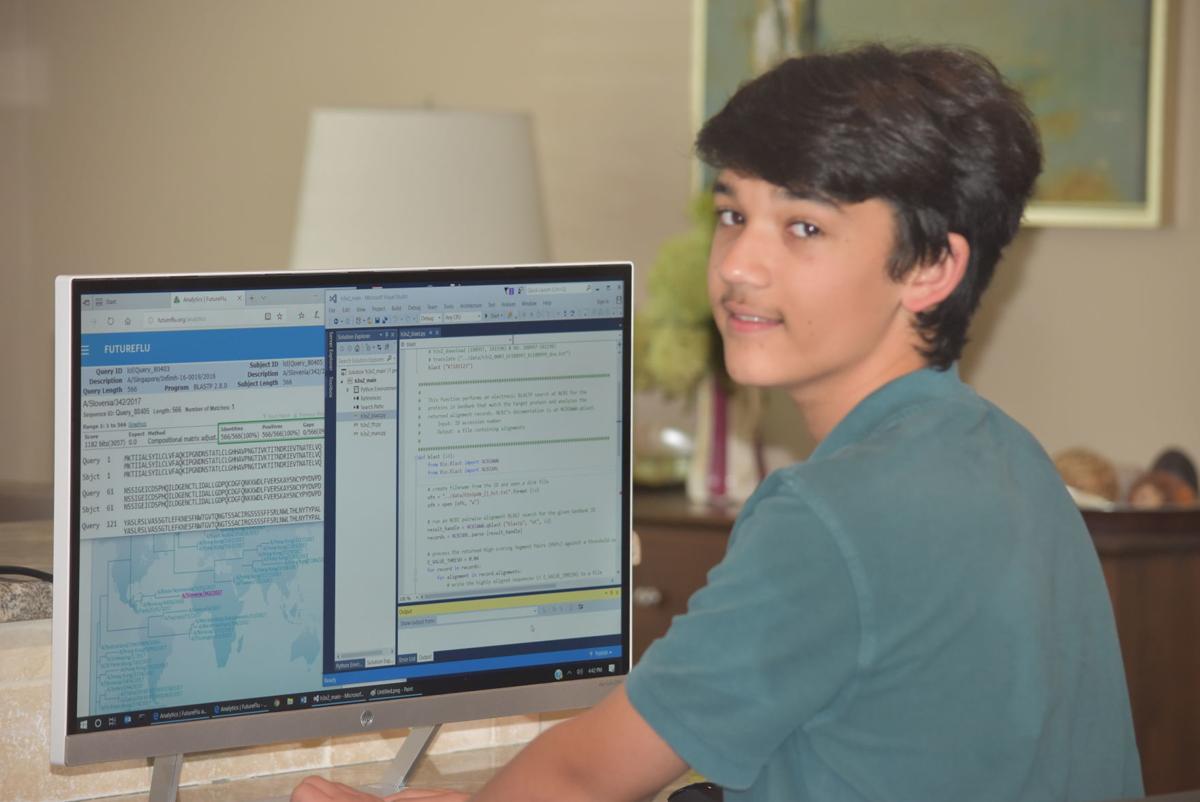 While most teenagers spend their summer playing video games or reveling in their time off from school, a 14-year-old Henrico County student is hard at work.
Cameron Sharma, an incoming freshman at Mills Godwin High School in Henrico, was named as one of 10 finalists in June in the Discovery Education 3M Young Scientist Challenge, an annual competition open to fifth- through eighth-grade students throughout the country.
For his submission to the challenge, the Moody Middle School graduate created a computer model to calculate a personalized seasonal flu vaccine based on a patient's medical and vaccination history.
Cameron's innovation, called uFlu, required his knowledge of subjects traditionally reserved for college- and graduate-level students, including computer coding, calculus and genetics.
Since this year's flu vaccine has been only 36 percent effective, according to estimates by the Centers for Disease Control and Prevention, Cameron said he wanted to find a way to stave off as much sickness as possible in the future, especially after contracting the flu himself years ago.
"In 2009, during the pandemic, I was very sick with the flu," he said. "That motivated me [to work on the project] so that that wouldn't happen, and we wouldn't have as much flu."
In October, Cameron will travel to 3M's headquarters in St. Paul, Minn., to partake in the competition final with the nine other students. All finalists will participate in group challenges and will present an individual project in front of a panel of judges.
The students can choose to either continue working on the project they created for their original competition submission or develop a new idea. As of now, Cameron said he's still considering several ideas for his project, though he said he'll likely select a new one for the October competition.
"I've been working on picking a topic this summer," he said. "I don't quite know yet what I'm going to do. I don't think I'm going to do [a continuation of uFlu] because there's not much more to do. If I were to continue, it would just be refining it."
As a finalist, Cameron also received $1,000 and has been participating in a summer mentorship with a 3M corporate scientist who is available to answer questions and guide students through the process of creating and commercializing an invention.
"It is so nice to see how smart these kids are and how much they love science and want to ... help others," said Mahfuza Ali, the 3M scientist who is Cameron's mentor. "If I could even help the young generation a little to leave this Earth at a better place, I will. I enjoy working with young kids, and it is very gratifying to know I helped somebody who later goes on to make significant contributions in the field of science."
The winner of the competition in October will receive the grand prize of $25,000 and the title of America's top young scientist.
Though Cameron's accomplishments thus far in the young scientist challenge are recent, his talent in math and science is hardly new.
As a seventh-grader, Cameron achieved a perfect score on the math section of the SAT, a feat accomplished by only a select group of students ages 12 and younger.
He also was one of 30 finalists in the 2017 Broadcom Masters, a science and engineering competition for middle school students. For that competition, which he has entered again this year, Cameron studied a component of the flu vaccine and created models to determine a recommendation for future flu vaccines.
Before that, Cameron took summer classes in computer coding and in genetics at the College of William & Mary while in elementary and middle school.
"Not only as a parent but as somebody who knows him closely, it's a delight to have him as an intellectual companion," said Shekhar Sharma, Cameron's father, an engineer himself. "He just keeps on amazing us."
As for the future, Cameron said he's still considering his potential career options, though he could choose to follow in his father's footsteps.
Cameron's current interests, he said, are largely the result of his work on the flu vaccine project.
"I'm still 14, so I don't really have a path set yet," he said. "I'm currently looking at biomedical engineering. I'm really interested in that."